Introduction
Biking is quickly becoming one of the popular hobbies around the world. It's one of the best ways to commute and keep fit, but how safe is your cycling routine?
Many cyclists often think that wearing a reflector jacket, a helmet, and joint bodyguards are the main safety precautions they need to adhere to when it comes to safety. 
Before we get to the meat of our best air compressor for bike tires review, there's something that you should know about tire pressure. Tire pressure also needs to be one of your biking priorities. In case you're having a hard time wrapping your head around that, the National Highway Traffic Safety Administration report continues to record hundreds of tire-related accident fatalities each passing year. 
With such a report, I believe it's apparent that we all need to keep a close eye on our tire conditions and ensure proper pressure. That said, you must already have figured out that having a matching air compressor for your tires is very fundamental in ensuring that your rides are safe and fun. Besides, bringing one with you at all times additionally saves you from all the frustration and anxiety of running out of tire pressure in the middle of nowhere. 
However, we understand the challenges associated with identifying the best air compressor for bike tires. The sheer number of brands and models in the marketplace makes buying the best air compressor for bike tires even more confusing. 
Lucky for you, we'll be reviewing the four best air compressors for bike tires to help make your buying process more manageable. 
Ready? Let's dive right in.
Air Compressor For Bike Tires – Best Options
#1 – Avid Power Tire Inflator Air Compressor
Starting us off is the Avid Power Tire Inflator Air Compressor, a 19-inch super-fast inflation air compressor for bike tires and car wheels. Powered by 12V DC / 120V AC dual solid metal motors, this option promises to inflate all your bike tires in record time. It's easy to operate, considering that it comes with an AC/DC switch that makes it more usable and convenient for usage both indoors and outdoors. All you have to do is to connect it to a 120V home socket for indoor use or plug it in your car's auxiliary power outlet for lighting cigarettes. 
The Avid Power Tire Inflator Air Compressor further features inflation and deflation working mode with two separate hoses. You can use the high-pressure hose to puff up high-pressure items like bike tires, while the other hose is for high-volume items such as air mattresses and rafts.
This model also features an auto shut-off digital gauge that allows users to preset their desired value, and the air compressor automatically stops when the pressure value is reached. Another great addition is the LCD digital screen that displays various unit conversions, making it much easier and safer to use. If your tire emergency chooses to occur at night, you'll be happy to know that the ultra-bright LED flashlights on this unit provides emergency services for such cases. To get you started, its packaging includes a user manual that will take you through most of the primary things that you need to know about before using the model.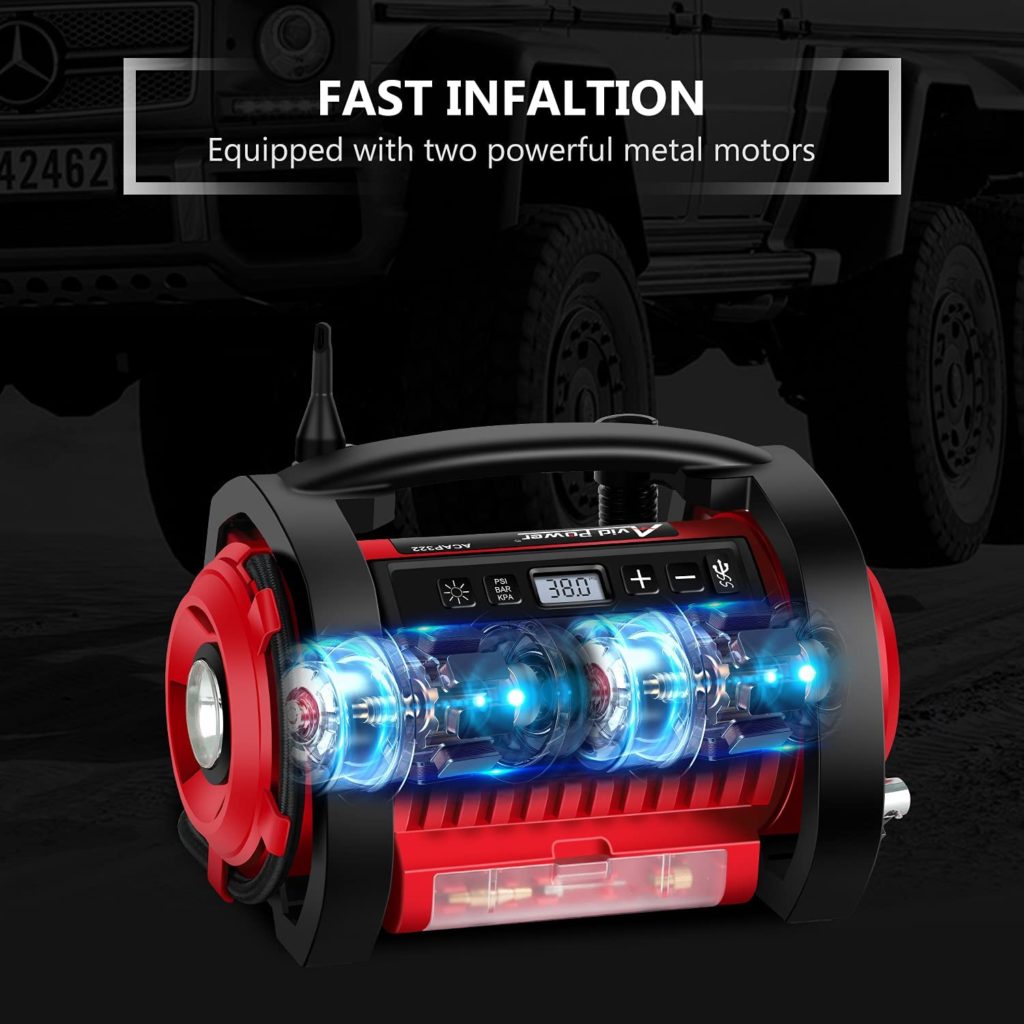 #2 – Prow Portable Air Compressor Tire Inflator
Another best air compressor for bike tires is the Prow Portable AC DC Air Compressor Tire Inflator, which also acts as an excellent air pumping option for basketballs, motorcycle tires, and car wheels. The Prow Portable AC DC Air Compressor Tire Inflator gets power from a 120W motor that's powerful enough to give an output of up to 35 PSI in less than 5 minutes. Just remember this option needs to be left to cool for at least 10 minutes after every 20 minutes of continuous usage due to the heat build-up when working. 
Fortunately, the additional 110V AC and 12V DC cables allow users to use the unit from anywhere. It's also good to note that you can instantly start using this model even without igniting your engine in the morning. During pumping, the large precise analog pressure display meter that's fitted on this unit measures up to a height of 100 PSI and is there to ensure maximum accuracy for unit conversions between PSI, Bar, and KPA.
To give you a feel of how easy it is to use the Prow Portable AC DC Air Compressor Tire Inflator is, you only have to connect the power plug before turning it on to start aerating your tire. Then turn it off once your desired pressure level is reached. It's very portable, and you conveniently store yours in its compact carry-on bag. in comparison to some of the other top-performing options, it would have been nice for this model to include an automatic shut-off system.
This air compressor additionally comes with various adapters suitably made for cars, motorbikes, and standard bikes for your convenience. This model's only things that aren't made to suit include big tires for large vehicles and large-volume pools and inflatables. To easily access its power plugs, you should remember that its AC 110V cable can be found at the back of the air pump together with the air hose, while the DC 12V cable is found in a different compartment located on the side of the model.
Given the company's reputation, it's evident that Prow upholds its promise to deliver both quality and long-term durability with this make. As Prow's best air compressor for bike tires, buying this model comes with a 2-year warranty from the manufacture, making your purchase a risk-free one.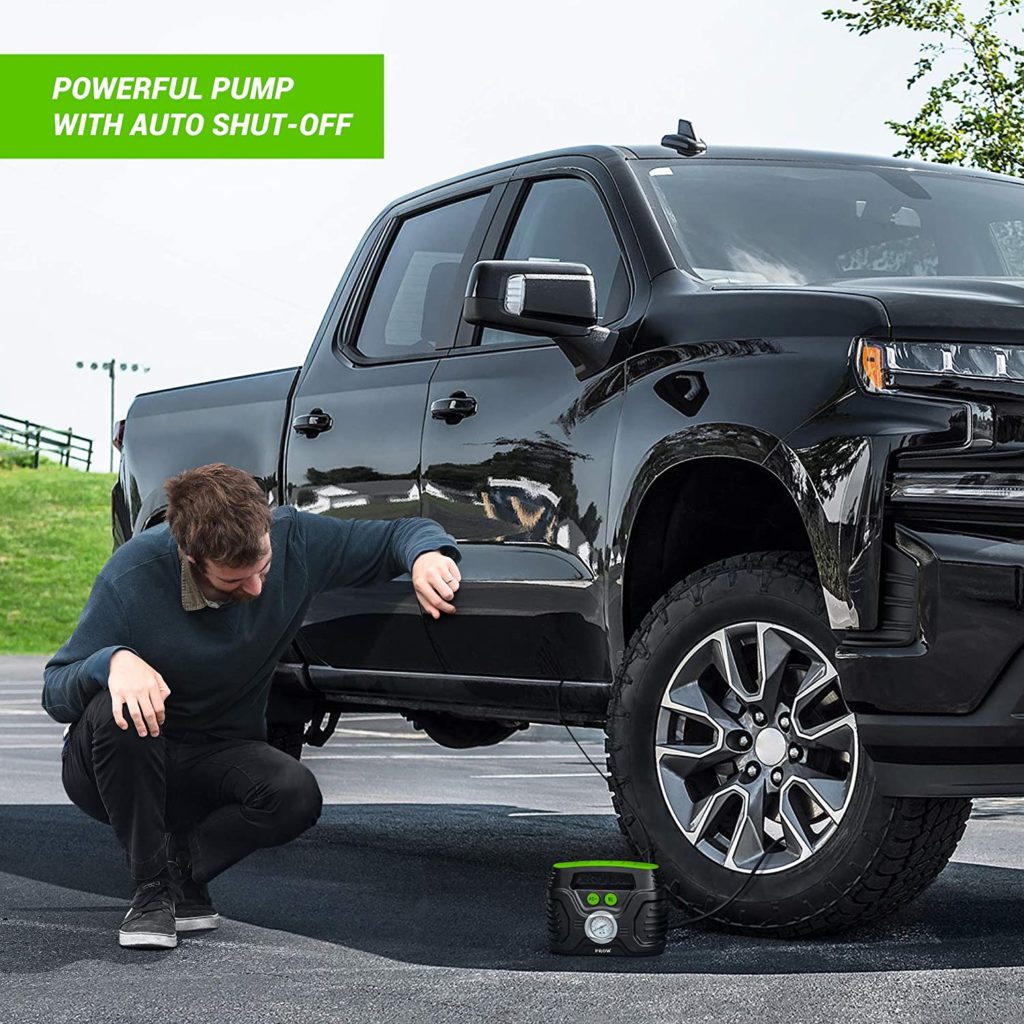 #3 – Merece Tire Inflator Air Compressor
The Merece Cordless Tire Inflator Air Compressor for Bike Tires qualifies o to be considered as the best air compressor for bike tires because of its ability to deliver faster and stronger inflations without fail. The model can comfortably fill air into a standard 17" vehicle wheel from 0 to 35 PSI in under 2 minutes, meaning that it can inflate both of your bike tires in less than a minute. Just keep in mind that the model isn't suitable for puffing up air into heavy-duty trucks and large SUV tires.
To avoid overworking and straining the device, users need to leave it to cool down after every 10 minutes of continuous work.
Unlike many of the other best air compressors for bike tires, the Merece Cordless Tire Inflator Air Compressor for Bike Tires is a rechargeable unit that comes with a built-in 2200MAh battery. The model is entirely codeless for more convenience and can virtually be used in nearly all emergency cases. As part of its renowned dual power design, the Merece Cordless Tire Inflator Air Compressor for Bike Tires has a 110V power adapter for charging, and you can also use your vehicle's cigarette lighter socket to plug and inflate. 
Like most competitors, users can preset their target pressure and start inflating tires hands-free since the unit automatically shuts off when the desired pressure is reached. As you can see, you don't have to worry about things like excessive inflation, especially when you're busy juggling other tasks as well. To be sure, the unit comes with a digital gauge meter for you to precisely view and confirm that the pressure readings are accurate. 
What I like most about the Merece Cordless Tire Inflator Air Compressor for Bike Tires because the manufacturer uniquely includes a set of extra nozzles. Thus, expanding its usability means that you can conveniently use this air compressing option to inflate balloons, balls for different sports, and many other household inflatables. Moreover, this 12V air pump is fitted with a 3M long cable to further its broad applicability. 
Other noteworthy details that you should know about include the inclusion of an LED flashlight at the top, its lightweight, has a maximum pressure range of 150 PSI, and that it comes with a user manual and a USB cable.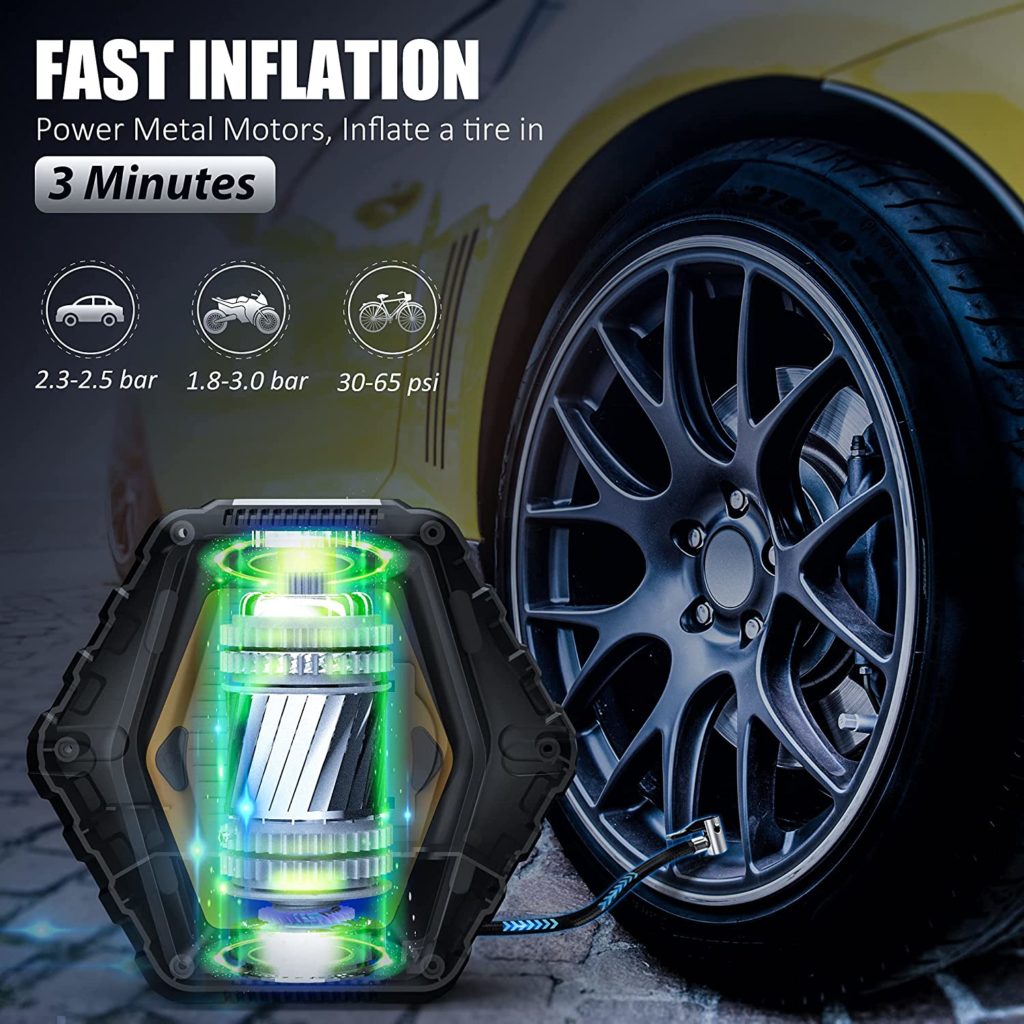 #4 – Air Compressor Tire Inflator C P CHANTPOWER
Closing our roundup list of the best air compressor for bike tires is the C P CHANTPOWER 12V DC 150PSI Air Compressor Tire Inflator. It's a very portable and lightweight air pumping option fitted with a powerful motor for fast inflation that can reach a high of 150 PSI. Once connected to a 12V power supply source, this model gushes out an airflow of up to 35L/Min. At this rate, users can expect to quickly inflate a tire from 0 to 35 PSI in about 4 minutes, and the good part is that you don't have to be a savvy user or a tech geek to use the unit.
To monitor your pressure values, the unit comes with an LCD screen for you to measure tire pressure accurately using a variety of conversion units. With its auto cut-off feature, all you need to do is preset your target pressure value and turn it on. This air compressor is smart enough to stop inflating once the desired target value is achieved automatically. 
For those working at night, you should note that the LCD screen is usually bright enough to read under poor lighting, and the built-in LED light makes it even easier to use in the dark. Furthermore, the unit is equipped with a 12V power supply plug that makes it easier to use whenever needed. Despite not being cordless, you can easily wind the air hose around its underside to make your work area less messy, with cords lying everywhere.
Away from the organization tip, note that the C P CHANTPOWER 12V DC 150PSI Air Compressor Tire Inflator package includes up to 4 nozzles that allow users to inflate other inflatables such as pools, pool toys, sports balls, and many other items.
The fact that its buttons are already labeled, this model is straightforward to use. For those who like mountain biking, the C P CHANTPOWER 12V DC 150PSI Air Compressor Tire Inflator is highly portable and should be one of your best picks if you're serious about putting your safety first.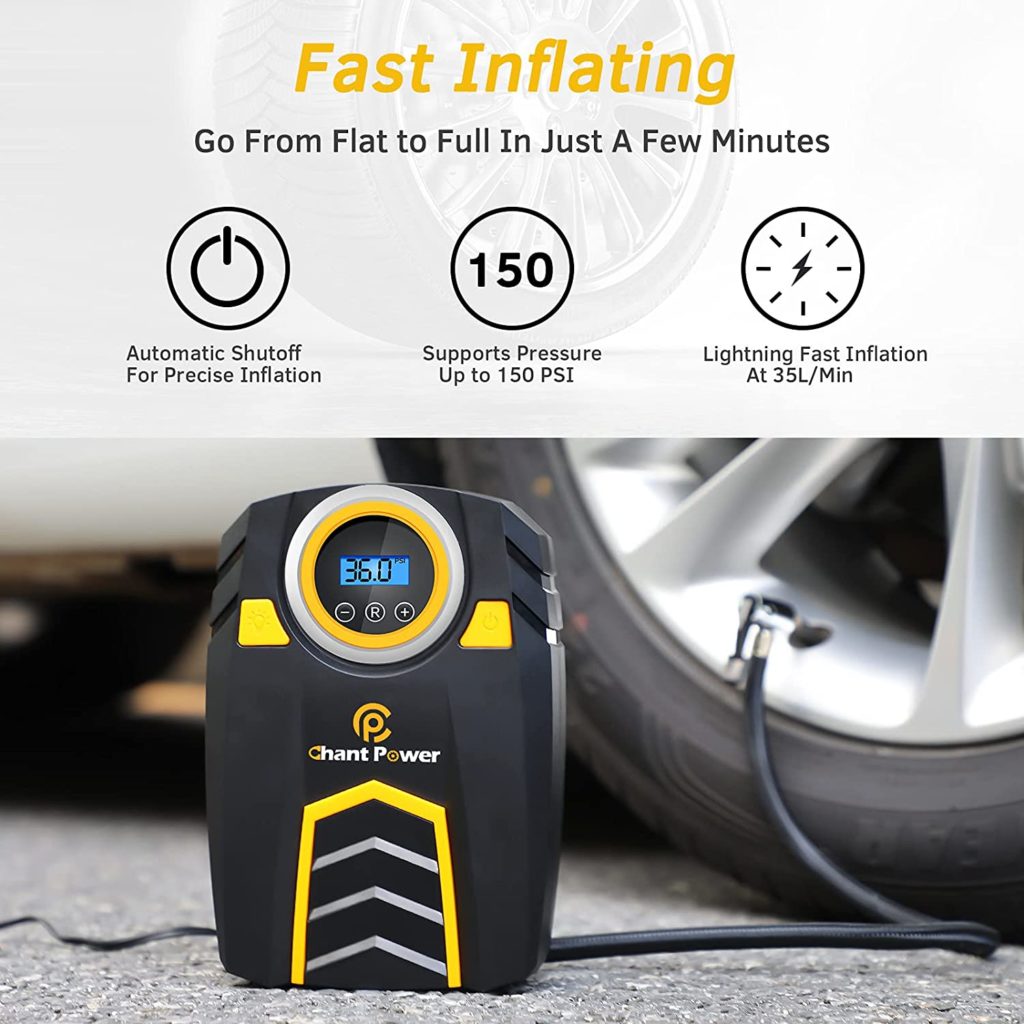 Bottom Line
Buying one of the best air compressors for bike tires is one of the best ways to ensure that all your biking adventures are safe and enjoyable. A typical air pump can inflate your bike tire in a couple of minutes, bringing you comfort and consequently adding to your bike tires' optimal performance and lifespan. Unlike the conventional air pumps, these modern options offer riders the advantage of accurately filling up their bike tires with the recommended pressure values for different terrains, adding to the fun of bike riding. 
That said, it's easy to tell that getting one for yourself will help you save more by reducing your chances of losing bike tires to occasional wear and tear, apart from being the best lifesavers during a pressure leaking emergency, finding your best air compressor for bike tires guarantees to increase your tires' life expectancy and to make your riding experience better. 
In this article, we've accounted for all the struggles and challenges that riders often have to deal with when searching for the perfect air pump that will fit all their inflation needs. For this reason, we hope that you'll be able to use the above review to your advantage and quickly find one that fits your needs. If you're looking for a quick buy, you're free to choose one from our roundup list. Even though all of the reviewed air compressors for bike tires in this article were carefully handpicked and vetted, you should consider matching the various features with your needs and budget first. Until next time, Happy Biking!