Introduction
Bike rides with animals can be fun. Having your dog chase after you on your bike is a major source of personal reward for both you and your canine friend. But it can get stressful. Your dog has to be unleashed, freely running alongside you. They don't always know when to run ahead, or stay behind. They also don't know how traffic laws work.
Worse yet, something bad could happen to your dog if they were out running with you. On a hot day, their feet might hurt against the scorching pavement. They might act poorly relative to pedestrians, vehicles, or other animals. If you have a particularly small dog, it probably isn't even realistic to have them follow you everywhere you bike. After all, you can't spend your whole ride going slowly, making sure they haven't been trampled.
You need something that can let your furry friend enjoy going on a bike ride with you, and not have to worry about their fatigue, behavior, or responsibilities. This is why you need to get a stroller for them. The'll have fun looking around and getting some fresh air, without all the dangers of real exercise.
The best dog bike stroller options
Let's look at some of the best choices you can make for getting a stroller for your dog.
#1 – Instep Bike Trailer for Toddlers, Kids, and More
If you're planning on dealing with little dogs, or little people, this is the best option on the market. You'll be ready to go with this fantastic bike trailer for humans and canines alike. It's designed with an athletic canopy that also functions as a mesh screen for bugs in addition to keeping out the elements. Rain, bug, or shine, your passengers will ride with tease.
The 16 inch tires are generously portioned to give a calm, soft ride. They also have molded rims to look extra fancy, and give more protection & stability to the product itself. This trailer is light, so it won't be a big burden to pull with your bike. It's also got a universal trailer hitch that can be used for basically any model of bicycle.
Here are some common features and notes to keep in mind about this product:
Weight limit – Usually, this trailer can support forty pounds of weight. That's enough for any lap dog, and most young children. Plus, it's reasonable for the price. You won't have to worry about a product claiming to do more than it actually can.
Works for 2 – You can easily sit two young ones side by side, or mix and match a kid and a dog. As long as the weight feels comfortable for riding and they feel comfortable on the inside, it's good to go.
Safety precautions – This awesome bike trailer also comes with an orange safety flag to stay visible in inclement weather conditions. The sides don't roll down, but the product itself has plenty of ventilation, so you should be fine without that feature.
This product has been bought, used, and loved by tens of thousands of happy customers. Let's go over some common advice from users of this product:
If you have a younger child that gets tired of riding, they can sit in this trailer for the rest of the ride, and their bike will easily fit in the storage compartment.
This is a great budget trailer, which is perfect for animal use. In fact, the bargain price range is one of the biggest reasons people choose this product.
Assembly is easy, and for most people it takes less than 5 minutes.
It's always a good idea to seat up everything correctly, and double check how everything is installed. This is paramount if you're travelling with a young child.
Convenient – In terms of the ride, this thing is super comfortable and lightweight. You'll have no problem quickly getting around town, and your passengers will enjoy a smooth journey.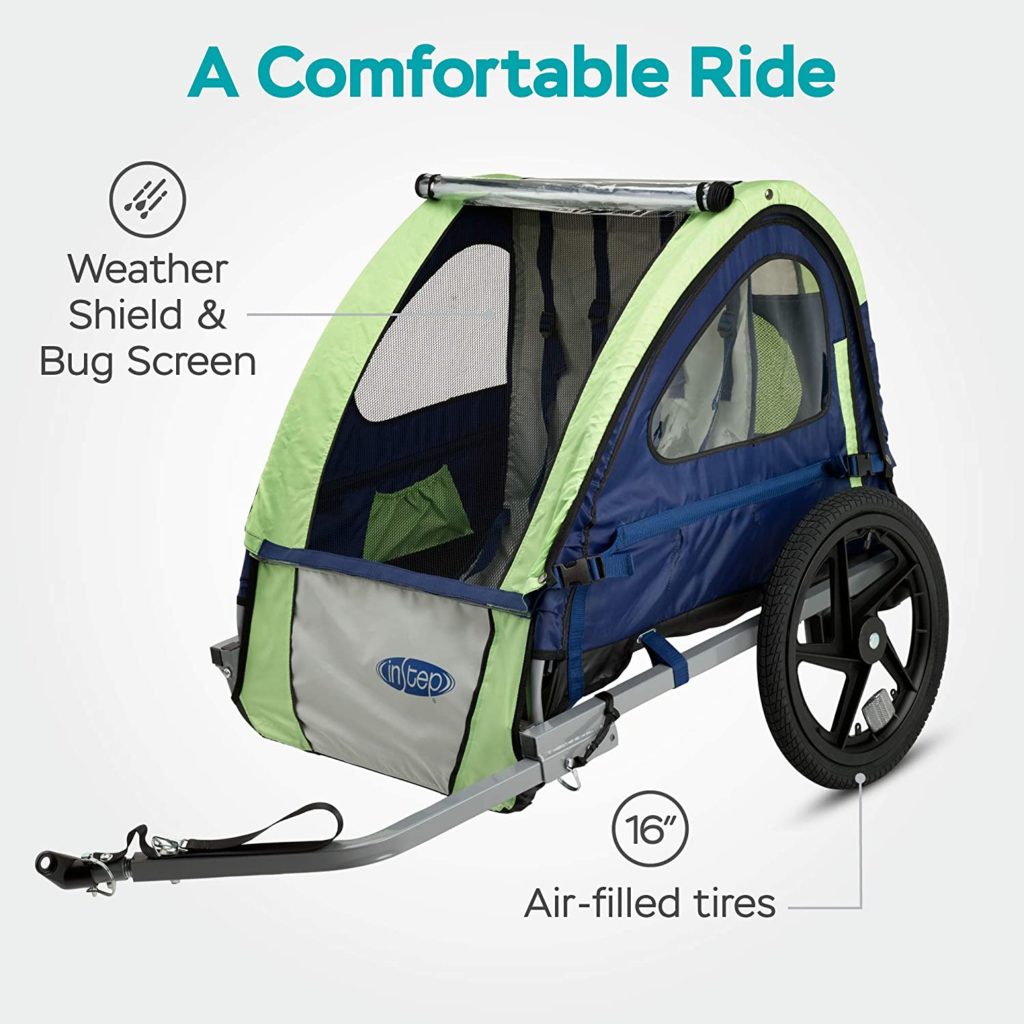 #2 – Schwinn Rascal Bike Pet Trailer
This product has a cool, laid back design that is made especially for your furry companions. Here are some reasons why it's a great purchase:
The neat folding frame and collapsible metal rods make storing this thing a breeze.
It has a universal attachment to pretty much any bicycle.
The trailer is made out of reinforced aluminum, and the tires can be inflated with any bike pump.
This product comes with an internal leash so your pets won't try to make any unexpected escapes. It's got great ventilation and it includes safety flags and a bug screen.
Here are some other things to keep in mind when purchasing this product:
Taking wide turns and ensuring a low center of gravity is always a good idea, especially if you have a large dog in the trailer. Dogs will fit most comfortably at a maximum around 30 or 40 pounds.
The product itself is made ready to assemble, with no other parts necessary.
The bottom has plenty of support, with framing, fabric material, and lining to support the pet as much as possible.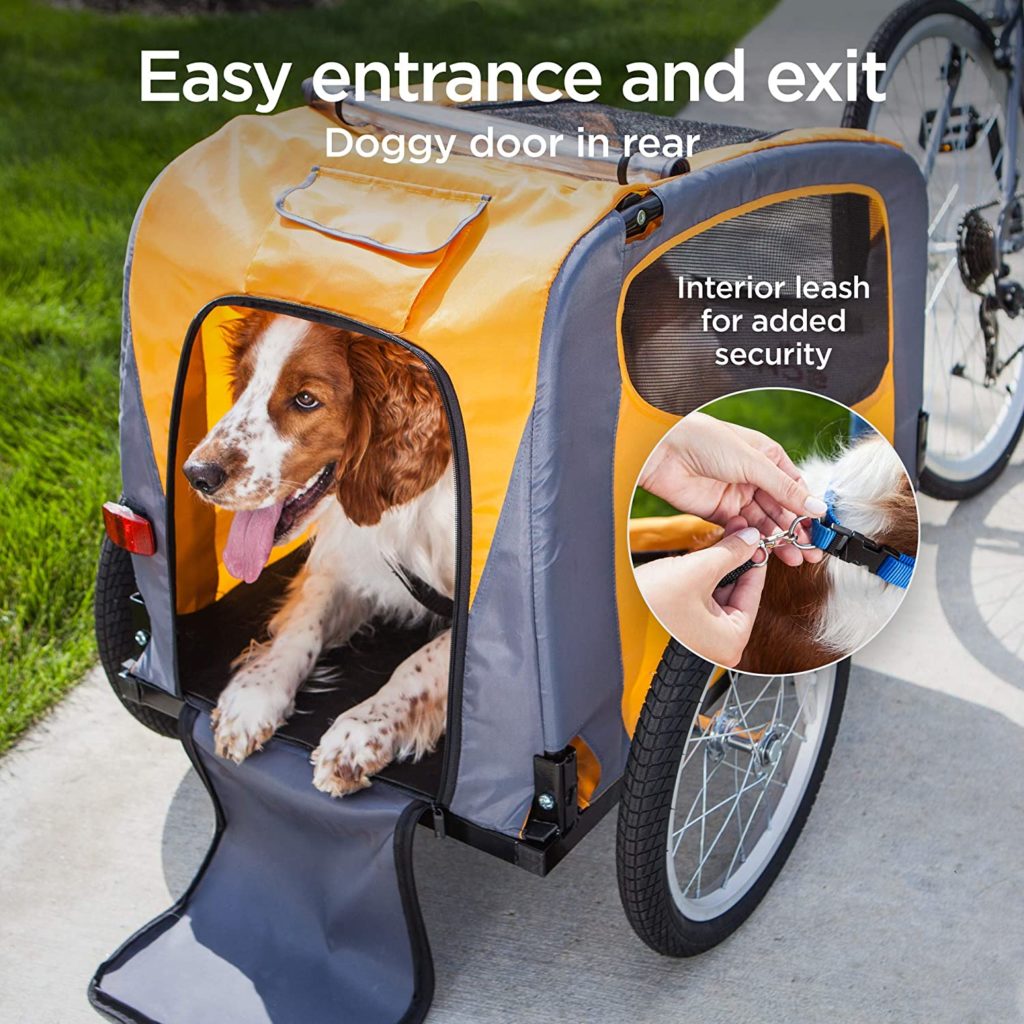 #3 – Best Choice Products 2-in-1 Pet Stroller and Trailer
If you're also a walker, you should consider buying this product. In addition to being a fantastic bike trailer, it also works pretty well as a nice little pet stroller. Here are some of it's best features:
For one, being a great combination stroller is rare to find. Most 2 in 1 items are poorly designed, and many don't even include the front wheel. This one is easy to configure, and to change between settings.
In terms of space, this product has it all. It's designed for larger dogs, and they will fit comfortably during walks, runs, or rides. You can push them with the lavish handles or hook them up to the bike trailers in a wink.
The device is full of different safety measures, like flags and reflectors to keep your animal safe. These precautions ensure visibility on the road, especially in darker situations. It's also included with an interior leash. Also, there's extra material covering the front opening so that pets can stay safe and out of the elements no matter the climate.
State of the art brake system – For buyers seeking ultimate comfort, this is a breakthrough product. The 180 degree brake adjustments will let you experience the full extent of the road without having to worry about stopping too sharply. There's also multiple windows that maximize breath-ability through the mesh screens.
This incredibly designed trailer is made from a durable steel frame, and includes water-resistant fabric that can take a beating regardless of the weather. The wheels make for easy turns and smooth riding, and it can hold more than 60 pounds.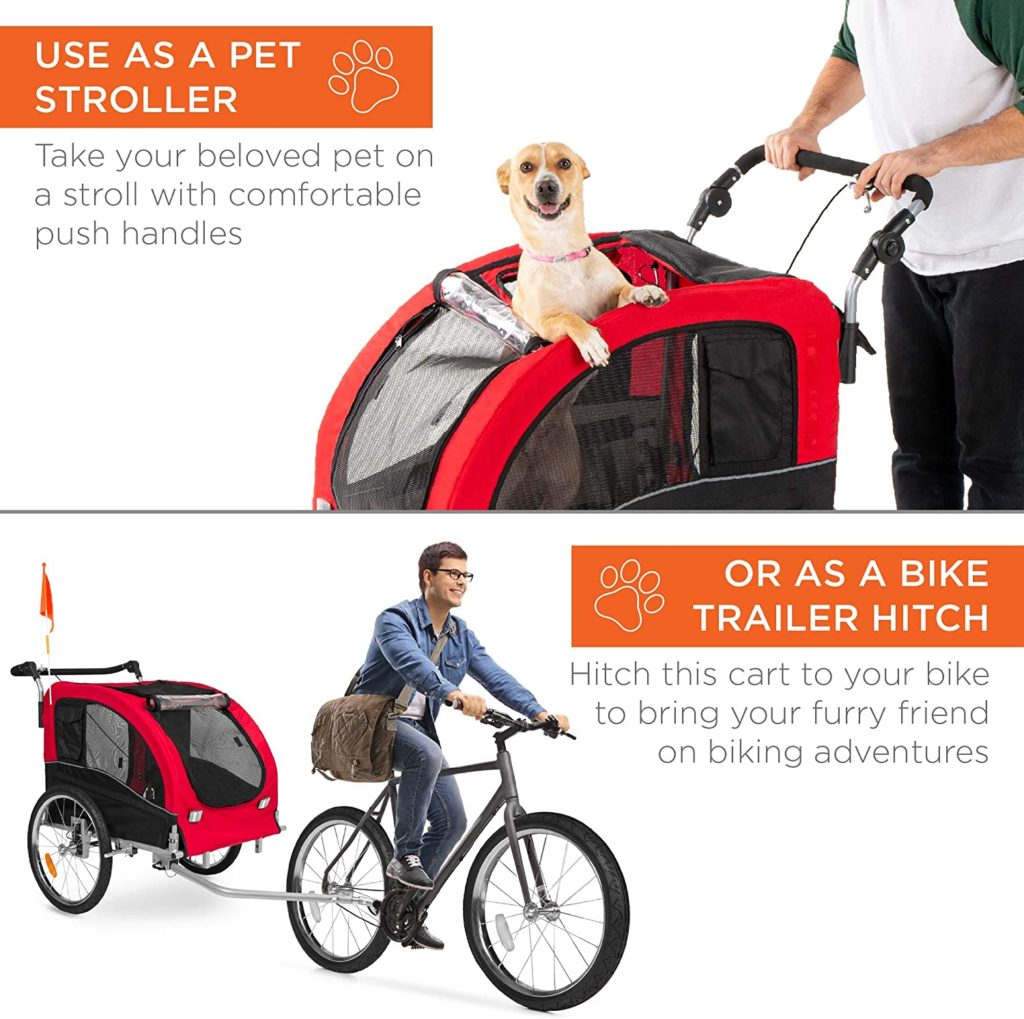 #4 – PetSafe Happy Ride Aluminum Dog Bike Trailer
This is a great big bike trailer that can fit everyone from your Chihuahua to your Great Dane. Let's go over some of the best advantages and features of this product:
Great Material: Made from a light (but strong) aluminium frame, you'll be taking bike rides easily in no time. And your furry friend can come along for the ride!
Ample windows: Some animals get claustrophobic, and others simply enjoy seeing their surroundings. No matter what personality your dog has, they'll get to see pretty much everything you do, with front, back, and side windows, all complete with ventilation. Not only will they get fresh sunlight and sights, but they're protected from overhead UV rays and weather events.
Ride with security: Each model is included with a safety tether that goes right on your animal's collar. This allows for a safer experience when taking the trailer out. Plus, it's got visibility reflectors.
Quick connection: The trailer can be attached to your bike in a heartbeat, so you won't have to worry about a long, boring setup.
Storage: This product also comes with 3 outer pockets for leashes, water, bags, food, or anything!
This epic trailer can hold up to 50 pounds of weight, and there are other models that hold up to 110!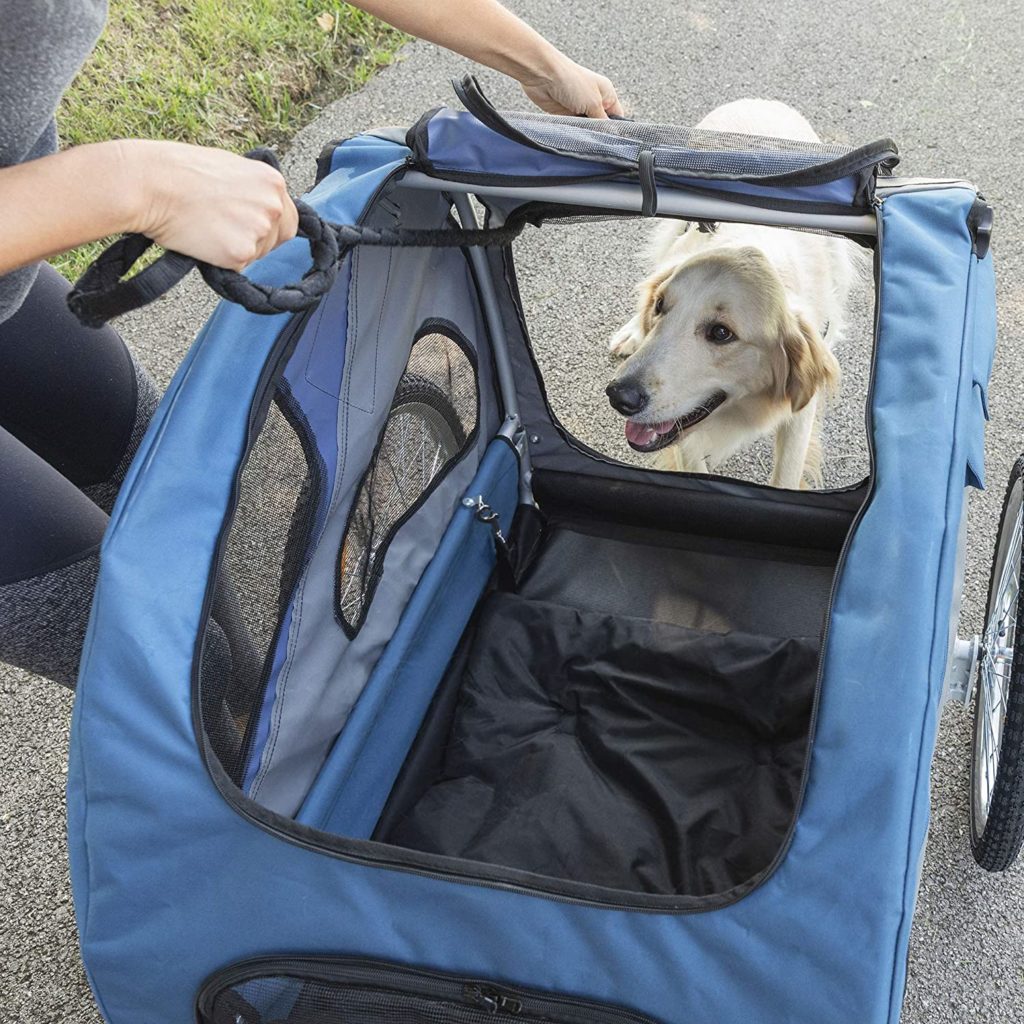 #6 – Aosom Bike Trailer Cargo Cart for Dogs
For dogs, cargo, or anything else you need to bike around with, this is the trailer for you. This trailer includes:
A simple way to get your pets from point A to point B. It doesn't matter if you're going for a morning ride or taking it on long trailers when you go camping. This trailer can go anywhere, and it can carry more than 60 pounds.
Amazing protection from the elements. This product is made from a steel frame and consists of Oxford fabric siding. It's got a bunch of durable features to keep out water, dirt, and UV rays.
Ease of entry for your furry friend: This model has two zippers on each side of the trailer. This means your dog can enter from two sides or stick their head out from one. It also makes for great ventilation.
The 20 inch wheels are massive compared to competing models, and your pet will have a less than bumpy ride no matter the terrain.
The wheels can be released instantly and the device can be folded flat for a great storage experience.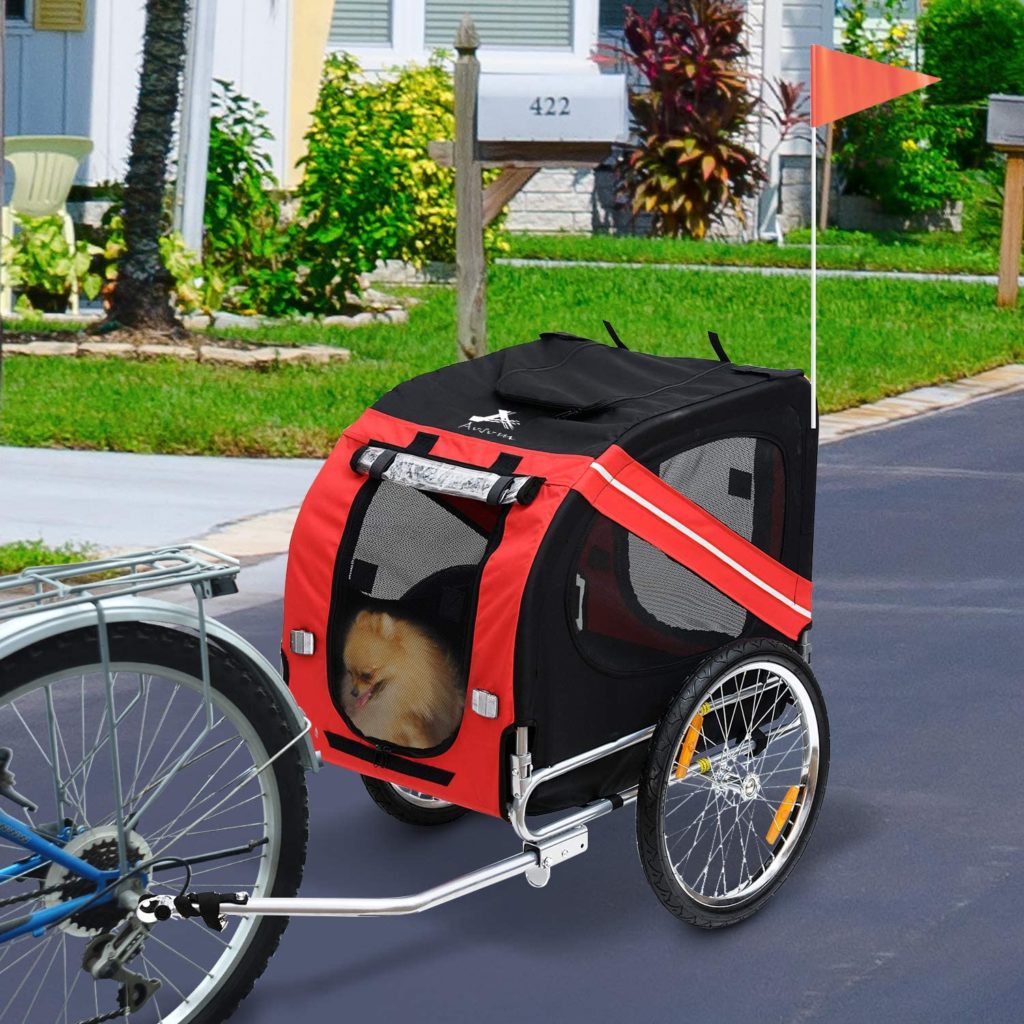 #7 – Retrospec Rover Hauler Cargo Bike Trailer
This trailer is less about protection from the elements, and more about hopping right on. It's got an interesting design that's a bit more unique than the others on this list. Instead of having a large, tall cover, it seats more like the bed of a pickup truck with an optional, low cover for protecting gear. Some of the features include
Weather protection – This thing might not have a whole room inside of it, but it's certainly made for weather. This sports fabric is durable, and it'll last you against the elements. Using the covering, you can keep your belongings nice, safe, and dry.
Generous spacing – What it makes up for in height it certainly makes up for in width. This ultra large platform can fit more than just your pets, but food, books, heavy material, or other personal belongings with ease. It can hold up to 80 pounds.
Compatible with lots of bikes – The size isn't the only wide part of this great trailer. It also has a wide range of bikes it can attach to.
Keeping your stuff on board – On the inside, it's got four point rings to attach your stuff, so that nothing falls out or gets damaged.
Easier to store – Unlike traditional trailers, which have to be folded into being flat, this one already is, which makes storage a lot less complicated.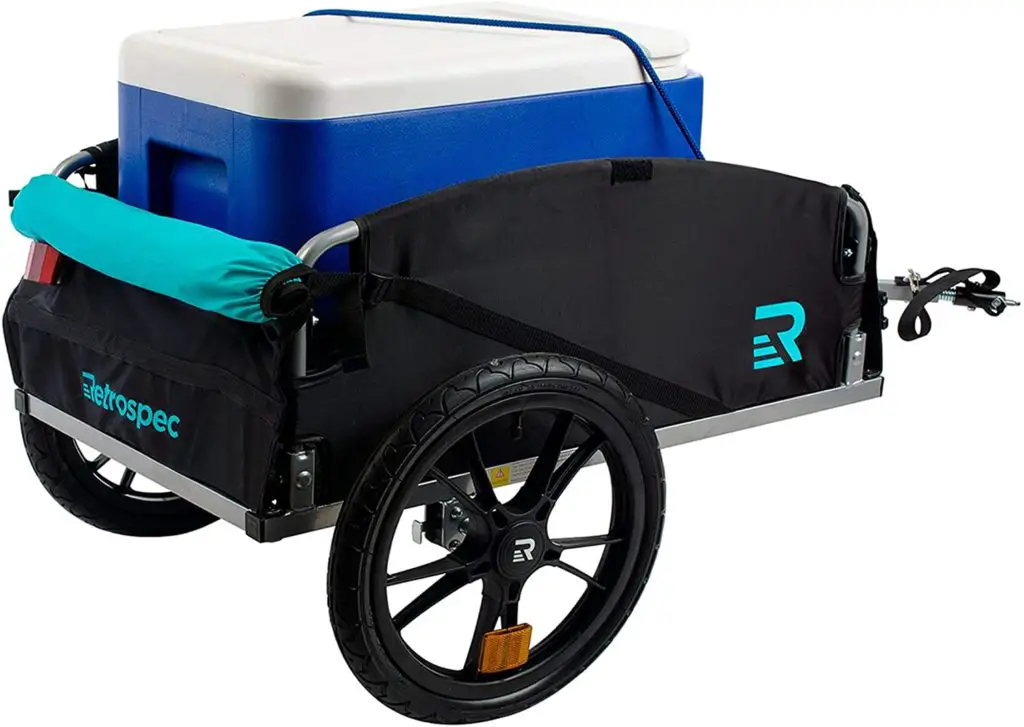 #8 – Retrospec Rover Waggin' Pet Bike Trailer
This is another trailer designed specifically with pets in mind. If you want something that is made for dogs first and foremost, we suggest this option. Some of our favorite features include:
Great comparability: A lot of specially made trailers are lacking when it comes to attaching to bikes, especially big ones. This trailer is universally compatible, so you won't have to worry about it not fitting or attaching.
Convenient back door and space: Not all models come with a cute rear doggy door, but this one does. The storage pouch is the perfect spot for food, water, leashes, or bags!
Great frame: The strong metal frame is durable under pressure, but it can be quickly folded to ensure storage into tight areas.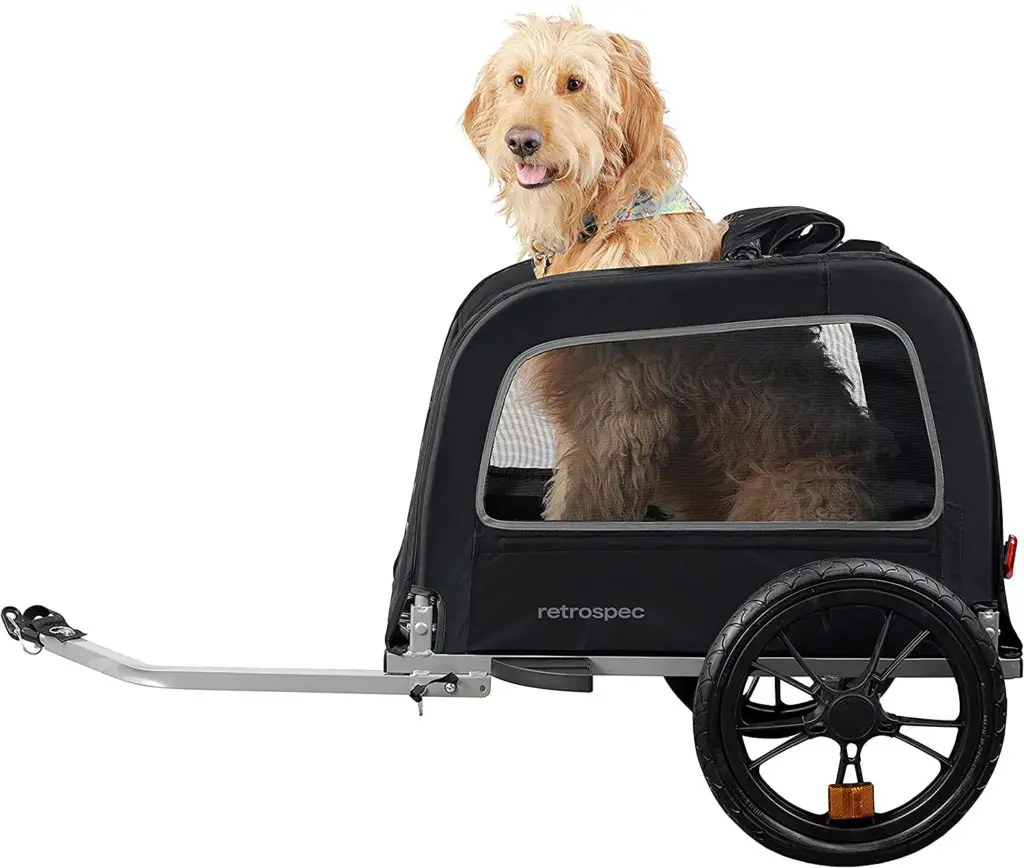 #9 – Booyah Small Dog Bike Trailer
If you have a cute little puppy or lap dog, opt for this trailer. It's got many of the standard safety features, plus huge wheels and a very protective area for your little animal. It has:
Triple sun-blocking protection
bright reflectors on both sides
Plenty of room for two small animals.
#10 – Sepnine Leonpets 2 in 1 Dog Stroller and Bike Trailer
A fast and convenient trailer, this product has it all. From double doors, to a small, lightweight design, you can't go wrong with it. Also useful for little animals, it comes with windows, cozy elemental protection, and a tall flag. It's really a must have.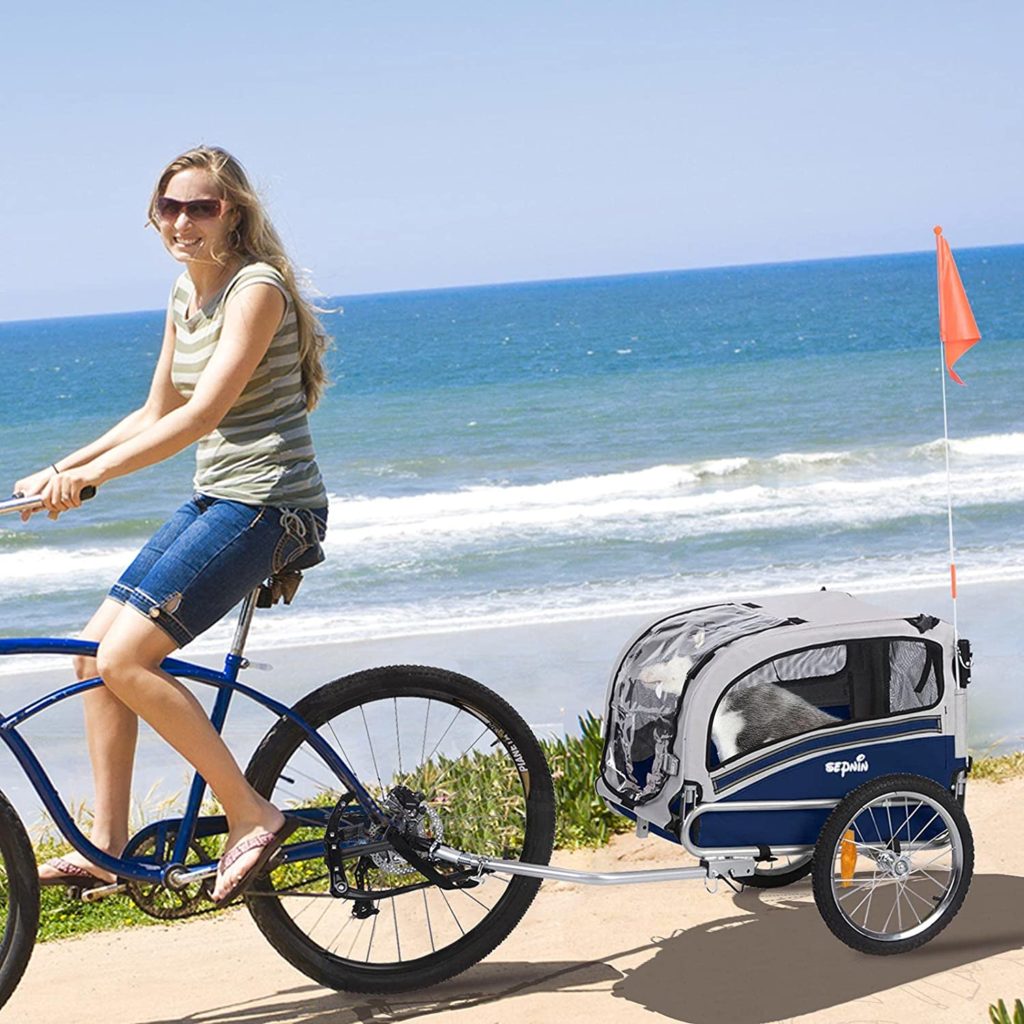 Conclusion
Getting around with animals has never been easier. We hope you'll enjoy one these awesome bike trailers for your next adventure!