Introduction
If you are a fan of vintage bikes or even already own one, it's important that you find appropriate retro bike lights that visually fit its look. However, you might be aware of all advantages that new technology brings. So, instead of the old-fashioned dynamo-powered dimming retro bike lights, you might like something that features recent inventions in bike light technology that promises to enhance your safety and night riding comfort.
On the bright side, many manufacturers consider this as a revolution and many models of retro bike lights are already selling in today's market. Technological advancements like the use of high-power light-emitting diodes coupled with conventional lithium-ion batteries are now available for use in retro light casings to help appeal to even those most enthusiastic about vintage bike looks.
Although such bikes and their related equipment are largely lifestyle items that often go for premium prices, vintage retro bike lights are no longer expensive than their modern counterparts. The technology used is the same and the only difference is in the casing. But with a plethora of options to choose from, here is a detailed guide to help you find the right retro bike light for your bike.
Retro Bike Lights – Best Options
The GOODKSSOP Metal Chrome Silver Shell Bright Classical Cool Bicycle Headlight Retro is designed to provide the perfect finishing touch for any vintage bike build out there. It has a very recognizable retro look, featuring a circular layout, 8 cm wide-diameter lens, and a wartime visor-like hood.
Its bullet-shaped body entails a mirrored chrome finish and this isn't the only thing shining on this pick. Vintage styling significantly stands out, but that isn't to say that this lamp cuts corners when it comes to offering convenience and performance.
With a simple press of a button, the 11 cm long casing will open to reveal the modern workings inside. Its white LED bulb lights up brightly covering not just the road ahead but also the sides. This retro bike light promises a whopping 160 degrees light coverage, to ensure that all of your nighttime rides are always safe. The best part is that this option is very efficient, as it only needs 3 AAA size batteries to run.
Its packaging includes a bracket, to help you attach the headlight with much ease. You only need to secure it to your bike's head-tube using the screw allocations at the fork crown. Operating it is quite easy, which can sometimes feel like flipping a rotary switch.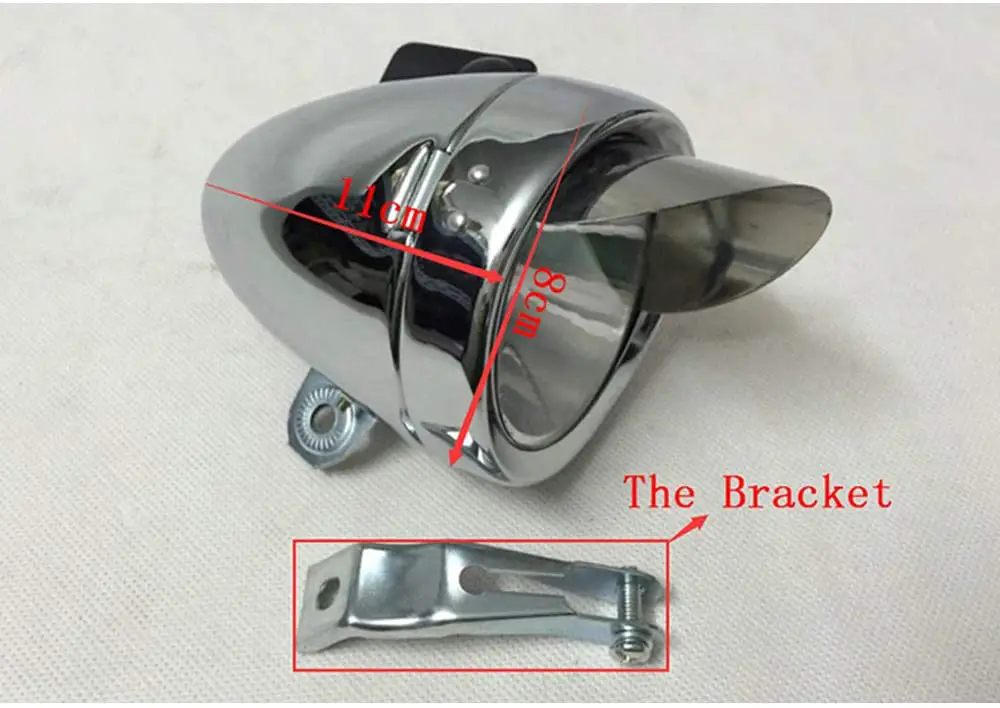 Pros
Easy to install
Sturdy design
Retro classic vintage style
Cons
#2 – KiLEY LED Rear Tail Light for Vintage Old School Classic City Tour Bicycle (LM-002)
The KiLEY LED Rear Tail Light is undoubtedly one of the joys of retro bike tours, especially if you are one of those people looking forward to showing off the beauty of your vintage bike. As the name suggests, it is a rear tail light made by KiLEY and is definitely the sort of piece you might be looking for to accessorize your bike.
It comes with an elegant chrome finish that definitely catches the eye at first sight and has a sharp retro style red light that will ensure you stay visible to drivers during the night. Its design includes a galvanized iron that's beneath the chrome plating, meaning that the piece is very durable.
In addition to that, the KiLEY LED Rear Tail Light features an attractive minimalist grill for added protection. This product weighs 90 g, meaning that it won't be a burden during your rides.
With only 2 AAA size batteries, this retro bile light often lasts for about 70 hours when shining steadily, and around 280 hours when using the flash function. Its packaging includes mounting tools, which should allow you to attach it to your fender without any problems.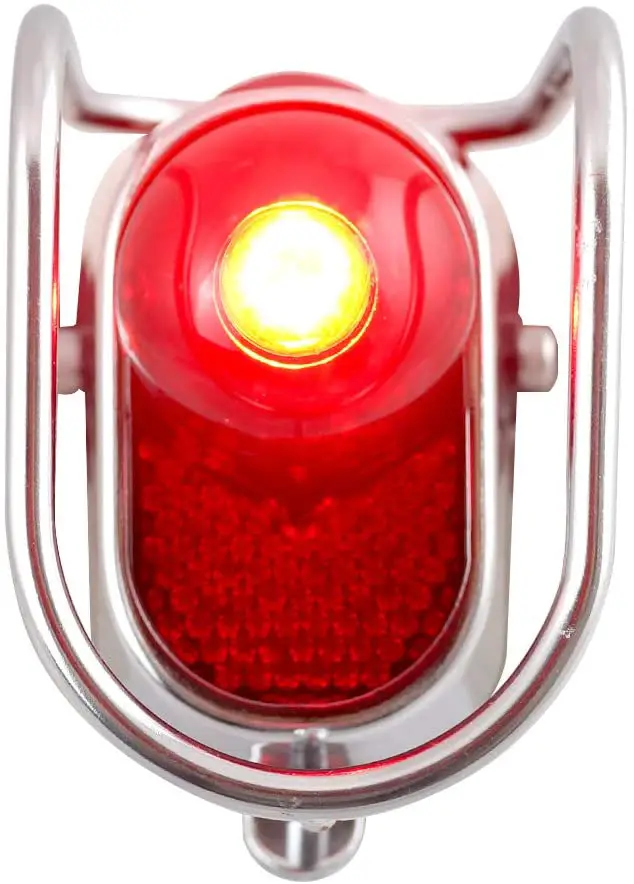 Pros
Universal fit
High durability
Long running time
Cons
#3 – Gazoz Performance Bike Rear Light LED
The Gazoz Performance Bike Rear Light LED is another excellent retro bike light option designed for both vintage and classic bikes. Right out of the box, this product features amazing bike compatibility. It is a metal super bright LED tail retro light that you can easily install on any of your classic steel bikes, city bikes, touring bikes, or road bikes.
Talking of installation, you only need to first add the batteries then proceed to install them on the fender of your bike. Right after installation, this pick will definitely add a unique vintage look and provide a classic feel to your rides. Its design often blends well with most bike types alongside its modern LED light technology.
Its make is generally sturdy and very durable, meaning that it can be the perfect companion you need for all of your future long rides. Its average running time without flash usually is about 70 hours and that for flash is around 280 hours.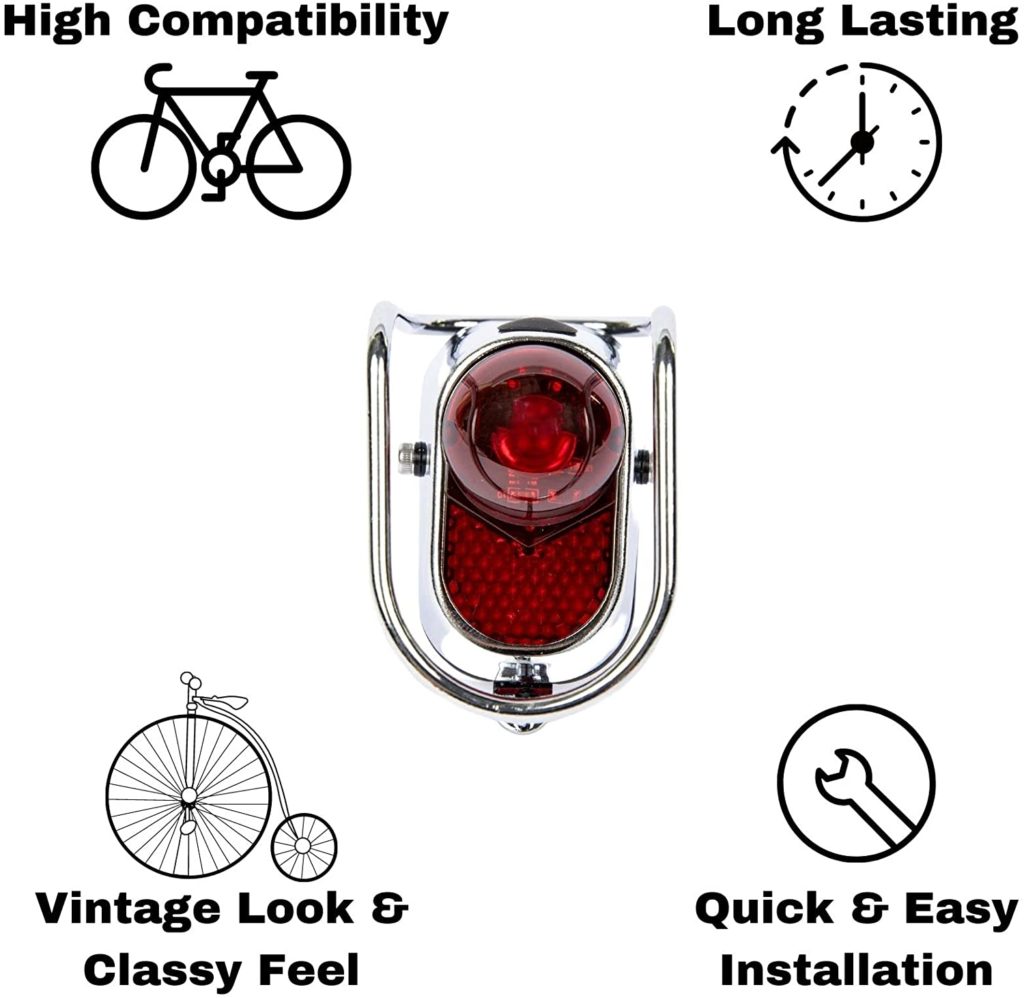 Pros
Bike compatibility
Quick installation
Long lasting option
Cons
#4 – Vintage Retro Bicycle Bike Front Light
The Vintage Retro Bicycle Bike Front Light Lamp features a waterproof design and comes with up to 160-degree visual field. To back this claim up, it is a 7 LED bright shining retro bike light that's meant to specifically suit night riding.
The option has a very sturdy body to complement its high-grade LED retro bike lamp look. It's commonly fitted with a special lens on the outer front, to help optimize its light output. Installing it shouldn't be a problem as you only need to make sure that the bracket is installed either on the front brakes or fork hole of the fixed cog. The only downside is that it can't be installed if your bike still has a former shelf.
Pros
Waterproof design
1600 visual angle
Sturdy body
Great looks
Cons
#5 – GOODKSSOP Bright 3 LED Retro Bike Light
The legendary GOODKSSOP Bright 3 LED Retro Bike Lights are the second entry on the GOODKSSOP's retro bike light series. These inventions feature a rounded style and vintage tapered headlight housing.  
At first sight, you'll notice that its circular lens is visibly ribbed in the classic style meant to enhance the retro design. The headlight commonly diffuses brightness so that it doesn't blind onlookers at night and this should not be misunderstood that it isn't a bright light.
It's fitted with three LEDs to ensure that you see clearly in all conditions. You can either switch to a pulse setting to help conserve the battery or choose to set it to a steady beam. This pick commonly uses 3 AAA batteries that can simply be installed inside the housing through the simple secure latch on it.
Its casing is another feature that sets it apart from other retro bike lights. Its entire body is mainly made of ABS plastic that's commonly coupled up with a metallic silver or black paint finish. The plastic cover is very durable and often adds to its already feather-light design.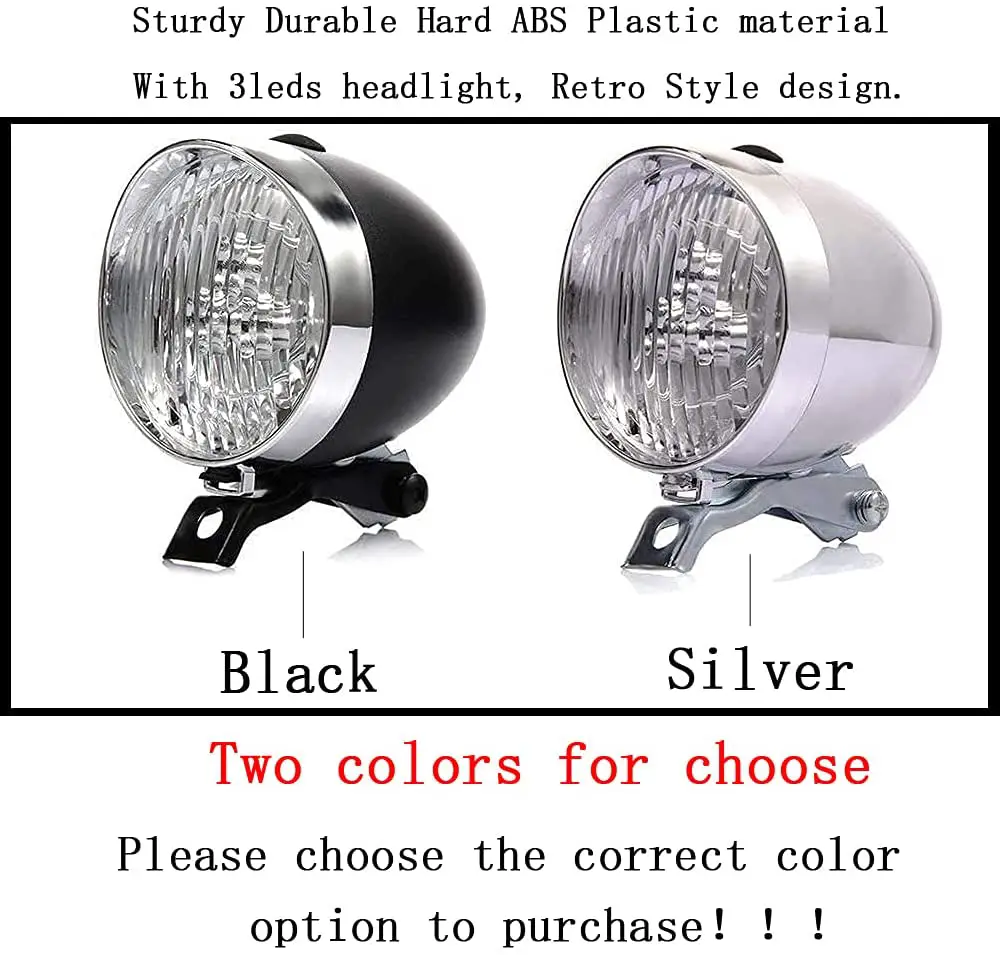 Pros
Durable design
Popular pick
Good customer service
Quick installation
Cons
#6 – GOODKSSOP Bright 6 LED Retro Bike Light
The GOODKSSOP Bright 6 LED Retro Bike Light is another wonderful product from the GOODKSSOP Company. Basically, it is a 6 LED metal shell front retro bike light that comprises high-quality materials and functional features to be among the best retro bike lights in today's marketplace.
It is simply one of the best night-riding retro bike lights available in the vintage cycling headlamp category, as it features numerous dazzling LED lights. Its outer lens is one-of-a-kind and it works to amplify the white LED lights, making it glow brightly for a long time.
Its installation process is pretty straightforward and is just perfect for those who don't want to waste a lot of time fitting a new headlamp or replacing an old one. Furthermore, its controls are easy to use, as all you have to do is to flip a switch on or off.
To function, this marvelous make only uses three AAA size batteries but you have to purchase them separately. That said, be sure to only buy and use good quality batteries for better long-lasting results.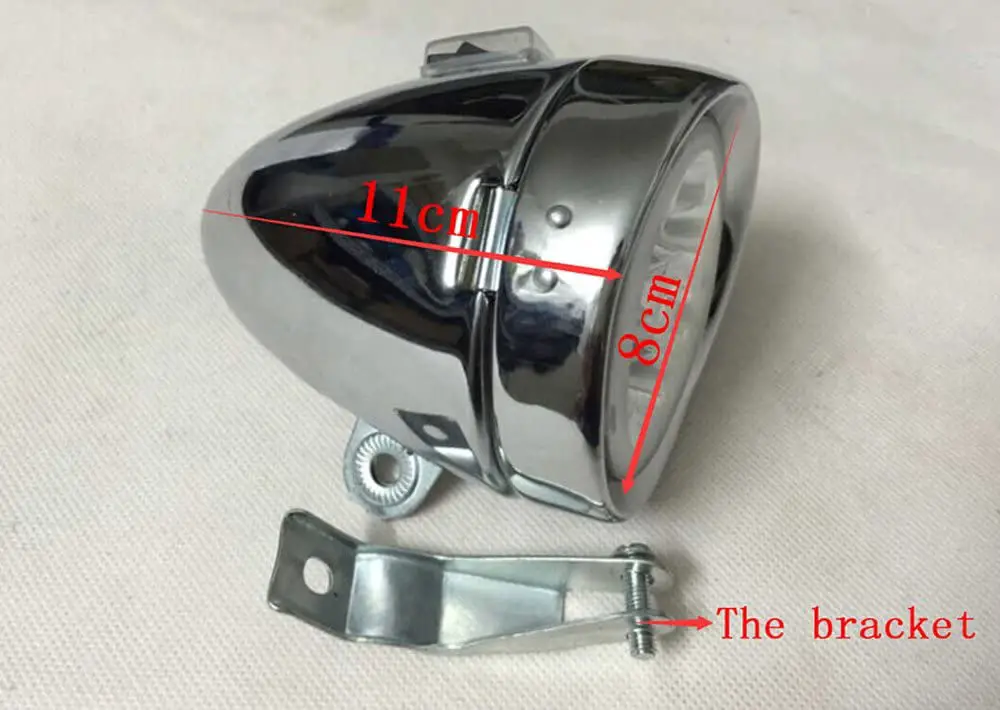 Pros
Bright LED lights
Sturdy build
Well designed
Unique look
Cons
#7 – Bike Light 3 LED 2Modes Bike Front Light
The Bike Light 3 LED 2Modes Bike Front Light is made of sturdy high-quality durable ABS plastic material and fitted with a special lens to help provide optimum light output. It is a well-known and celebrated high grade 3 LED retro bike light that usually comes with up to 3 white LEDs, making it suitable for riding at night.
Featuring 2 modes only, this option is pretty much easy to operate. To install it, the manufacturer specifically advises ensuring that the brackets are fitted on the front brakes or fixed on the fork hole. But you might have difficulties installing it on a bike that has a former shelf.
The Bike Light 3 LED 2Modes Bike Front Light is commonly powered by three AAA-size batteries that you will have to buy separately. But installed, you can use it for multiple functions like casual cycling, camping, hiking, or any other outdoor activity you might have in mind.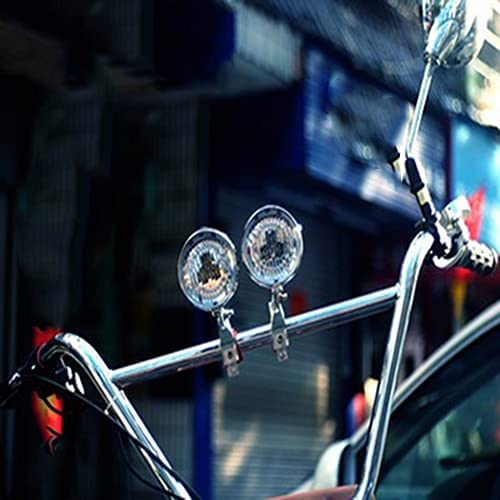 Pros
3 LED lights
2 operation modes
High quality build
Multifunctional
Cons
Conclusion
There are usually very many options to choose from when you looking for a suitable retro bike light. But it would be best if you keep in mind the exact lighting needs you have before jumping into the market. To find the best of the best, this might largely depend on your cycling style, taste for design, bike type, and purpose.  But the only variable that will always remain constant is that getting the right one for you will be a worthwhile investment.
Whether you are looking to add a classic look to your bike or simply want to make your night rides safer, retro bike lights will help get the job done. But there are some major things that you need to keep in your mind when buying one.
Bike lights are generally divided into either a headlight or tail\rear light. The headlight usually refers to the bright front light on your bike and the tail light simply refers to the small red light indicator that makes your bicycle visible to drivers at the back.
Their quality and performance can be measured in terms of brightness, visibility range, battery life, and certification. These are only but a few basic elements of bike light, and we need to consider several others when buying a retro bike light. These mainly include aspects like light modes, design durability, mount options, construction, price point, and many others.
These have well been taken into account when compiling this comprehensive buying guide. Feel free to buy any of the discussed options to enhance your biking experience.