Introduction
Being physically active does not need to be monopolized by adults. In fact, some parents should be able to share the experience with their children and that is why, to those who do not know yet, it is good to look into buying an adult tricycle with a child seat.
The first question that pops into the head: Why a tricycle?
The most obvious answer is that a tricycle is more stable than a bicycle because, at the end of the day, it is good to share your active lifestyle with your children, but their safety will always come first. Imagine putting unnecessary weight on a vehicle that you are already trying to make sure that it does not topple over you.
Comparison table
Image
Product
Price
Additional information
Tricycle Folding Bicycle
Our rating:

$$

More Details

ZHANGYN Tricycle
Our rating:

$$$

More Details

3 Wheel Bikes for Seniors
Our rating:

$$

More Details

Viribus 24in
Our rating:

$

More Details

20inch Adult Tricycle
Our rating:

$$

More Details
This is why, although maybe "uncool" an adult tricycle with a child seat is always the better option. However, there are many more considerations that need to be factored in when picking an adult tricycle with a child seat, and these include:
Safety – the purpose of a child's seat is to ensure safety, but to determine whether the seat is safe for your child, make sure that it has a three point harness and maybe either a belt or a bar that goes across the waist to ensure security because children may easily slip out, or some peice of clothing might dangle which is a recipe for disaster if caught by the wheels
Comfort – although more for the child than yours, it is best if the adult tricycle with child seat has proper cushioning, and to always make sure that you make the child's head be comfortable. In most occasions, properly securing the head is paramount
Adaptability – this basically means that it is expected with the child seat on an adult tricycle to be passed around from one parent to another. That is is how it comes off and on should be easy enough that any ride will be able to accommodate it.
adult tricycle with child seat – best options
#1 – Tricycle Adult Folding Bicycle
This adult tricycle with a child seat will probably be the unique one because the seat designed for children has been built to fit two. On most occasions, mostly for safety, it is designed to only hold one.
What makes it more appealing to adults is how its framework is built with carbon fiber. It is the most expensive material that a bike can be made of, however, it is also the lightest. It is due to this fact that regardless of who is in front, maneuvering the tricycle with two children in the back is relatively easy.
It is also built with two baskets, convenient when you go out for groceries.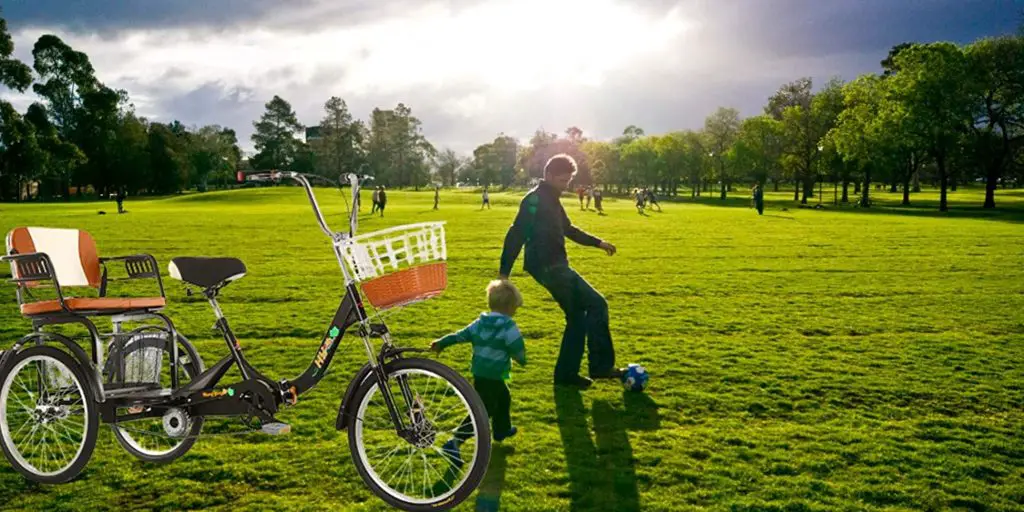 #2 – ZHANGYN Adult Tricycle
Unlike the first adult tricycle with a child seat that was shown, the size of the rear where the children should settle down is smaller. Additionally, it only offers one basket meaning you should carefully consider what you buy when you are out with your child.
On the other hand, it offers the very same specifications that the previous one had such as:
A foldable rear
Frame that is made of carbon fiber making it light and easy to maneuver
Comfortable cushioning
Seatbelts to make sure that they do not slip off the chair
The same as the first one, this adult tricycle with a child seat from Zhangyn checks all the factors that you need to heavily consider before making a purchase.
#3 – Adult Mountain Tricycle
As an adult tricycle with a child seat, this vehicle has tires that were designed like it was a mountain bike. That is why you are less likely to slip when cycling on this especially on wet surfaces which is an added safety measure, and necessary, with a child potentially on board.
It is made possible with the grooves on the tires that enhance its grip on any surface that you are cycling on.
Other than that, every other feature is identical to the first option that was selected. The frame is made of lightweight carbon fiber for maneuverability, foldability, and this time, it is built with two baskets which makes it more convenient to grab more essentials than the previous adult tricycle with a child seat on the list.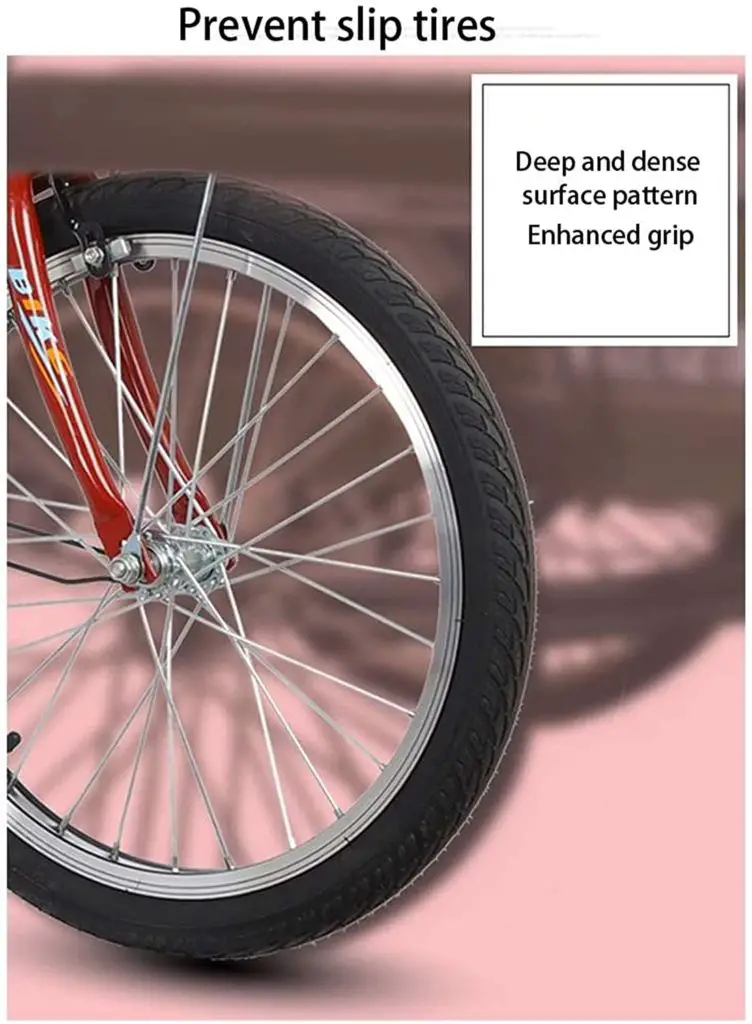 #4 – Viribus 24in. Adult Tricycle
One of the top-of-the-line adult tricycle with child seat among those listed here which considers not only the children's comfort and safety but also the driver. This is mainly highlighted with its cruiser handlebars which allows for a relaxed, upright posture while steering the handlebars
Additionally, the 24-inch wheels help keep the adult tricycle with child seat steady on its own, taking this crucial task away from the driver, giving them the chance to shift their focus on other important things like keeping an eye on the children who are in his hands.
Similarly, it has two baskets, but the framework is made of steel which might make it slightly heavier than the others.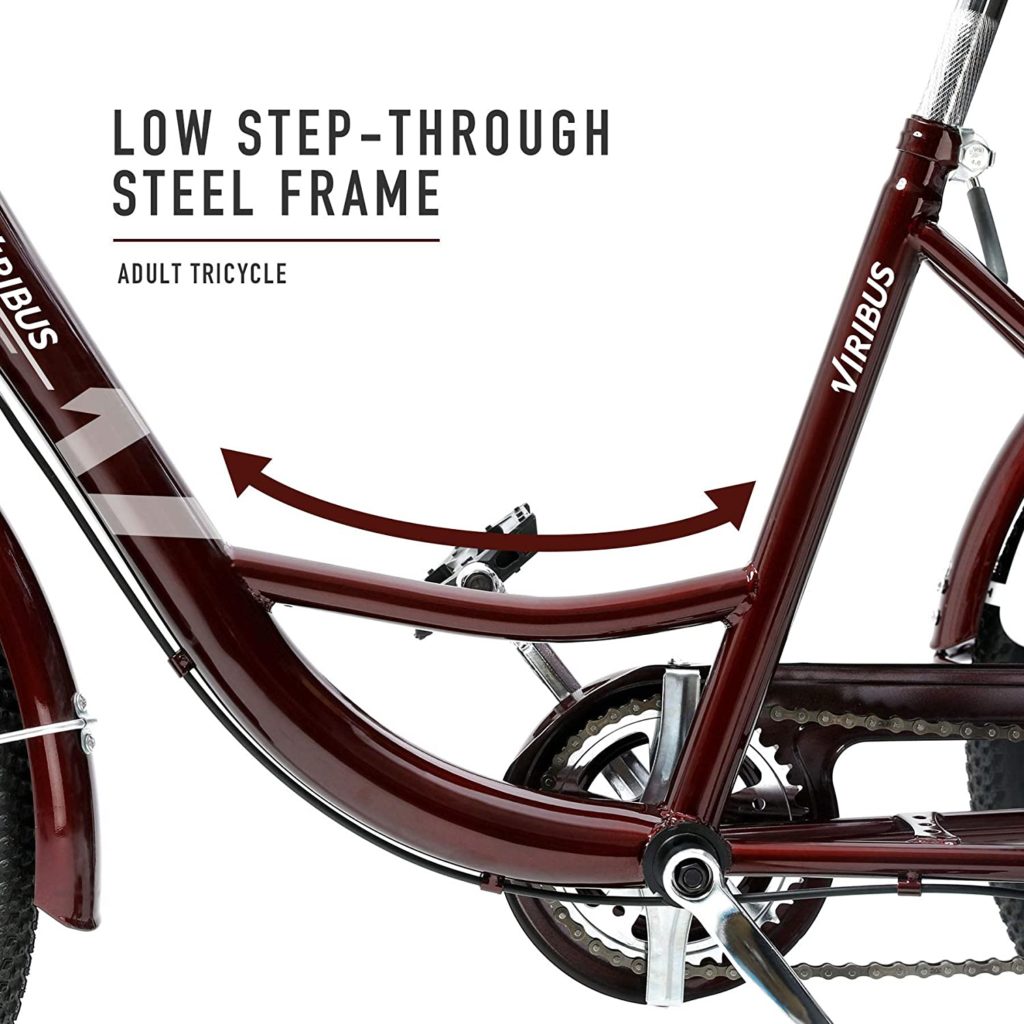 #5 – 20inch Adult Tricycle
Just like any adult tricycle with a child seat on the list, this one is foldable for ease of storage, but its weight might become a problem because of how its frame is made of steel.
In spite of the basic features that this one has, when purchased it will come with many free items that you will find essential for the entire experience including repair tools.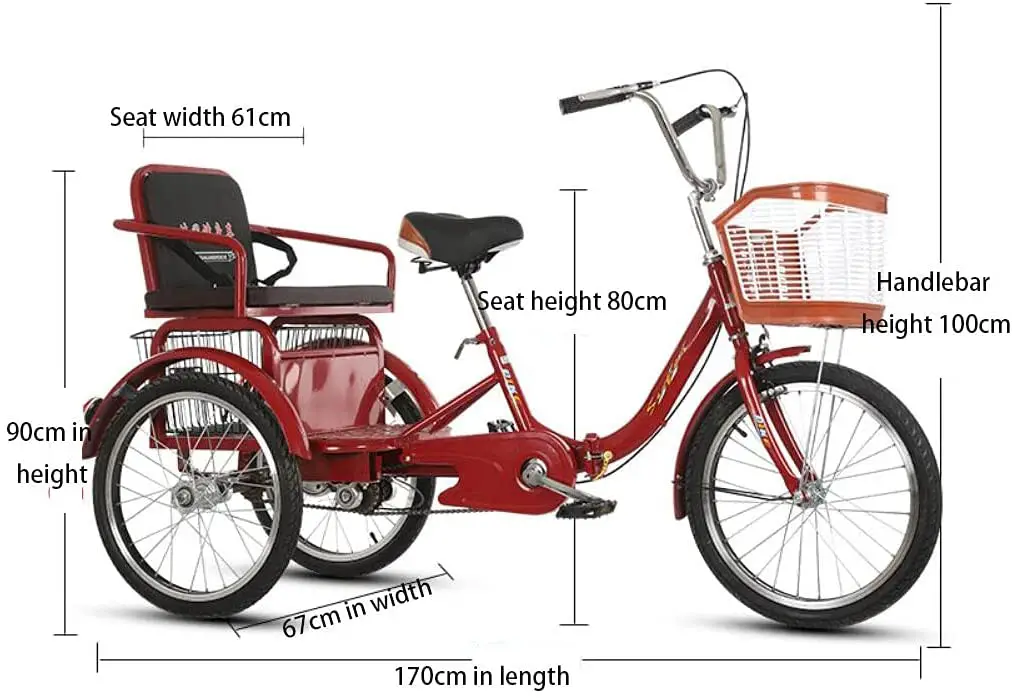 Conclusion
You do not have to enjoy being physically active on your own. It is something that you can always enjoy with your family, and this should hopefully influence them to keep it up as they grow into adults.