Introduction
With so much information and so many choices, how can you find the best electric bike under 500 dollars?
There's a lot of different reasons to ride a bike. Some people do it for leisure. Others do it to attain certain distance or speed goals. Many do it as their daily commute to work or school. But one thing is true about all biking experiences: They'd be way better on an electric bike. Today, we'll be looking for the best electric bike under 500 dollars. But before any of that, let's go over the basics of e-bikes, as well as some important tips to help you make a great purchase.
What are the main types of E-bikes?
Electric bicycles are usually divided into 3 types, depending on their ability to work automatically. These types include:
Type 1 – Bikes that start accelerating when you pedal (often called pedal assist), and stops at a certain speed (usually about 20 mph). This is one of the most common types of e-bikes, and many of the cheap ones can be categorized here.
Type 2 – Bikes that include this pedal assist, but also work without any movement on your end (full throttle mode). These work like a moped, and they're great for people who don't want to exert too much energy.
Type 3 – Bikes that assist you up to a very high speed (typically 30 mph). These are just like type 1, but they can go a lot faster with less pedaling. Great for long, open routes.
These types are important to keep in mind, as local laws & regulations typically classify e-bikes into similar categories. It's always best to be riding a bike that you're legally allowed to use in your area.
Pedal Assistance
If you want a cheap bike that you can ride anywhere, you'll probably want to opt for a bike that uses pedal assistance rather than fully automatic power. These are usually cheaper and you're allowed to use them (almost) anywhere. Once you've decided to go down this route, you must also make a decision about what type of pedal assistance works best for you:
Torque Pedal Assistance – In the style of a traditional bike, this type of pedal assist accelerates the bike based on how hard you're turning the the pedals. If you get lucky, you might find a bike with a great torque pedal system, and it'll feel like you're doing all the pedaling yourself! These are great if you still want to get some cardio in while you ride, and they are generally more easy to naturally control.
Cadence Pedal Assistance – This is the classic "electric bike" feel. The bike starts moving as soon as the pedals are turning, and it tries to maintain a certain speed at all times (based on your settings). If you start peddling more, it will use less energy. If you aren't looking for a manual bike ride experience, this is the way to go. It feels a lot easier, and you can go super fast without hardly moving a muscle.
Bike Weight
Figuring out how much your bike will weigh (along with how much is right for you) can be a tricky equation. Just like conventional bicycles, there's a strong correlation between price & weight. This is especially important if we're trying to find the best electric bike under 500 dollars because lighter is usually better.
You may be thinking "Who cares about bike weight? The thing can practically push itself!" For the most part, this is true. Weight does, however, raise some concerns in fuel efficiency, and heavy lifting. If you live on the third floor of an apartment complex, taking a gigantic bike up a flight of stairs is no fun. It's even worse if the weight brings down the range of the bike.
Battery
This is one thing you sure don't have to worry about with traditional bikes. Batteries are actually a huge factor in the quality of bike you purchase. Buying an e-bike without knowing about the battery is like buying a car without knowing about the engine. You should be comparing the big battery brands (how old they are, how long they run, how long their batteries take to charge, if they have any problems, etc.) as well as the specific battery your bike ends up having. The most common (and cheapest) batteries are lithium-ion. Brand new, they can last around 5 years if you're lucky.
Electric Bikes Under 500 Dollars – Best Options
#1 – Macwheel 16″ Electric Folding Bike
This epic folding bike combines the joys of fast transportation and convenient storage. It travels extremely quickly and has a super far range. It tops out around 15mph (a lot for a folding bike) and typically can travel about 30 miles. The bike itself is built out of industrial-grade aluminum and each piece is wielded together with care. The strong design is no joke either. It can support up to 265 pounds and get you where you need to go even in rough road conditions.
This bicycle also comes with a dual brake system. There's one for the front and one for the rear wheel, giving the rider more control and peace of mind. This is also a major safety advantage for quick stops & rough terrain.
The bike has no assembly required, so there's no need to stress or hassle. Once you get it, it's ready to ride. We recommend trying this bike out a few times before trying to get it to max speed. It has an amazing torque, and packs a bigger punch than one would expect.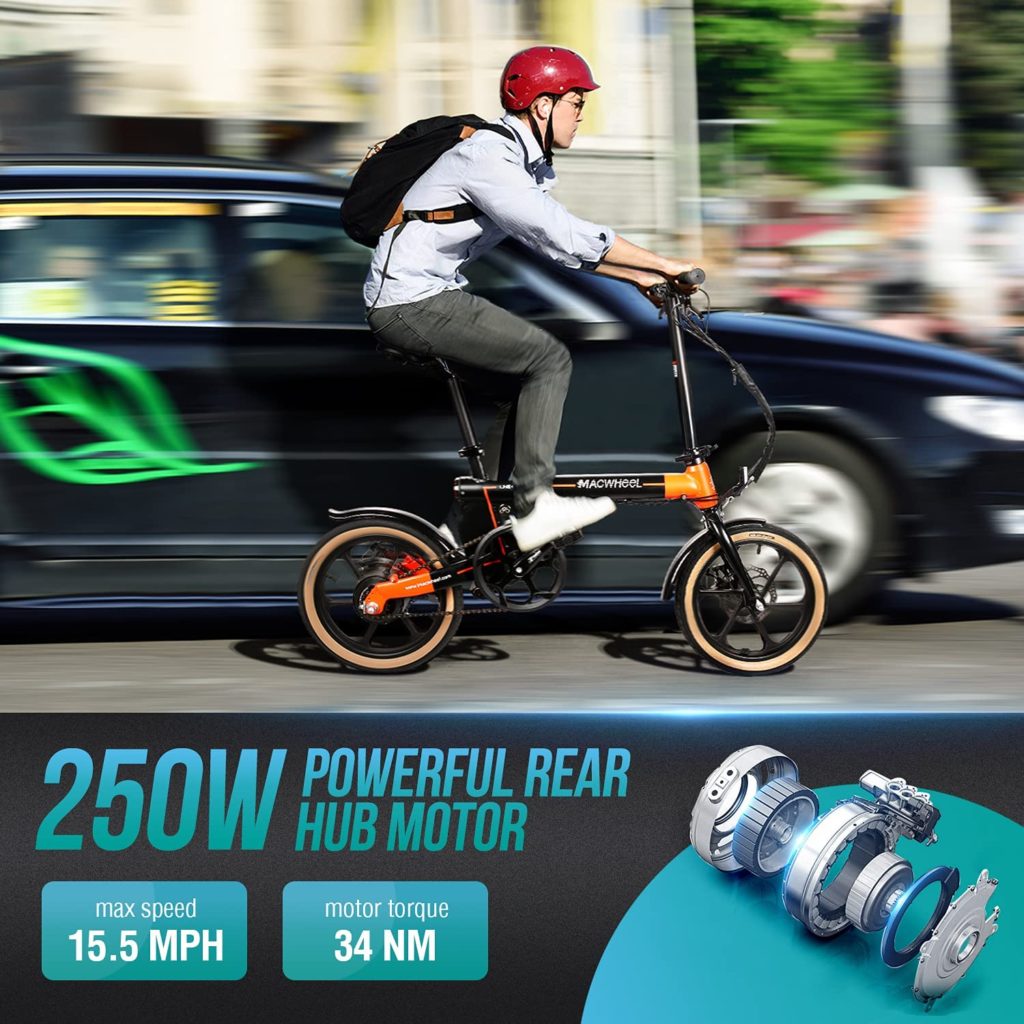 #2 – ANCHEER an-EB5 Plus Folding Electric Bike in Black
If you want a quality bike well under your $500 budget, you gotta stick with Ancheer. They're one of the top names in e-bikes. The company has a major focus on creating new designs, engineering better bikes, and giving users a great experience. Most importantly, Ancheer understands how important it is to have a safe, reliable bike at a low cost. The bike features two brakes, a lithium-ion battery, and is fully charged in a few hours.
This may be the best electric bike under 500 bucks with all of the technology it uses. For example, it has a bunch of high-tech battery measurement systems, enabling the user to have an incredibly long battery experience. In fact, these small machines can typically ride for up to 15 miles. That means you can pretty much go anywhere you need to in an urban area. This thing is truly built for getting around streets and sidewalks. It's even visible in the design: The thick wheels (in a similar fashion to classic BMX bikes) allow for easier, less bumpy movement.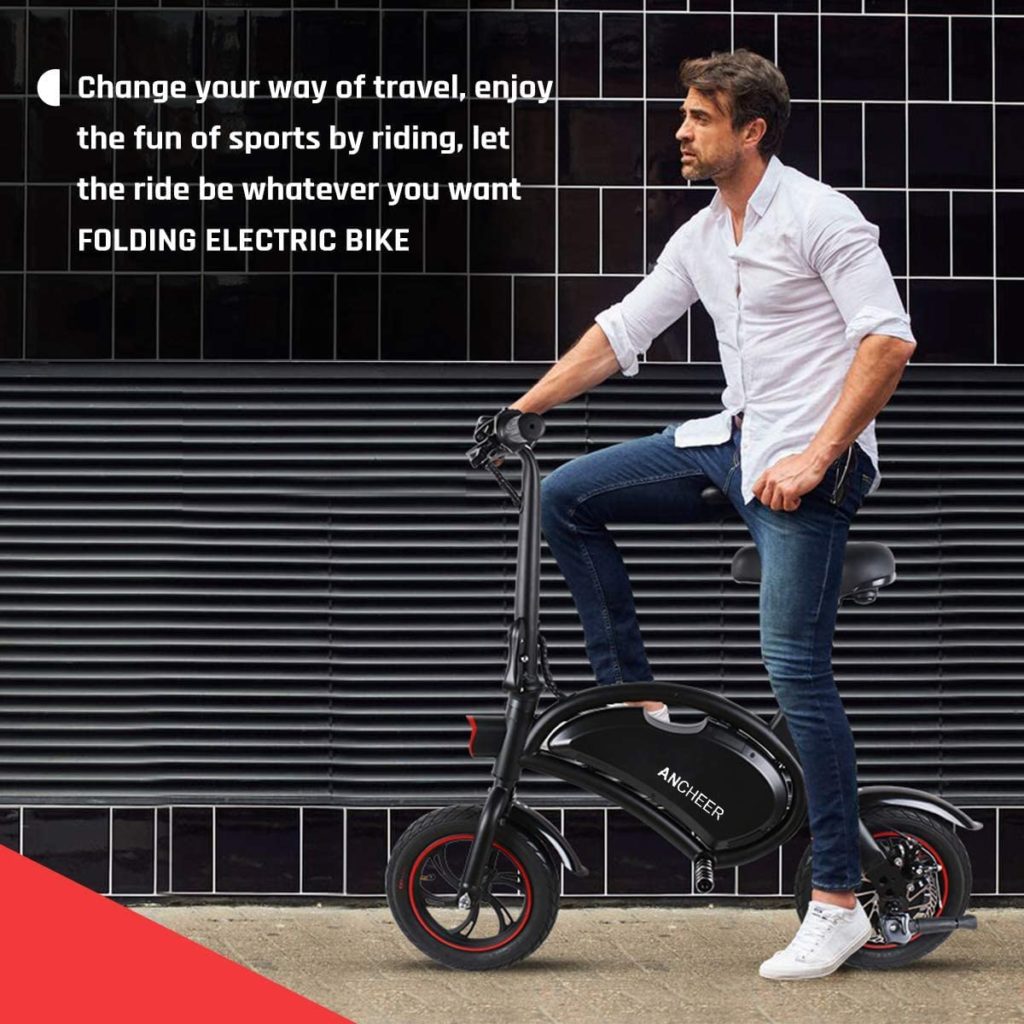 #3 – Shaofu Folding Electric Bike– 350W in Black
This bike is a lot like the other options on this list, but it's also waterproof! Not only that, but Shaofu builds their bikes with revolutionary speed settings that make operating these things a breeze. On this thing, everything is connected to an LG cell. From the brakes to the motor settings, and even the front/backlights!
This bike usually outperforms expectations and can go up steeper inclines with ease. The design is sleek, and its generous weight range allows most people to ride. It's a great price for what you get, and you can fit it into the trunk of most motor vehicles. Spending a few hundred dollars for the ultimate cruising experience really is a no-brainer!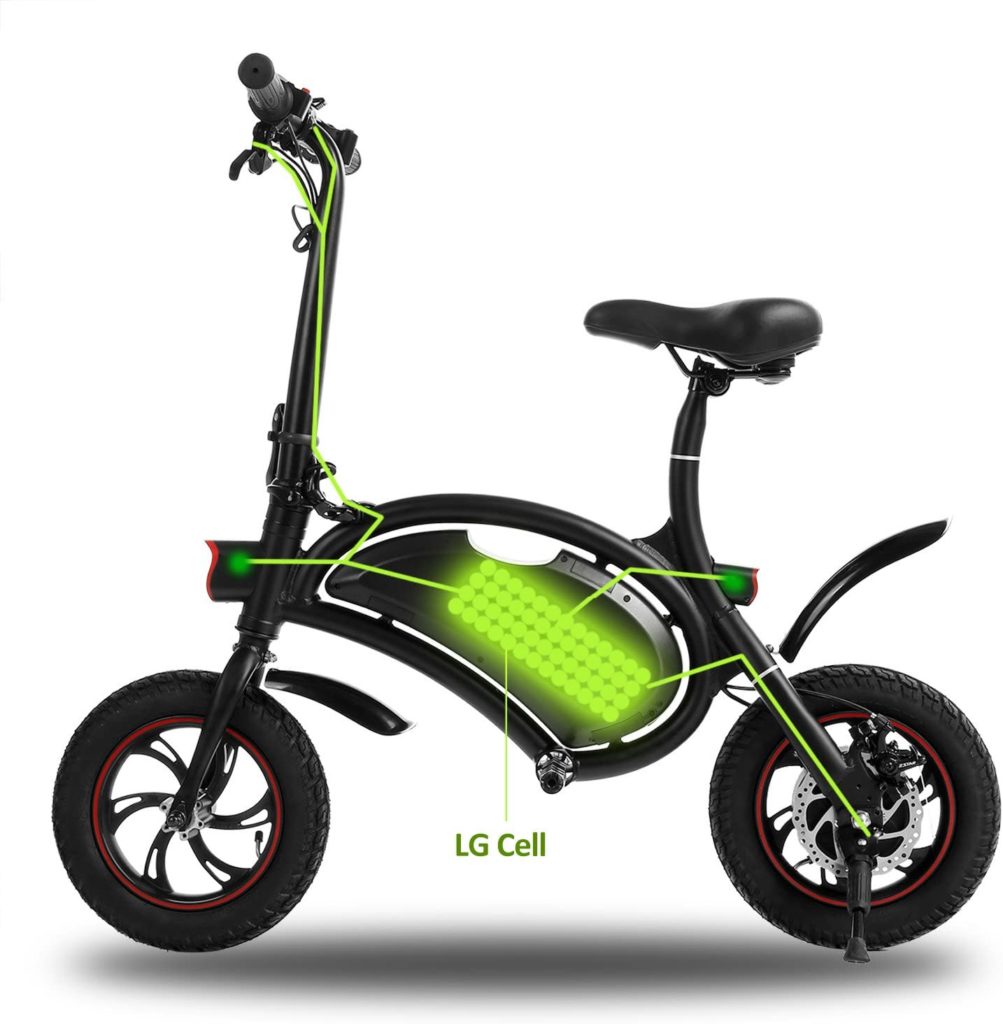 #4 – Hiboy P10 Folding Electric Bike in Black
There's lots to love about this safe, classically styled folding bike. For one, it's got a 350-watt motor that can reach speeds of up to 15 mph. Speaking of which, you should be able to go at least 15 miles per charge, if not more. Many users report hitting 20 miles in the right conditions.
This thing is stable and practical for getting around town. This bike looks a little different from typical folding bikes, and for good reason. You might notice that the tires are thicker, or that the handlebars offer more settings and maneuverability. Every feature you see is designed for the safest, most enjoyable riding experience. If you want to zoom around from spot to spot, this will save you time, money, and headaches.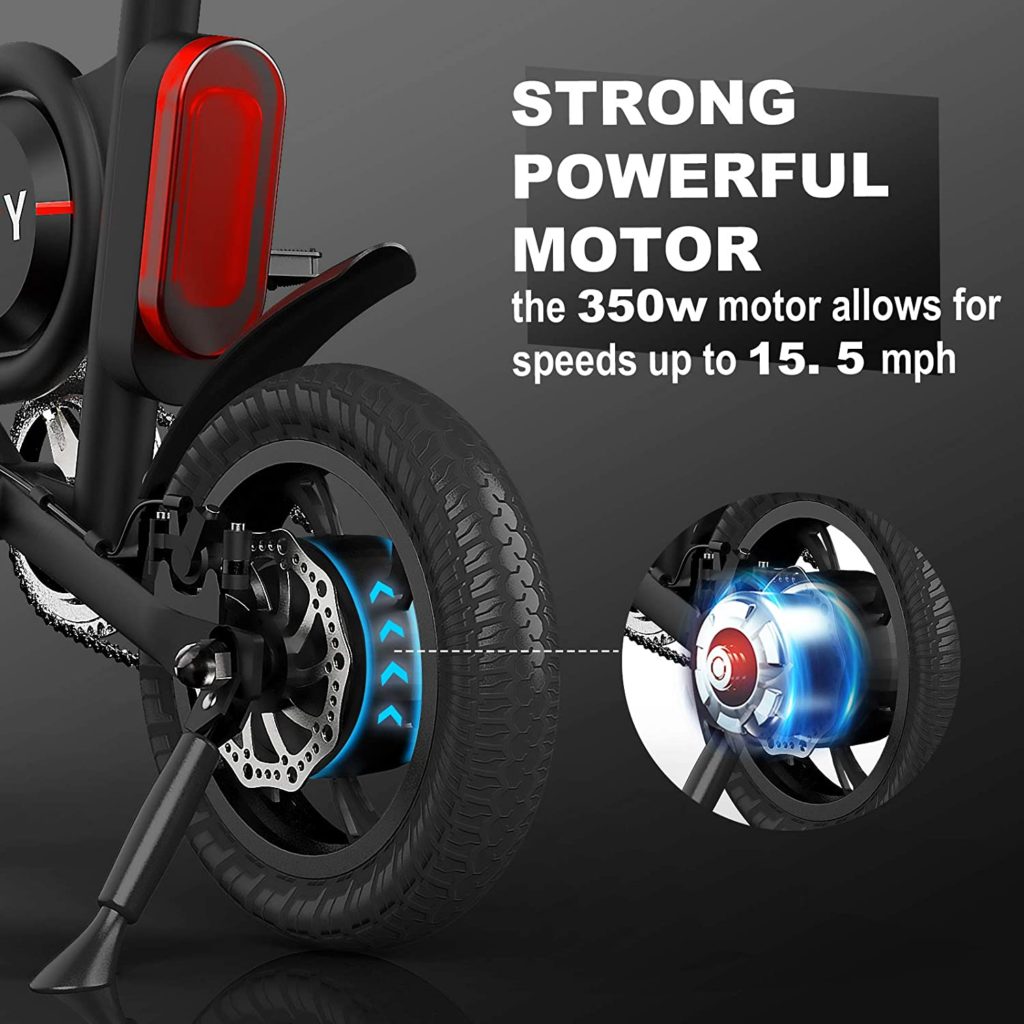 #5 – ANCHEER Folding Electric Bicycle 350W
It's time to get a folding e-bike that has all your favorite features, without the giant price tag. The 350-watt motor is an absolute beast, achieving top speeds of 17 MPH. It's also got strong voltage, a trusted battery, and a 15-mile range. Weighing in at only 36 pounds, this thing can fit almost anywhere, and the ride is nice & light.
The bike is shipped 85% assembled, and the rest of the job is a piece of cake. Our favorite part about this bike is that it's Bluetooth-enabled. That means you can customize the settings on it, and the password protects the motor's on the switch from the tap of your phone. For all of these features, you really can't beat the low price. In our opinion, this very well may be the best electric bike under 500 dollars.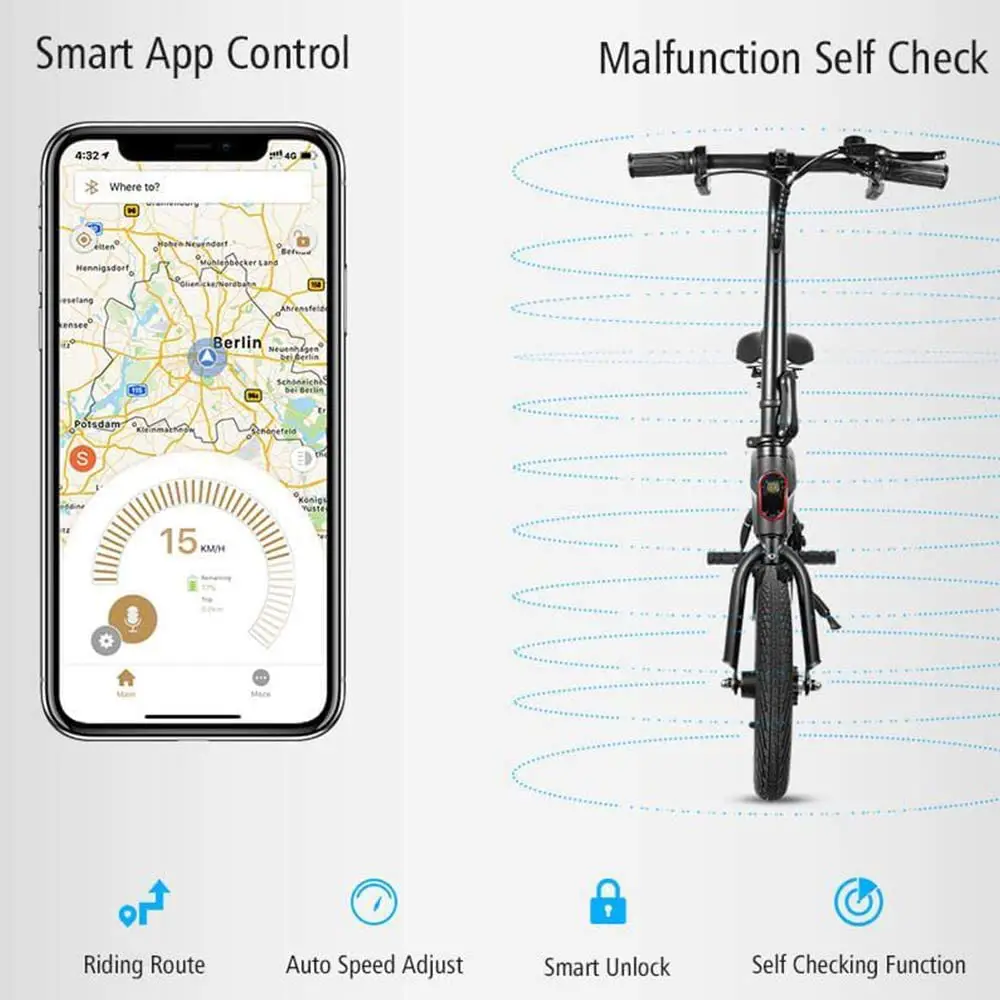 Conclusion
There's a lot of great e-bikes to consider, and these 5 are among the best. That being said, it's always important to remember some key points when buying your first electric bike:
How much power do you need? This is a major question that depends on a lot of things. Where do you live? What kind of terrain or elevation will you encounter? The biggest factor here is probably weight. If you weigh more than 180 pounds, it's always a good decision to get a bike that has a 300 watt motor if not more. Be careful though, the more powerful the motor, the more laws you could be breaking, which leads us onto our next point…
What are the regulations in your area? All around the world, certain restrictions are in place for the use of electric bikes. These restrictions vary from person to person, by age and experience with motor vehicle operation. They can also vary greatly by municipality. If you live in the country, a powerful e-bike is probably no big deal. But if you take it into the city, you could be breaking the law. If you can, go online and figure out exactly what kind of laws your area has surrounding electric bicycles, and cross of any potential purchases that aren't within that scope.
How far do you need your e-bike to go? Again, this question depends on a lot of different factors. The most important factor here is probably your intention behind buying the e-bike. If you're planning on giving it to your kid to ride around the neighborhood, they shouldn't have any trouble. But if you're planning on taking it to the park across town, it's always a good idea to look at the range on e-bikes you'd be willing to purchase. Most e-bikes are good for a minimum of 15 miles. Assuming a round trip, this mean's you probably have to stay within a 7.5 mile radius (or less) of where you live, not including detours.
Are you riding a bike for fun? Most people aren't making professional commutes with folding e-bikes. However, if you seriously are considering going to work on one every day, it may be wise to find a pricier option. Most folding e-bikes are designed for trips to the mall, across a boardwalk, or into a park.
Should you invest in protection for your e-bike? Many e-bikes come with amazing safety features. Some of them have automatic locks, while others use advanced braking to avoid accidents. Some of them even come with warranties for a year or so. These are all great investments in the future of your e-bike, but they aren't the only ones. Consider purchasing a folding bike case. This will keep your product safe from scratches and grime. It'll also make use of the "folding" aspect of your e-bike in addition to making it easier to transport.
Regardless of your situation, we support making informed decisions and choosing a fantastic e-bike. Happy riding!