The Vilano Urbana is one of the most affordable folding bikes on the market. But is it a good bike?
Go directly to the Vilano Urbana review
Introduction
If you live anywhere near a city, your options for transportation are limited. Cars are expensive, public transit is crowded, and walking is just too much effort for hardly any movement. If only there was a mode of transportation that was cheap, convenient to use, and efficient…
Luckily, there is bicycling! Biking (especially on folding bicycles) has numerous benefits in comparison to other modes of urban transportation.
Price
If you're trying to save the most money, you really can't beat getting a great folding bike. These things cost a few hundred dollars upfront, and that's it. No more worrying about your car payment, auto insurance, bus fares, gas prices, Uber fees, or anything else. Once you have your wheels, you don't owe anyone else a dime.
Convenience
Is it really worth it to stare at your rideshare app waiting for a stranger to pick you up? Do you really want to sit at a crowded stop for a delayed bus again? What about traffic?
There's no comparison when it comes to biking, but even the standard mountain bike has its limitations. Are you going to look for a secure spot whenever you're not riding? What if you ended up having to take public transit? Would you be willing to lug it with you everywhere you went?
You need a bike that can travel with you, wherever you go. You need the Vilano Urbana.
Vilano Urbana Single Speed Folding Bike in Matte Black
Vilano is known for consistently delivering great products at an affordable cost. Their Urbana Single Speed is a prime example of that. At a low price (check it here), this bike delivers everything it should & more.
This bike is always receiving rave reviews from hobbyists and professionals alike. It's the perfect, ultra-lightweight bike for your commute. With 20 inch wheels, you can get the feel of a traditional bike with the convenience of a folding bike. This bicycle is made from high-grade aluminum and can fold neatly into a bag with ease. It barely weighs 20 pounds but can withstand far journeys, high speeds, and long-term users.
The Urbana is a beast, being able to carry up to 200 pounds sturdily. If you want something that can get you across town, there's no need to potentially waste thousands when this bike can do the trick in no time. It's got everything you need, from a water bottle holder to a rack feature, and more.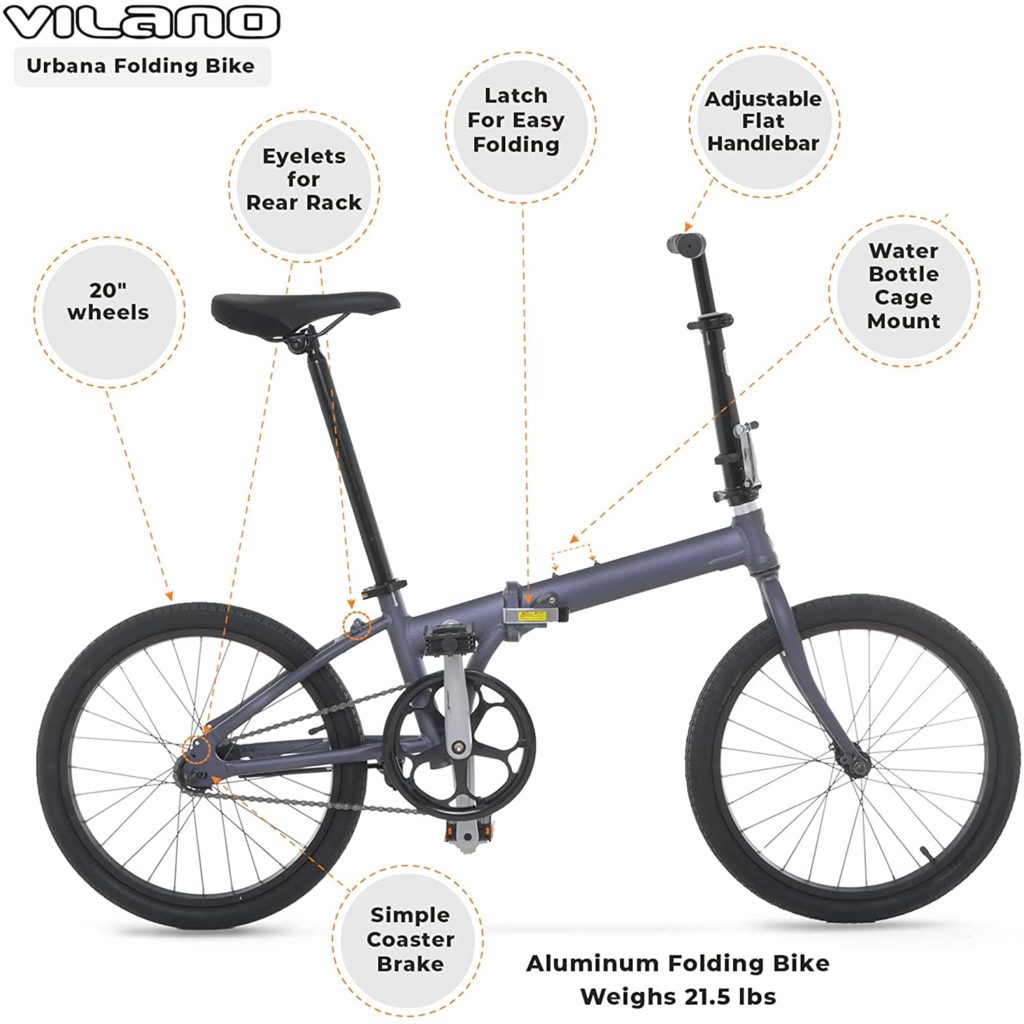 Conclusion
As the world gets more crowded and the environment gets worse, you need to have a mode of transportation that's clean, effective, convenient, and affordable. You can't have all of those without a folding bike, and the Vilano Urbana is the perfect model.
It's time to become one of the thousands of happy customers. For leisure riding or important commutes, this is the bike for you. We recommend the Vilano Urbana as a trusted bike for anyone to enjoy.
Pss! Have you heard about recumbent bikes? Learn about the benefits here.