Introduction
There are many recumbent bike benefits and while the first recumbent bike (the Fautenil Vélociped), may have been made in France in 1893 not long after standard bicycles were becoming popular, they didn't get a lot of attention until the 1930s when professional cyclists were hired to ride them and actually started winning races with them.
Unfortunately, the Union Cycliste Internationale outlawed them from being used in races with the standard upright bicycles and all the excitement died down pretty rapidly. In the 1970s, with the establishment of various sports events, recumbent bicycles became popular again.
Recumbent bicycles are bicycles that allow the rider to lay back comfortably. Most riders choose this design for convenience reasons. The rider's weight is comfortably distributed over a large area supported by the back and buttocks. On a traditional upright bike, the weight is entirely on smaller areas such as the butt, legs and arms.
On a recumbent bike, the rider is positioned to sit much closer to the ground with a larger saddle that provides more effective back and spine support. The increased comfort and support offered by recumbent bikes make them a popular choice for those who like to cycle for fun.
Recumbent bike benefits are higher for disabled cyclists and those recovering from injury and people who cannot sit upright on a traditional small bicycle saddle.
Because these bikes have far greater head and neck positioning, recumbent riders can see more of their surroundings, making these bikes optimal for scenic views and spectacular scenery.
Getting fit is also a popular one of the recumbent bike benefits due to the reduced impact on your rear end so many recumbent bike users can cover longer and longer distances than traditional upright bikes.
Recumbent bikes are much closer to the ground than traditional bikes, reducing the risk of injury from falls. If a cyclist fell to the ground a few inches from a recumbent bicycle a few feet more than a traditional bicycle, the injuries sustained would be much less serious.
The one riding has their center of gravity also significantly lower, which helps to increase balance and stability.
If you are looking for a quick ride, one of these machines will satisfy your need for speed. While speeds will vary depending on the rider, they are designed to go fast due to their aerodynamic design. The reduced wind resistance also allows them to accelerate quickly and increases the recumbent bike benefits.
So what's their main deal?
Are there enough recumbent bike benefits to make them actually worth considering?
Why, or why not?
It still can be unusual to see someone going past you laying on their back on a bike! And, for me, I would stop and have a long look and be wondering why people do things like this! Is it just because it is easier, or are there recumbent bike benefits that a standard upright bike does not offer?
Advantages of recumbent bikes
Let's have a look at some of the main recumbent bike benefits from these laid-back cousins of our beloved upright bike family.
1. They Are Better On Your Back And Neck And, Well, Everything!
The reclined position means that you are not staring down at the ground as you would be on a standard upright bike. this brings your neck in a more relaxed position and relieves the strain that would normally be there. The supine position allows you to perform abdominal breathing (diaphragmatic breathing). This is a more effective way to get air into the lungs, and compared to normal chest breathing, it has many health benefits. You can also breathe deeply while you are lying down because you won't tilt like riding an upright bike. This allows you to breathe more oxygen and continue driving for longer without feeling tired.
This is one of the arguments for touring on a recumbent when you ride a recumbent bike, you are sitting in a backward-leaning position with a wide field of vision. You look up and look out, instead of down towards the ground. You don't have to tilt your neck back to look forward. Imagine that when you step on the pedals and start to cruise, you can comfortably look around and take in the natural scenery. Sounds like pretty spectacular recumbent bike benefits to me.
2. A Lot Less Stress On The Ligaments, Joints, Tendons And Bones.
This bike's ability to help relieve back, hip, neck, and wrist pain is also one of the major recumbent bike benefits. The reclining seat position distributes your weight over your back and hips. This allows you to be riding for longer without pain in your back or waist. Many seats also provide for lumbar support. The riding position can also take all the weight off your hands, wrists, and elbows because you are just resting your arms on the handlebar. This eliminates the numbness and wrist pain experienced by many riders. You can reduce neck pain by keeping your neck in a neutral position instead of tilting your head back.
The large seat provides adequate cushioning and support for the hips and back. As I said before, many seats provide lumbar and even neck support. When you ride a bike, you basically sit in a recliner. And of course, you have the opportunity to even adjust the angle of your seat. The position you ride in reduces the weight put on your arms and your neck is in a more neutral position. You will not sit leaning as if you were sitting on an old-fashioned upright bike. This comfort allows you to drive further and further without having to stop and rest.
One of the more common problems for riders is Knee pain and it tends to make people more reluctant to ride their bikes. One of the huge recumbent bike benefits is that even with knee problems, most can still ride reclined on a recumbent bike because they are easier on the knees. This is due to the fact that the bike can support your full weight and that there is less pressure on the knees while riding. Your legs will only push you forward, not have to support you as well.
3. They Are A Faster Ride
When going downhill, you will truly experience an increase in speed. The low center of gravity and aerodynamic characteristics allow the recumbent bike to safely reach a speed of around 40 mph when descending. Most upright bicycles have a maximum of 30 or so.
With the improved aerodynamics, it will allow you to use less energy to cover more ground than using an upright bike. Approximately 70% of all the effort is spent overcoming wind resistance which means that the better your aerodynamics, the more energy you can conserve and then reuse to propel yourself forward instead of fighting the wind. When faced with headwinds, this aerodynamic efficiency really comes in handy. When pedalling faster, the more important is the aerodynamics.
Due to the low riding position and profile, the resistance generated by the recumbent bicycle is much lower than that of the standard bicycle. In fact, recumbent bikes produce 15-30% less resistance than uprights. The reason is that your body passes through much less air when you are sitting in a horizontal position with your feet first instead of an upright position.
With aerodynamic fairings fitted, you turn into a bullet! The world speed record for recumbent bikes now exceeds 80 MPH. More efficient speed is definitely one of the more major recumbent bike benefits!
4. Better Physical Output
The more horizontal the rider's position, the less the effect of gravity on blood circulation, due to hydrostatic pressure. Due to the advantages of aerodynamics and greater comfort compared to standard bikes, recumbent bikes allow you to go further without getting tired quickly and in long-distance rides, the benefits of greater efficiency and comfort definitely add up. For example, you may be able to go 5-10 more miles a day while travelling laying down on a recumbent. During a one-month tour, you could potentially travel 200-300 more miles than using an upright.
There is a typical debate about the effort required to go uphill with recumbent bicycles and traditional bicycles. Although, as mentioned earlier, upright bicycles can perform better initial acceleration, both types of bicycles have the same excellent cruising performance when climbing steep slopes with proper rhythm/gear.
5. Less Chance Of Damage To Important Areas Of The Body!
Because recumbent bikes reduce pressure on your hips and arms, you don't need to wear padded cycling shorts or padded gloves. The
wide cushioned seat won't rub or dent like a standard bike saddle. This reduces the chance of blisters and sores on the saddle. Saddles have long been the bane of riders' lives.
In addition, some studies have shown that riding a bicycle in an upright position can be the cause of male impotence because the saddle puts pressure on the perineal nerve. The backrest seat of a recumbent does not have this problem and can bring great relief to the male population and is definitely an important one of the recumbent bike benefits.
6. The Ability To Brake Faster And Harder
For a long-wheelbase, if you go hard on the front brake, you do not have to worry about going through the handlebars. Almost all the weight is behind the wheels. Because its weight is almost directly on the rear wheel, the cross will stop before the ordinary bicycles.
Recumbents can stop the shortest when both brakes are applied rather than mainly the front brake as with the upright bikes.
7. Lack Of Pedal Strike
Since in most recumbents the bottom bracket rises above the front wheels, you don't have to worry about the pedals hitting the ground when leaning and turning. This allows you to keep pedalling and maintain speed when cornering. This also saves your toes and makes this an important one of the recumbent bike benefits!
8. The Two-Wheel Recumbents Are Easy To Store!
Compared with the three-wheel recumbent, the two-wheel recumbent is easier to store and even to transport in an elevator (if you need to!). However, some people feel a bit unsafe to ride a two-wheel race bike while lying down because they don't have the same control maneuverability using their weight at low speeds, as you would on an upright bike.
9. They're better for the elderly or those with certain disabilities.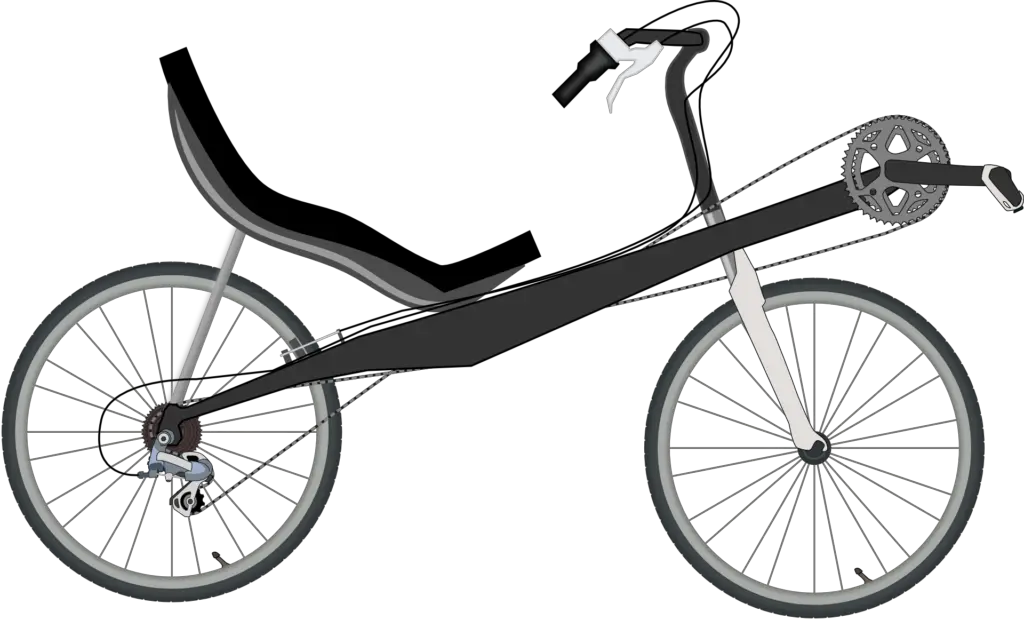 Recumbent bicycles are very suitable for the elderly or certain types of disabled people. It's easier to get on and off the backrest seat because you don't have to raise your legs so high to get over the upper tube. The riding position is also more comfortable for the neck and back, and better for the posture. Recumbent tricycles are especially popular with older riders because you don't have to worry about balance.
Recumbent bikes allow you to exercise your thighs, calves, and glutes with less strain. It has a wider and lower saddle than an upright bike. Plus, they put less strain on your joints, which makes it ideal for people with arthritis, and makes it much easier to balance and sit comfortably.
That sounds amazing! But what about any disadvantages?
Unfortunately, there had to be a couple.
I'm not sure that there is anything perfect in this world, so we need to consider the potential downside.
1. There Is Less Visibility Of The Rider On The Road.
Vehicles driving past may miss the rider of a recumbent bike to the low nature of the machine. This, of course, can be overcome, or at least compensated for, by the addition of some lights and maybe even a flag stemming up from the back. Although, due to the uniqueness of the recumbent, the driver may notice it more easily! They don't look like other bikes on the road and there does not seem to be statistics that indicate whether riders of a recumbent bike are more likely to be hit by cars than their upright-riding counterparts.
2.

Recumbents Are Not Allowed To Compete In International Cycling Competitions.
People tend to imitate their idols and there are not too many famous cyclists boasting a recumbent trophy in their showcase.
Closing thoughts on the recumbent bike benefits…
However you look at them, I think that the recumbent bike benefits far outweigh their disadvantages and if you can handle the change of style, you will love yours forever and a day!