Introduction
Folding bike bags are pretty much an essential purchase when it comes to owning a folding bike. To fully understand why they're so great, let's dive into why folding bikes are superior in the first place.
Many people have their reasons for owning a folding bike, like cost or aesthetic choice, but the most important reason people choose folding bikes is because of convenience. That's right. Every part of a folding bike's being is centered around convenience. The folds are designed to make it smaller. The size is designed to make it easy to transport. But the best convenience feature on any folding bike is the fact that it fits perfectly into many folding bike cases on the market.
This makes transportation a breeze. No longer is one forced to walk with their bike, lock it up whenever it's out, fit it onto a bus or inside a closet, or worry about it in general. With folding bike cases, you can simply carry your bike anywhere, like you would a briefcase or bag.
There's plenty of amazing folding bike bags on the market, and it can be hard to find which one is right for you. Today, we'll be discussing some of the best folding bike bags money can buy.
Folding bike bag – best options
#1 – AMOMO Folding Bike Bag in Black
This practical folding bike case is one of a kind. No other folding bike case has a design this easy to use. The zipper is connected on both sides by extra material, which allows for easy opening and closing. Say goodbye to trying to stuff your bike in, or popping a zipper on accident.
Size: The bag is about twenty six inches tall, and weighs only two pounds. It also has a carrying pouch that can store items over a foot long.
Design: It's made out of thick, double-protection polyester.
Works for: Folding bikes between 14 and 20 inches.
Advantages: It's easy to mount the bag on your shoulders with the included strap. The shape and size is also perfect to have a picnic on after a long bike ride.
The storage is generous, and many users notice the extra room, perfect for a small water bottle, or a bike lock. You can also attach it to the handlebars of your bike, so you'll never have to worry about lugging it around. The bag is mildly water-resistant, which is perfect for biking in light rain showers, and the material keeps out the vast majority of dust and grime it encounters.
Some of the most popular folding bikes fit in this bag, but not all of them. Be sure to look at the specific dimensions of the product, as well as those of your folding bike.
Here are some tips users recommend when using this product:
The first step to getting your bag in this bike is opening it all the way, and laying it out as flat as possible. After this, it's smart to fold your bike down as small as it can go (minding the chain), and being careful of any sharp parts of it that could puncture the bag.
The carrying pouch is significantly smaller than the bag itself. This means that it is possible to use it to carry the bag, but many users find that difficult. Instead, this pouch can be used to carry more small items.
While this folding bike bag can be too small for some extra large folding bikes, it works as a "one size fits most" option. In fact, if you own a folding bike on the smaller end of the size range, this bag will probably have ample room for other items.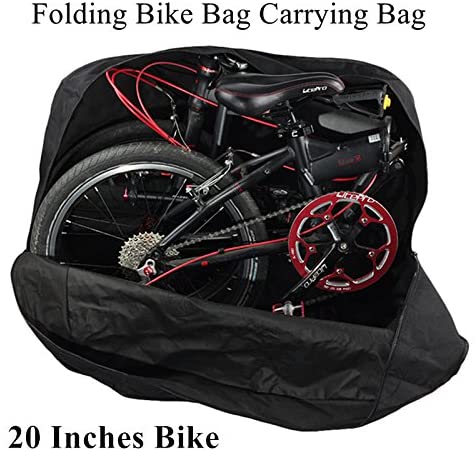 #2 – Rhinowalk Folding Bicycle Bag
Rhinowalk specializes in great designs and unique looks. This ultra-professional folding bike bag gives "sporty" a brand new meaning. It looks like you could carry it into the gym, or even the office. It's got powerful handles that add to the sleek, black design.
Made from: Thick, multi-layered fabric, with extra support at the bottom to prevent breakage. This formidable material will keep your bike safe, and allows for a comfortable carrying experience.
Carrying: The webbed straps are made from a double-layer fabric. They're fully resistant to tears or scrapes. The shoulder straps are really amazing. Many competing folding bike bag companies don't take as much care for great straps, and many users are left having to lug a thin, poorly made piece of cloth everywhere they go. This model is different. The straps are adjustable to any fit, and they have twice as many attachments to the actual bag comparing to alternative models. It's super easy to attach to the bike body, and the buckle makes storing and carrying even faster.
For convenient carrying, the pull head works two ways. The folding bike bag has also got a zip pocket for anything else you'd need, such as a water bottle or book. The green logo on the bag itself is bright, and makes it easier to spot in case it is stolen.
Sizing: The bag itself goes from almost 30 inches high to less than 2 inches when folded up. Depending on the model, it's usually suitable for bikes that are less than 16 inches. However, there are larger models offered that work for twenty inch bikes.
This folding bike bag is great for public transit, or commercial travel. Carrying it is a breeze and it passes through security checks easily.
The bike bag runs larger than others, but it's always good to take precautions to check for sizing measurements. For example, this bag probably won't fit on the overhead cabin of your plane, but it's also too small for some large folding bikes. This is actually a good sign however because it proves the bag is reasonably large without being gigantic.
The bag isn't explicitly designed to be water-proof, but it honestly could be. Many professional cyclists take this bag out in stormy conditions, and it usually is protected quite well. The two shoulder straps are easily adjustable for pretty much any size person or carrying the load.
Here is some advice from previous customers of this folding bike bag:
If you're looking for an Eco-friendly or convenient shipping experience, this bag might be a great option for you. It doesn't have annoying ties, boxes, or gratuitous packaging.
While the bag itself is very strong all over, it lacks extra fortification in certain areas. Many users are fine with this because the bag itself is already so strong, but others choose to put pieces of cardboard in it so as to avoid damage.
This is also a great purchase for anyone who isn't looking for a hassle. It's a great price for what you're getting, and it ships quickly.
It doesn't fit in the cabin of a plane, but it can easily be used as a checked bag for long flights. In fact, you will rarely even have to pay the oversize fee due to its convenient size.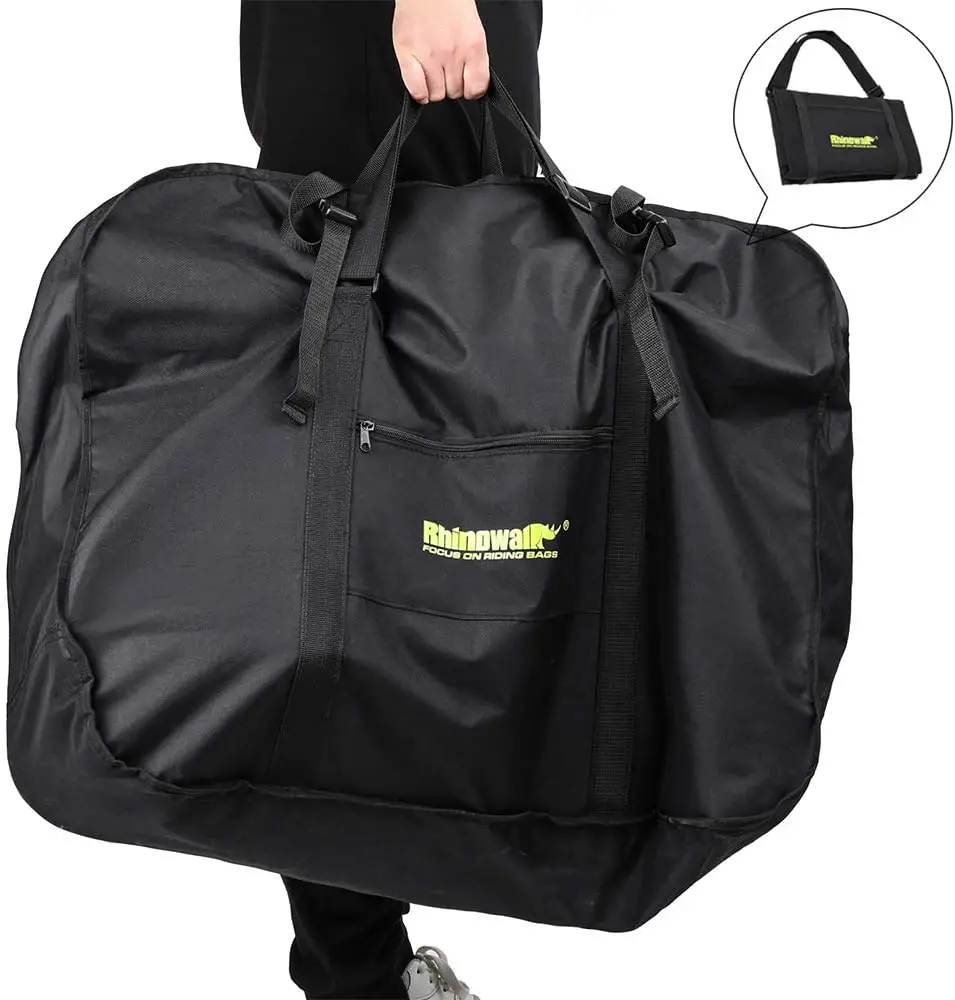 #3 – Rhinowalk Folding Bike Travel Bag Bicycle Carry Case 20 inch for Travel Transport Storage
If we caught your attention earlier in this article with the promise of a "bigger bag" selection, this is the perfect fit for you. This great Rhinowalk product is perfect for those with an extra big bike. It's just like the last one, but bigger!
Dimensions: This bag is 20 inches, making it one of the largest of its kind. It also has an enlarged storage bag that weighs about two and-a-half pounds.
Made from: Industrial grade oxford frabric, layered on top of extra strength non-woven fabric. The shoulder pack and bag are combined into one item, making it extra easy to bring around.
Carrying: With such a generous size, you can carry the vast majority of folding bikes on that market. The shoulder strap gives it an extra layer of convenience, and the storage bag makes it so the bag itself is much more transportable.
Bike carry bag: This folding bike bag Fits a wide range of up to 20 inches.So portable to carry.
Easy to Use: With shoulder strap, you can carry the bag (with bike)with your shoulder; With small Storage bag, you can put the bike bag in and fix the storage bag on handlebar, pannier, rack or backpack.
Multi-Purpose: A bicycle carrying bag when store the bike; A picnic blanket when fully unfolded.
This model focuses on portability. It's great for transferring your bike quickly, (like at a bus stop), or public transit in general. It will fit comfortably in the back seat or trunk of most vehicles. The strap can be adjusted easily and its size fits basically anyone.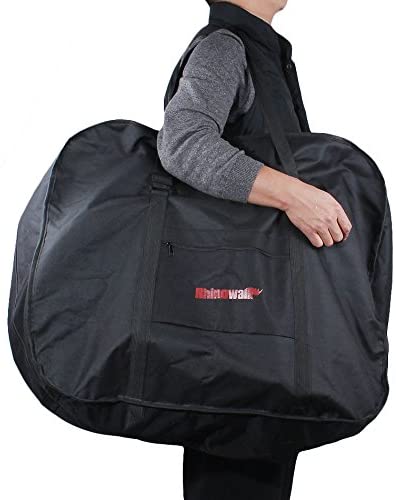 #4 – lamaki:lab Carrying Case
There's a lot to unpack with this fantastic folding bike bag (pun intended). Let's go over some of the main advantages and properties of this product:
Safe & Clean: This is a high end bag, which means you get a high end experience. With any top-notch bike bag, you should be allowed to get your bike as grimy, dusty, or dirty as you like. With this carrying case, you won't have to worry about tracking mud. The design makes it protective from as much dirt as possible, without getting any on your clothes or belongings.
Well made: The nylon bag is only crafted from some of the strongest Oxford Cloth on the market. This makes it extremely protective and durable against tearing. There's no going cheap with this quality.
Easy to carry: The bag's structure is wide, and built around comfort. You can see this with the reinforced shoulder straps that takes the pressure and pain off of carrying your bike around. The zipper is also made to deal with wear and teat. It's built to last.
An actual usage for the handlebar: One of the least used parts of a folding bike case is the handlebar attachment setting. Many of these cases are hard to fold up into a neat pouch, and most users find themselves tossing it into a backpack. Not with this one. This transporter bag can be folded like nothing. You could probably attach it to the handlebars while your bike is in motion (please don't try this).
Flexible utilization: This design wasn't thrown together in an attempt to make a quick buck. Everything from the protective layers to the dimensions has been meticulously planned out for maximum user comfort. It's designed with real folding bike brands in mind, so that users get something that fits realistically.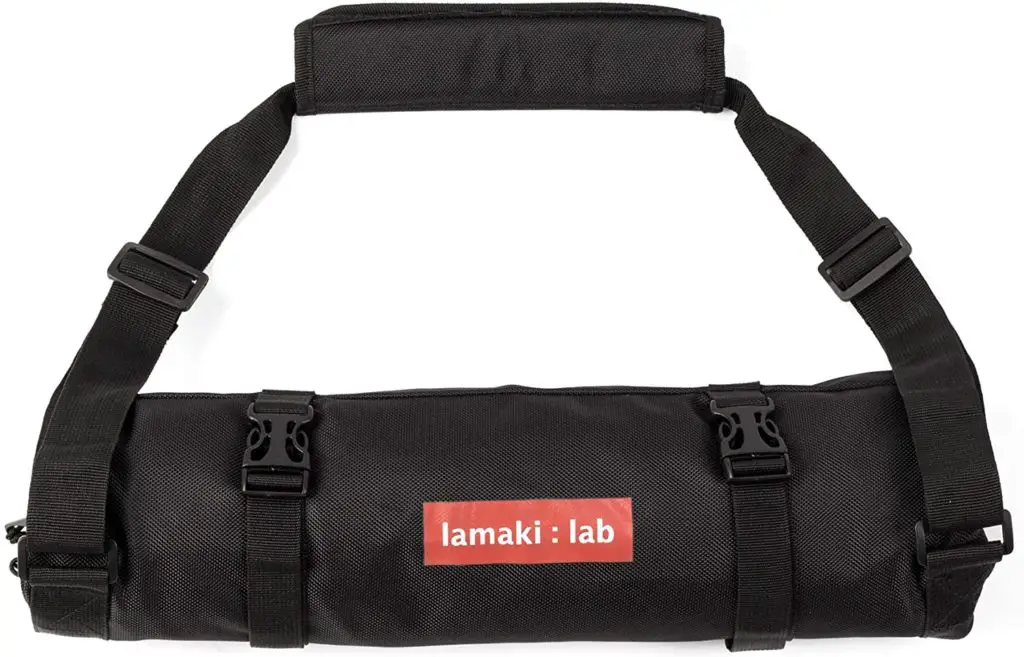 #5 – Charwin 20 Inch Folding Bike Bag
Charwin's gorgeous folding bike bag is an amazing pick for a variety of reasons. Let's go over some of its key features below.
Focused on convenience – This is another bike designed to optimize the user's ability to get around. It fits in the "Goldilocks" zone of bikes, where one size fits almost all folding bicycles. It usually fits bikes up to 20 inches.
Strong protection – If you don't want to put this bag in the trunk of your car, it's no worries. The bag is small, and the material will make sure your seats don't get beat up.
Extra-wide shoulder straps – One of the perks of a bigger bag is bigger shoulder straps. These double oxford fabric straps have a handle which makes carrying super easy and portable. It will also feel better to hold due to the increased grip.
Compact – The shoulder strap, storage pouch, and bag itself pack a real punch. They allow for extreme ease of movement but they hardly take up any space at all. The bag is attachable to your handlebars as well as your backpack.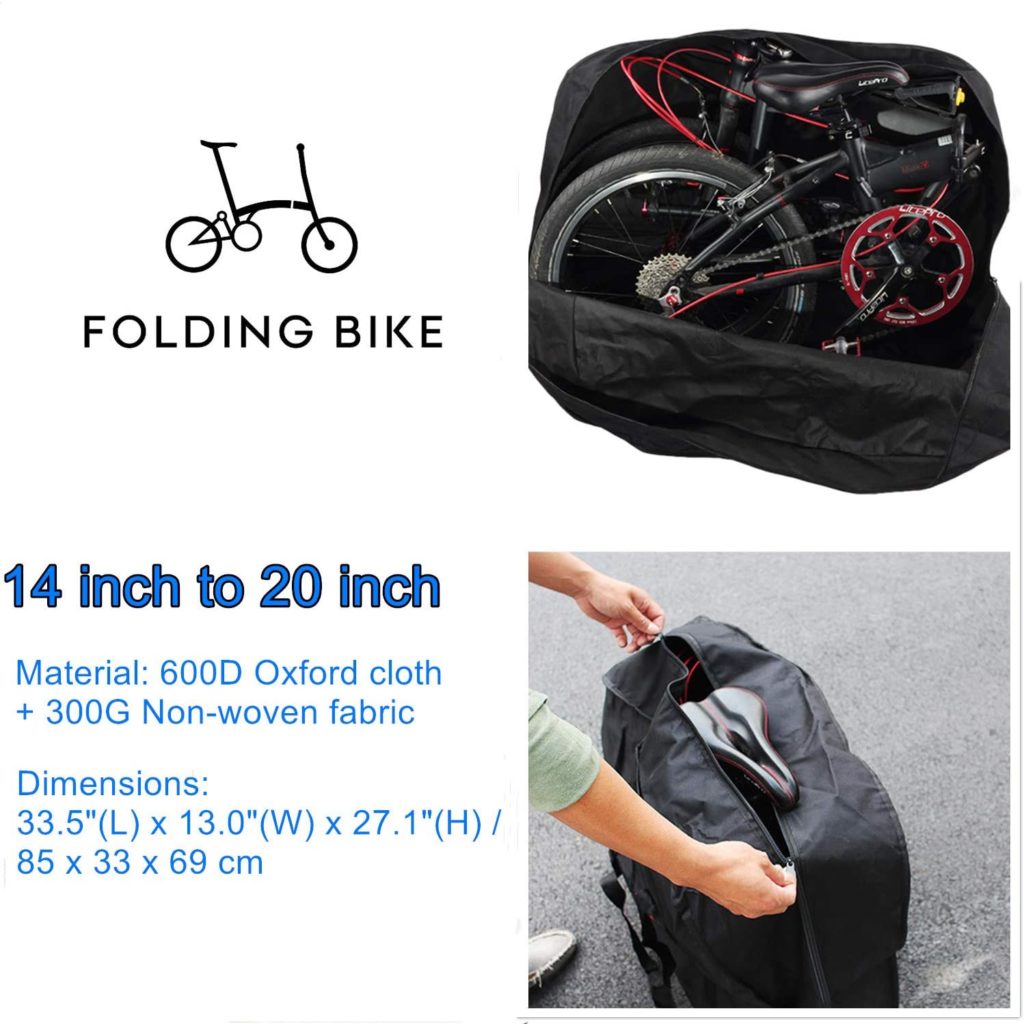 Conclusion
There's a wide variety of amazing folding bike bags on the market. If you make sure to look at bags that fit your dimensions, you're bound to have a great time carrying your folding bike around. With such a growing selection of options, there are more and more features/improvements being designed every day. No matter where your search for a folding bike case goes, you can't go wrong with these options.