Introduction
In this article, we'll be discussing what folding bikes are. Plus, we'll go over some of the best folding bike cases if you decide to buy one.
If you're new to the biking community, you may not be familiar with what a folding bike (or folding bike case) even is. If you don't know about them, you're missing out! Folding bikes are awesome ways to conveniently get around, without the worry of keeping your bike safe.
What is a folding bike?
A folding bike is an oddly shaped bicycle that's specially designed to be folded. This makes it easy for transportation & storage. But are they right for you? Let's go over some major advantages and things to consider about folding bikes before we get into folding bike cases.
Advantages of Folding Bikes
They're compact – Perhaps the most popular reason people choose to purchase a folding bike. You can pack it up on your folding bike case before taking the bus, or stow it away in a closet for later. Better yet, you can finally fit it into the trunk of your car, or even under your bed! This makes them really great for people who live in small apartments or other space scarce areas. Careful though. Some folding bikes take up a lot more space than others. It's important to do your research and figure out exactly how big your folding bike is, especially if you're buying a case. Some models even let you choose a size!
They're super easy to transport – This is our favorite reason to get a foldable bike. You can take these things anywhere without a hassle! Say goodbye to worrying about storing your bike in a secure area – You can have it on you at all times! You won't have to worry about a bicycle rack, lock, or anything else. Just grab it and go!
They're a lot like regular bikes – Some people get turned off by a bike that's anything other than the usual, name brand, sport bike. Will you be respected by others if you choose to ride a folding bike? Are there even quality folding bikes on the market, or are they all cheap gimmicks? Fortunately for you, there's an ample amount of incredible folding bikes. In fact, the market for them is a lot like the market for any other bike. Some of them are really cheaply made, and others are amazing. It all depends on what you're willing to pay for.
They require no stress – Hey, we know what it's like to have a bike stolen. You get back to where you parked it, go to unlock it from the lock, and boom. It's gone. Now you're out hundreds of dollars without a bike ride back home. It's one of the most commonly stolen items, and keeping them safe can be a drag. Folding bikes offer an alternative to all of that! They make it so you can have your bike with you at all times, instead of some sketchy hiding spot or public venue.
Things to consider before purchasing
Folding bikes can be heavy – Folding bikes are usually smaller in nature, but their extra hinges tend to make them weigh more for their size. Don't worry though, a lot of folding bikes are lighter than their non-folding competitors, and a lot of cyclists prefer a heavier bike.
Folding bikes might cost more – Since they're less common than typical bicycles, you could be spending a little extra for a folding bike. This isn't always the case though, and many great folding bikes are actually super cheap! Plus, you might be able to bring your bike on a vacation that would otherwise require a costly rental bike. Over time, you can save a lot with a folding bike.
They often make for a bumpier ride – Folding bikes are made up of separate attached pieces, which can often lead to a looser riding experience. Plus, their tires are smaller and they don't all weigh a lot. This is no problem if you're riding in an urban/suburban area though, and they travel over cement with ease.
If you're serious about getting a folding bike, you'd be much better off with the purchase of a folding bike case or two. They make the folding feature a lot more worthwhile, and the bikes are much easier to carry around inside a case. Let's go over some of the best choices for a folding bike case online.
Folding Bike Case – Best Options
#1 – CamGo 20 Inch Folding Bike Bag
For the ultimate outdoor trekkers, this epic folding bike case really is the way to go. It's made of high-quality nylon. This means it's waterproof and it will last forever, without being too heavy. It's a fantastic bag for moving around a lot. Easily stick it in the back seat of your car, or check it onto a plane ride. The bag even works for camping and trail riding!
The shape of this bag is particularly unique as well. It can condense into tight spaces for all of your folding bike needs, but it also has the capability to open up. Many people put tools, picnic blankets, or other gear here. It's also got a perfect shoulder strap and a mini pouch for smaller items. That's actually one of the main selling points of this bag: You don't have to lug it around alongside your usual luggage. There's ample room to fit everything together!
Users praise how economical the bag is, and the fact that it can tightly store most folding bikes. There's usually room to spare, and the extra strength zippers will keep all of your nasty bike residues on the inside. You can put this on a freshly cleaned carpet without a single leak or speck of dirt spilling out from the inside!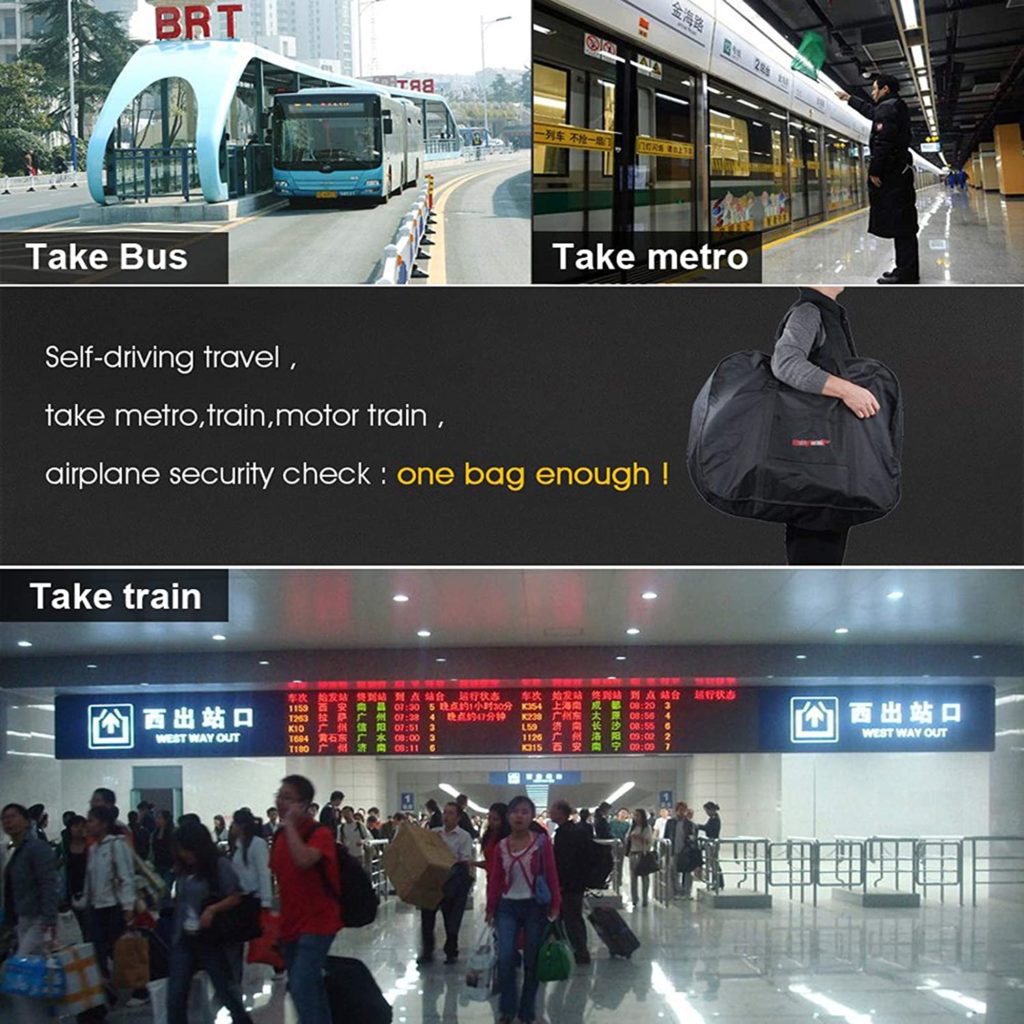 #2 – THRLEGBIRD Folding Bicycle Bag
If you really want to get your money's worth, you'll have to buy this affordable, all-purpose folding bike case. It's polyester with a waterproof lining. This means it combines the strength of a thick bag with the weight of a petite sack. It's pretty large and can fit the vast majority of folding bikes. You can easily throw this onto a plane, bus, car, or anywhere really. It may not seem like a big deal at the moment, but you'll thank yourself for choosing a back that can fit so tightly.
This folding bike case receives consistent praise for how unexpectedly durable it is. Users often report that this "indestructible" product lasts through years of heavy use. It's great for keeping fancy bikes from aging and rusting. Of course, it's also fantastic for protecting a clean room from the grease and grime of a folding bike. All around, this is a well-made product, and a great folding bike case if you want a quick, effective option.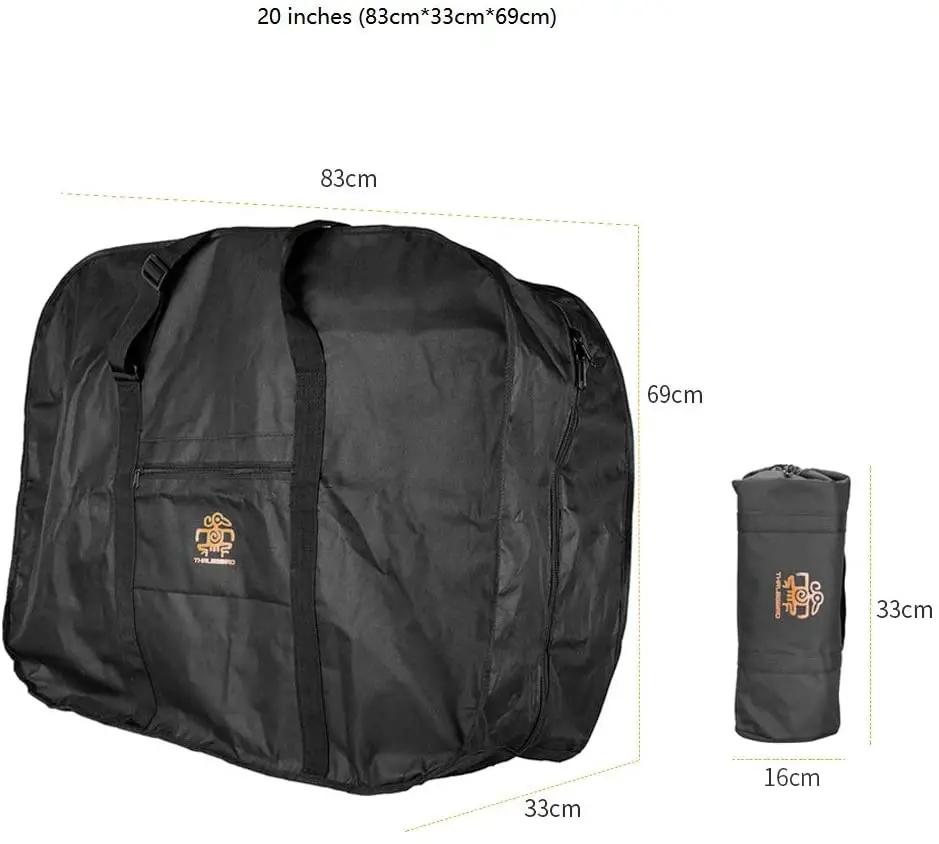 #3 – Rhinowalk Folding Bike Bag
Rhinowalk is a bike bag built for professionals. It offers a sleek, dark look that can condense into almost nothing. It's made out of heavy-duty fabric and includes a generously portioned shoulder bag. What does this mean for you? It means you'll get a flexible, transportable bike bag that isn't ostentatious and gets the job done. Plus, the carrying feature offers a wider stretch and more support around the bag itself. This makes the weight more evenly distributed around your shoulder.
This folding bike case has all the usual features of a great bike bag, but with more: The case folds into a small package that can be conveniently tied to the seat of a bicycle. You can take it anywhere you want, always be right underneath you! This product is newer to the market, but it's already starting to get hot reviews. We think it would be perfect for your folding bike and we'd love for you to be one of its first customers!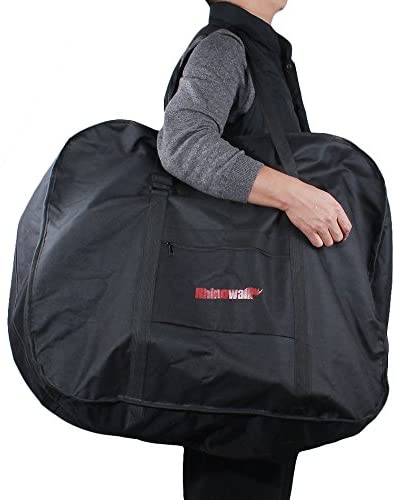 #4 – Verpiason Folding Bike Bag
This astounding bike bag is slightly more spacious than most other folding bike cases. It also has a few cool features that the other bags on this list don't have. For one, it's got separate compartments for the wheels, which means they can store more easily and with a lower likelihood for anything to be damaged.
The shoulder strap also doubles has a gripped handle, and it's got an extra pouch for a tire pump. It also includes a small duffle bag that has velcro for quick attachment. If you're gonna get lost while biking in the woods, be sure you have this case.
But the woods aren't the only place to have this bag: It has well-crafted dimensions, making it much easier to bring onto a plane, or shove into the back of a closet than a traditional folding bike case.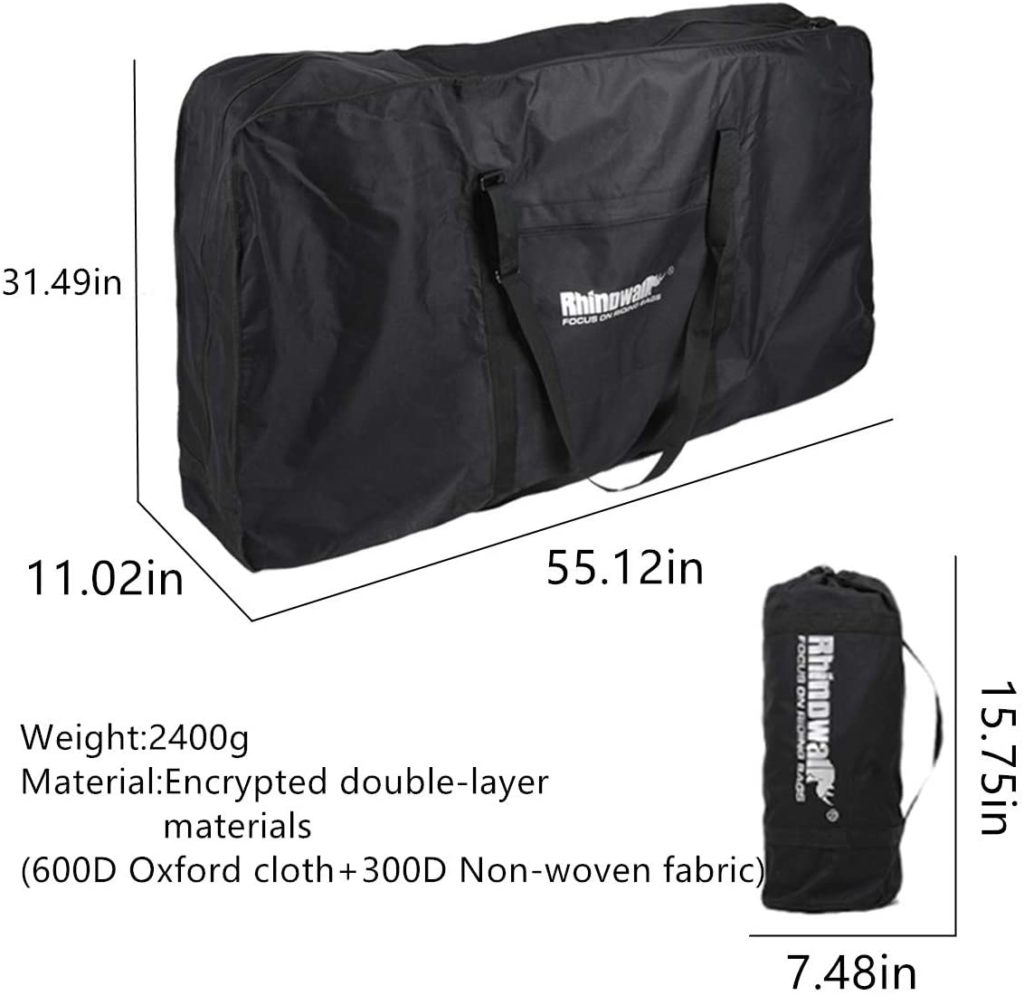 #5 – lamaki:lab Transport Bag in Black
From a brand known for well-designed materials, this is a business style bag that could easily be mistaken for a corporate executive's briefcase.
All of your stuff will stay nice and fresh under the cover of this tear-resistant nylon tote. You can pack it for the train, flight, or even the office. No matter the situation, this bag will let you bike anywhere and maintain a standard while doing it. It's specifically designed to fit the most popular bike brands, and the shoulder strap can be quickly attached to your handlebars. Walking around with this thing will make you feel like a special agent carrying important cargo. It's one of the strongest bags available, and you won't regret purchasing it.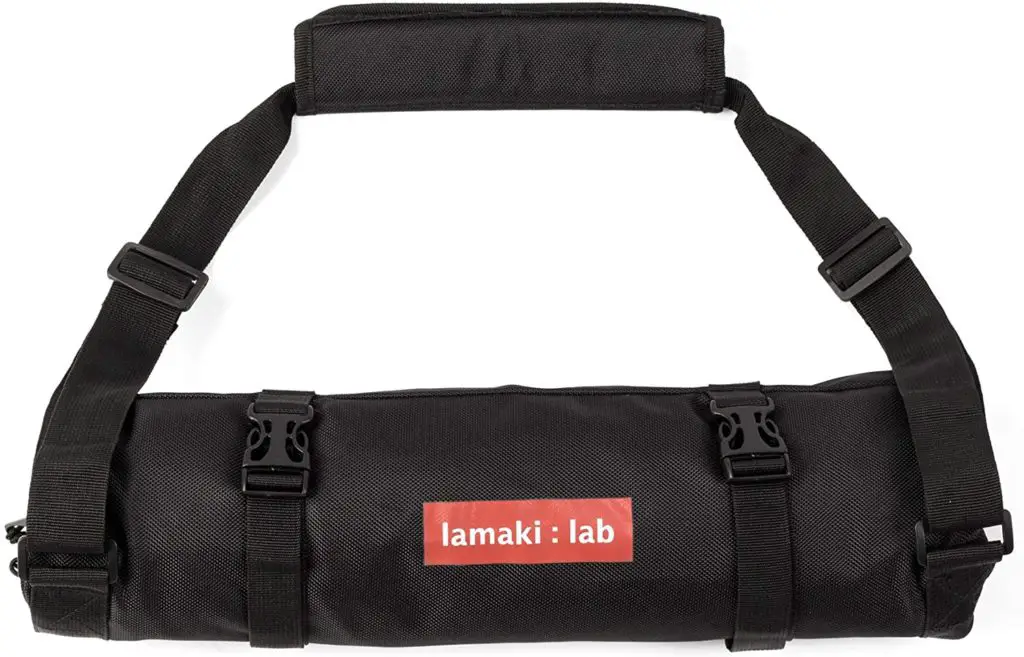 #6 – Rhinowalk Folding Bike Travel Bag,Bicycle Carry Case for Transport,Air Travel,Shipping 26 inch
This is a huge bike bag. It's actually the biggest one on the list. But its size isn't the only great thing about it. It allows for quick folding, tight compression, and it's got a ton of small pocket space. You'd be hard-pressed to find a big bag that's this reasonably priced, and it's not made cheaply either. The material is durable, and the vast majority of users rave about how protective it is. Say goodbye to the worries of scratches, tracking mud, or having to lock up your bike. Rhinowalk consistently makes a good folding bike case, and this model is no exception.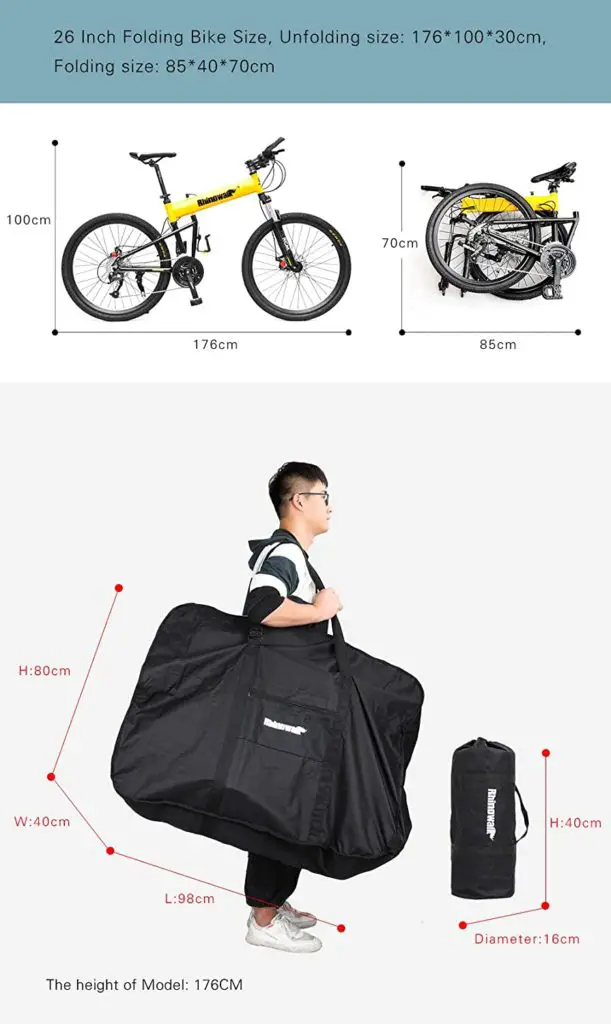 Conclusion
This list showcases some of the top-tier folding bike cases available. While you'd have great luck with any one of these, it's important to remember some factors to keep in mind when shopping for a case. We'd like to leave you with some things to consider as you continue on your search for a folding bike case:
Storage setup – A lot of the options on this list have special pockets or containers. These are usually designed for certain parts of the bike, and make storage a quick, scratch-free experience. They also keep everything tightly folded. It's always good to be careful about the exact dimensions of each pocket though. If your folding bike is too big, it might not fit in the designated areas, even if the bike fits the dimensions listed on the product.
Protective material – In order to truly gauge what material is the best for your bike ride, you have to ask yourself what kinds of conditions your bike will see the most. Getting ready to take it on a long greyhound ride? Go for something thin and lightweight. Perhaps you're a mountain biker. In that case, make sure you get something waterproof. If your case will be used mainly for storage, it's OK to get one that's a bit clunky, or doesn't have a great handle. If that sounds like you, a hard shell option for your case might be necessary. The thicker the better!
All things considered, it's good to find as many possible cases as you can, and narrow it down from there. We highly recommend looking at any of these sweet bags and choosing the one that will work for you. Hopefully, this list gave you an easier selection in an ocean of bike bag choices.