Introduction
It's easy to decide to take your cat with you on a bike ride but how to transport them is usually a problem. Fortunately, there are a few options to choose from and one of them is using a cat bike basket. 
Using a cat bike basket is one of the greatest ways to share your bike rides with your pet but it's also important to do that safely and to ensure that your cat is secure throughout the journey. We'll be discussing some of the best cat bike baskets available today just like we did for the best dog bike strollers. 
Let's dive in, shall we?
Cat Bike Basket – Best Options
#1 – COFIT Detachable Bike Basket
The COFIT Detachable Bike Basket allows you and your canine to cruise around comfortably. And thanks to its roomy design, your pooch will be able to kick back and enjoy plenty of elbow room. Constructed with rustproof aluminum and easy-to-clean, waterproof cloth, it can also handle the messes that come with a doggy copilot.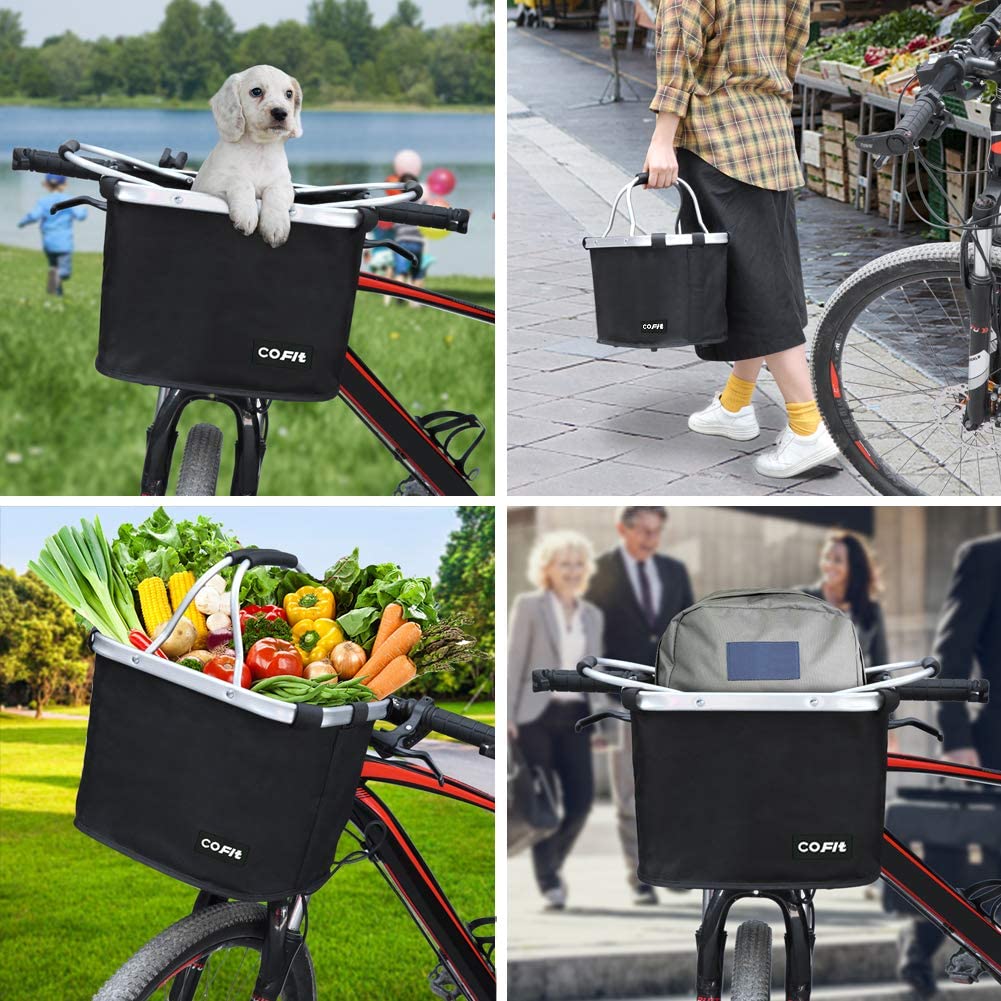 Pros
Great aesthetics
Versatile fit
Affordable
Numerous storage opportunities
Cons
Lacks built-in safety for pets
#2 – PetSafe Happy Ride Wicker Bicycle Basket for Dogs and Cats
The PetSafe Happy Ride Wicker Bicycle Basket for Dogs and Cats is lined with faux-sheep skin and looks reminiscent of an adorable hot air balloon basket! We love it just for being cute. Besides its looks, the PetSafe basket can carry up to 13 pounds of puppy weight with its weather-resistant resin wicker.  The faux-sheep skin liner gives your pup a comfortable surface to sit on while riding around. The sturdy wicker basket is breathable so your pup doesn't overheat during summer bike rides.
The leash attachment prevents your pup from jumping out at the sight of a squirrel or bunny. It also keeps him secure in the unfortunate case of an accident. He won't go flying across the road and get hurt even more.
As for the safety of your pet, PetSafe has been a leading U.S. manufacturer of pet behavior, containment, and lifestyle products since 1991. We often talk about PetSafe products. We love how durable and reliable all of their products are. So, you will know your pup is safe in one of their cat bike baskets.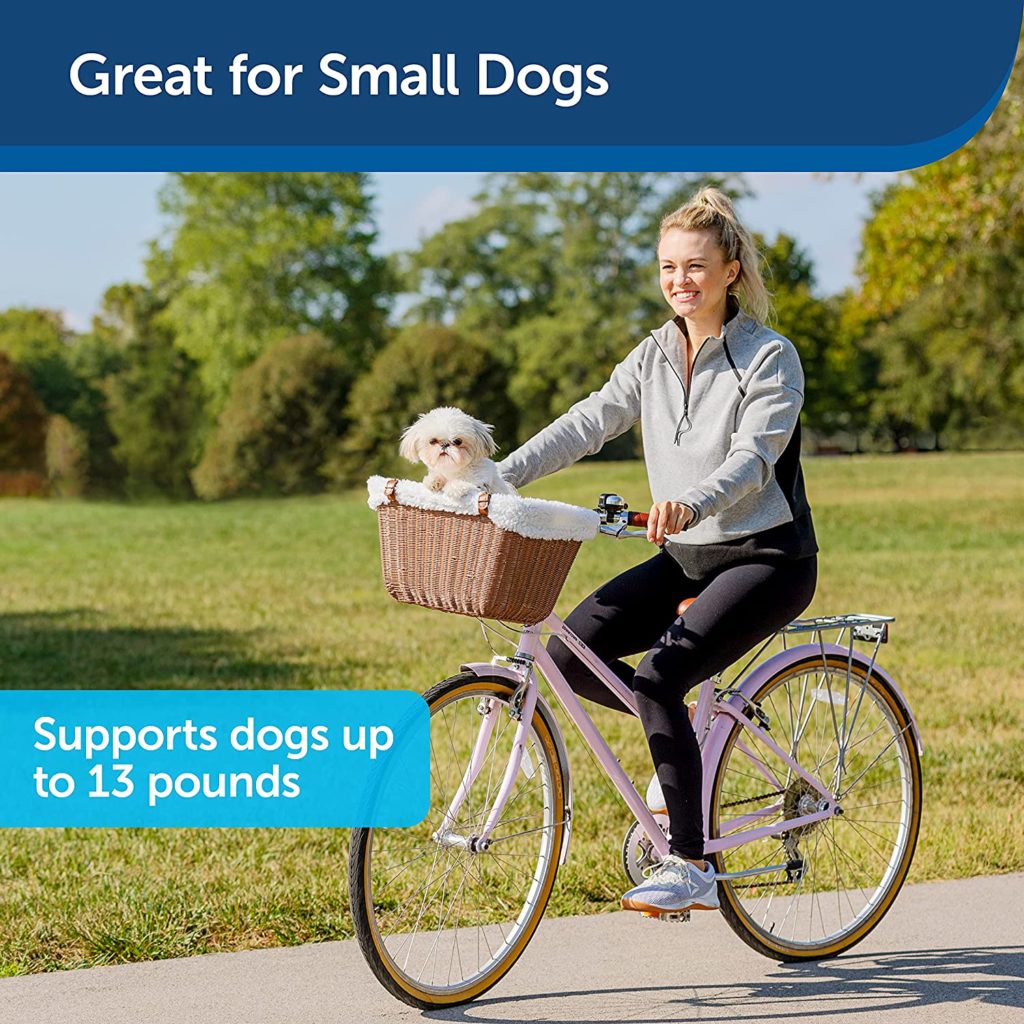 Pros
Comfy
Secure
Sun shade
Machine washable
Cons
#3 – BARKBAY Dog Bike Basket Carrier
The BARKBAY Dog Bike Basket Carrier is nearly identical to the first model, but this one doesn't have a reflective strip and is half an inch deeper and wider. It can also accommodate dogs weighing up to 19 pounds.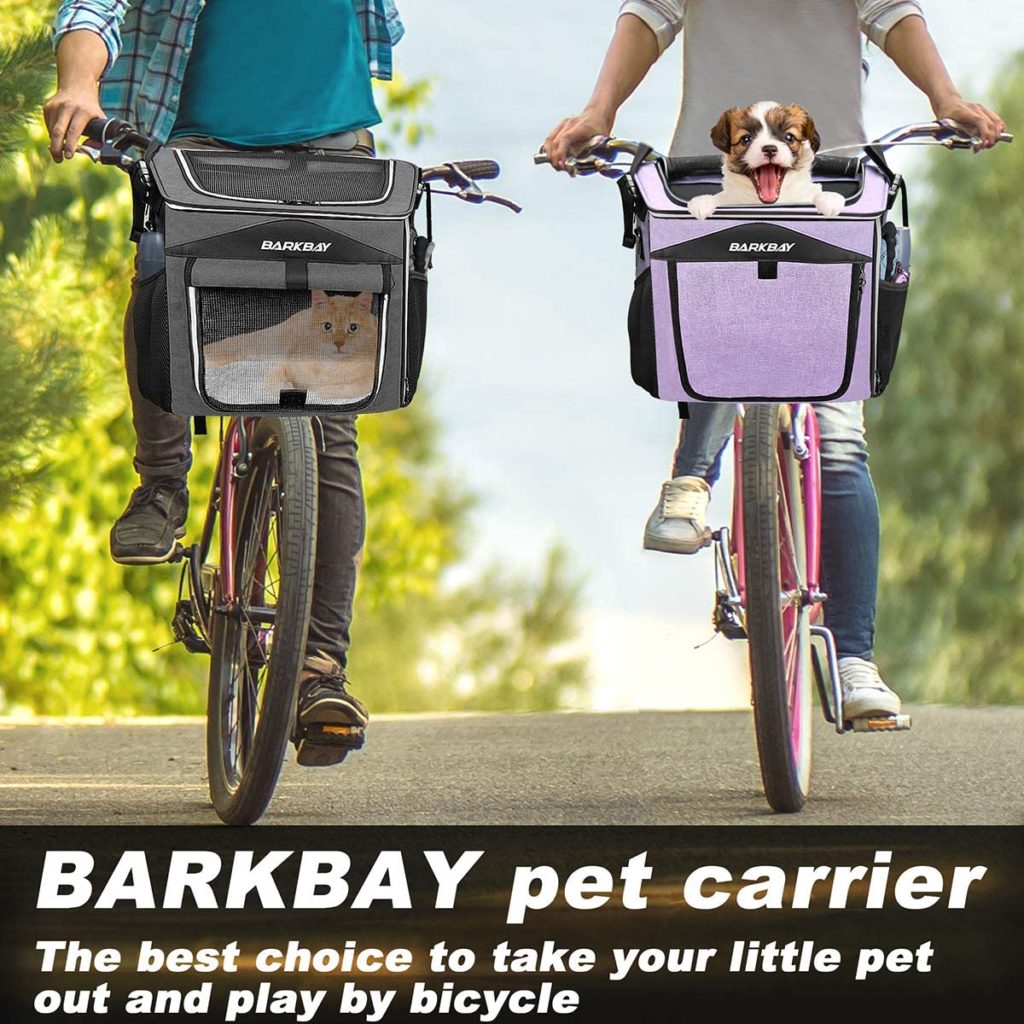 Pros
Lightweight foldable design
Highly durable
Stylish and practical
Easy to clean
Cons
#4 – Pecute Dog Bike Basket Pet Carrier Bicycle
With its adorable wicker style, Pecute Dog Bike Basket Pet Carrier has a vintage-inspired look. The resin wicker is water-resistant, and a sheepskin-style fleece liner keeps your dog comfortable. Brackets and safety straps attach the basket to your bike, and three-way adjustments help you get the fit just right. A removable sun shield somehow makes it even cuter!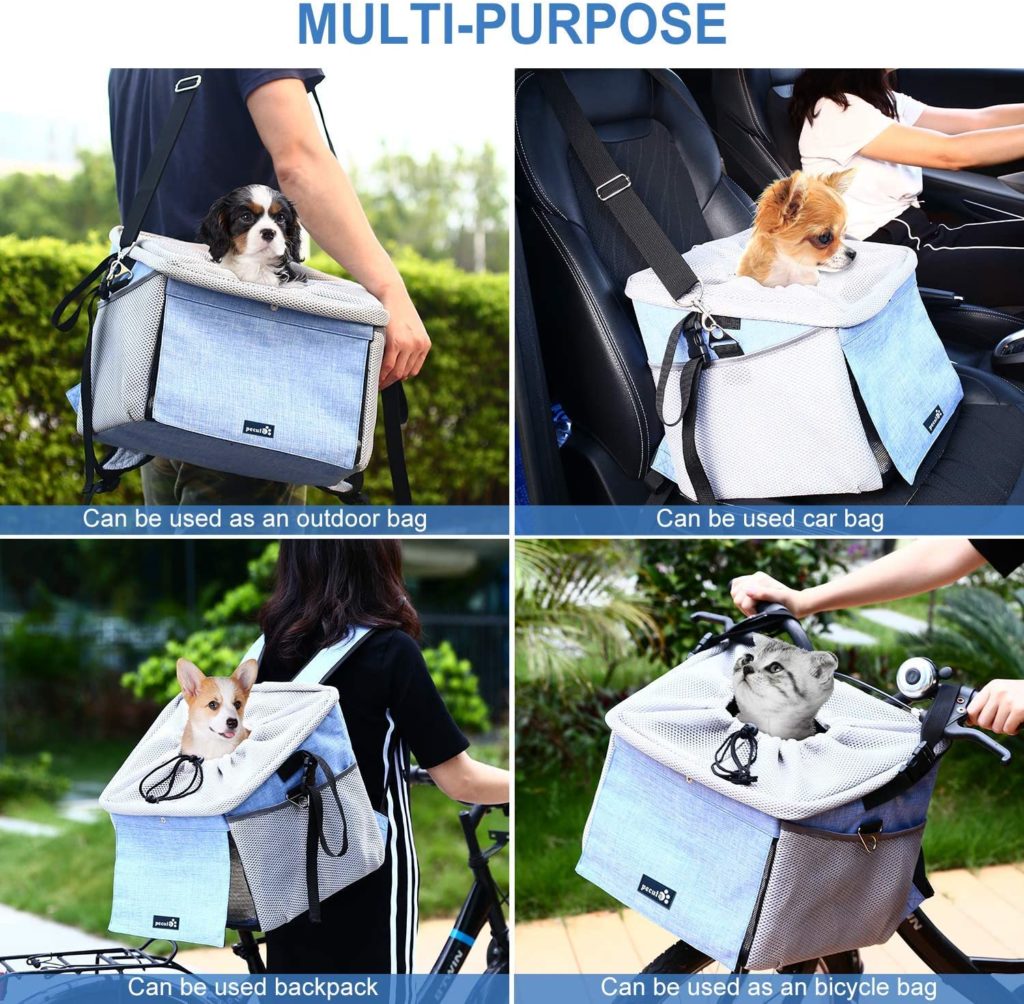 Pros
Sturdy construction
Multipurpose
Foldable design
Very breathable
Cons
#5 – Bike Basket with Bells
The Bike Basket with Bells is a bit different than the other baskets discussed here. Instead of being a full dog bike basket, it is actually a good cat bike basket kit that allows you to attach a milk crate to your ride. But don't worry — no tools are needed for the project, and you can use the kit to mount the crate on the front or back of your bike.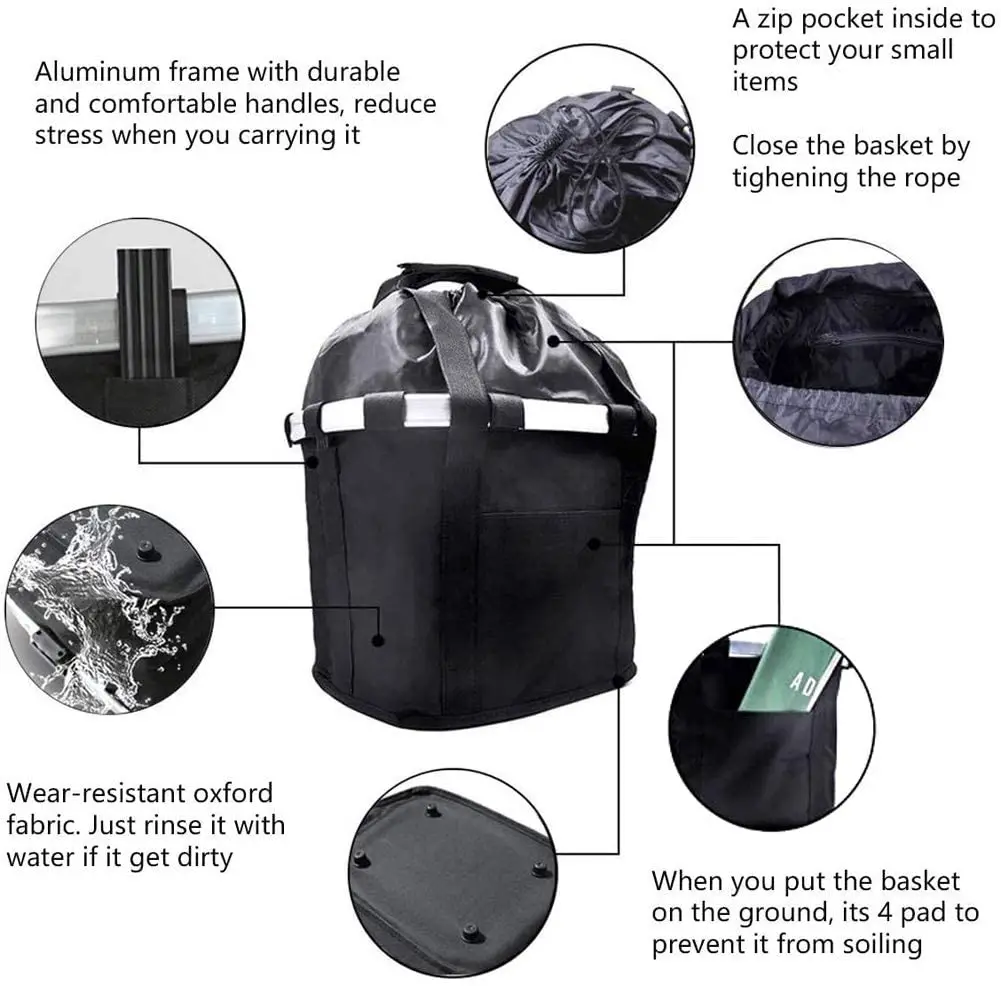 Pros
Sturdy mounting system
High quality construction
Wide applicability
Suitable for most bikes
Cons
#6 – Gugou Folding Small Pet Cat Dog Carrier
Get the most bang for your buck with a bike basket that can also function as a backpack-style carrier and a booster seat. The Gugou Folding Small Pet Cat Bike Basket can hold dogs up to 15 pounds. This basket attaches to the handlebars with straps, and some reviewers with dogs close to the maximum weight have added a shelf for added security. Its breathable mesh lining can be used to create an opening and also includes a safety tether. 
Pros
Waterproof cat bike basket
Easy to clean
Easy to install
Lightweight and durable design
Cons
#7 – BABEYER Dog Bike Basket Carrier
The BABEYER Cat Bike Basket looks like a cute little laundry basket with a roof. It holds up to 12 pounds. The holes in the basket and the mesh roof offer incredible ventilation for your pup. Most of all the baskets on this list! The mesh roof zippers are for quick access to your pup. It removes entirely if you'd rather ride without it. Inside the basket is a padded mat to keep your pup comfy on short or long bike rides.
A spring-loaded quick-release mechanism makes for simple installation and removable of the basket on your rear bike rack. There's also a safety tether for added security and stability. Just like the other rear bike rack basket, you need to purchase the bike rack separately. One does not come with the basket, but the basket is fairly universal on bike racks.
If you're not comfortable with handlebar cat baskets, the rear cat bike basket won't distort your steering due to the weight of a dog. Even a few pounds can change your balance, especially if your pup moves from one side of the basket to the other.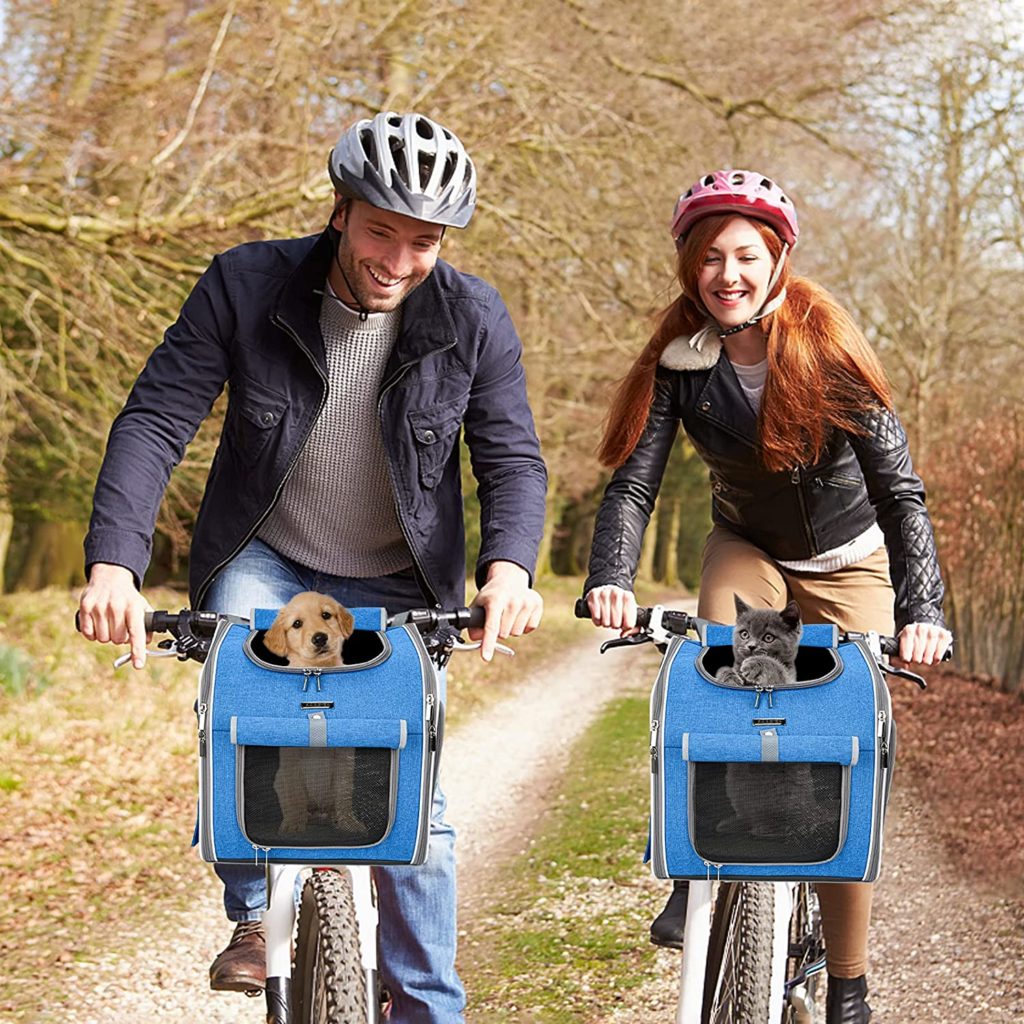 Pros
Quick and easy to install/remove
Comfy cat bike basket
Pet-friendly design
Wide application and versatile
Cons
#8 – Cosydot Dog Bike Basket Pet Carrier for Small Puppy or Cat
The Cosydot Cat Bike Basket doubles as a carrier bag, as well. The basket features an adjustable, removable shoulder strap for carrying. It can hold a weight capacity of up to 13 pounds. For safety and peace of mind, the basket has an adjustable safety leash to secure your dog and prevent jumping or falling. The basket attaches to the bicycle with a unique bracket system that makes for easy on and off. The brackets adjust in 3 ways for an ideal fit on any bicycle without pinching the brake cables.
The Cosydot Cat Bike Basket comes with an adorable roof to keep the sun and rain off your puppy's head. And for your convenience, the basket features 3 storage pockets for treats, leashes, cell phones, sunglasses, doggy bags, or whatever else you need on a bike ride. There's even a mesh pocket for your water bottle!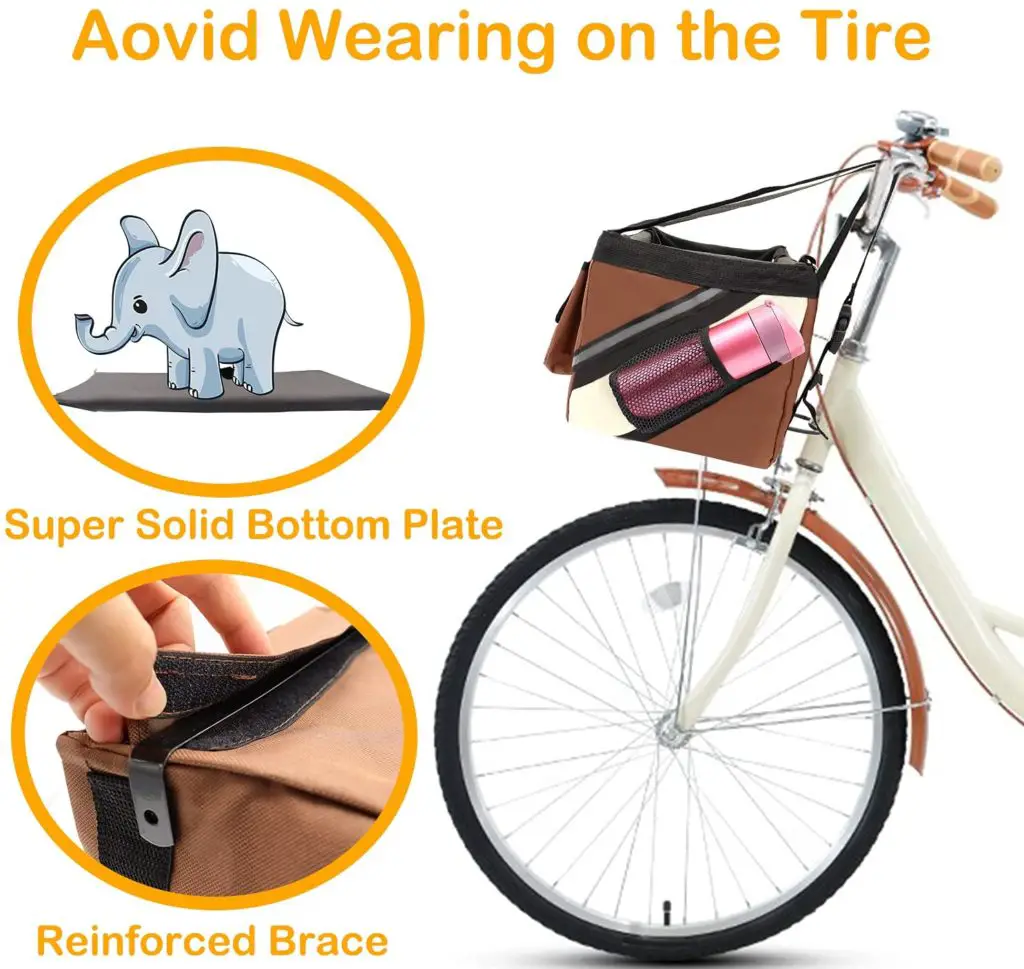 Pros
Solid made bottom plate
Security hooks
Durable design
Multipurpose use
Cons
#9 – YSMANGO Bicycle Bag
The YSMANGO Bicycle Bag is a no-fuss dog carrier that suits any biker's style with its neutral black finish. And in addition to being one of the most affordable cat bike baskets on the market, its compact, lightweight construction won't slow you down as you pedal your popper around town.
Pros
Foldable design
Metal cover
Durable construction
Easy to install and use
Cons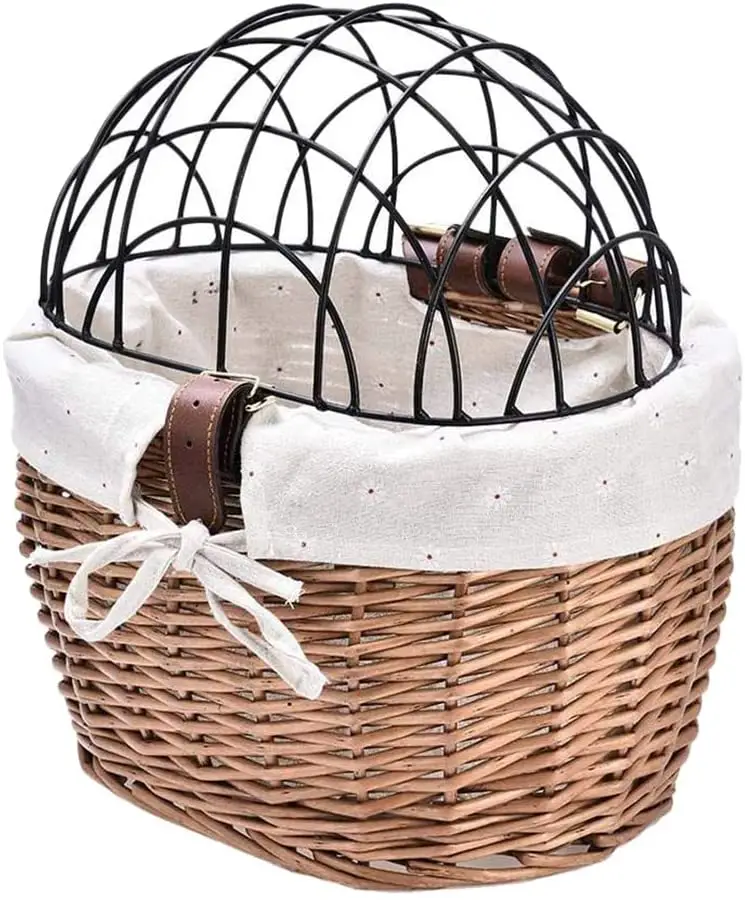 #10 – Abrimelodi Dog Bike Basket
Another top-rated cat bike basket is the Abrimelodi Cat Bike Basket features fold-up handles. It's made of waterproof premium-quality fabric and comes in a variety of color choices. An internal zippered pocket and pockets in the front and sides provide tons of storage. The basket detaches easily but stays securely on the bike thanks to mounting brackets.
Pros
Comfortable cat bike basket
Quick installation/removal
Durable construction
Multifunctional design
Cons
Design is not pet-friendly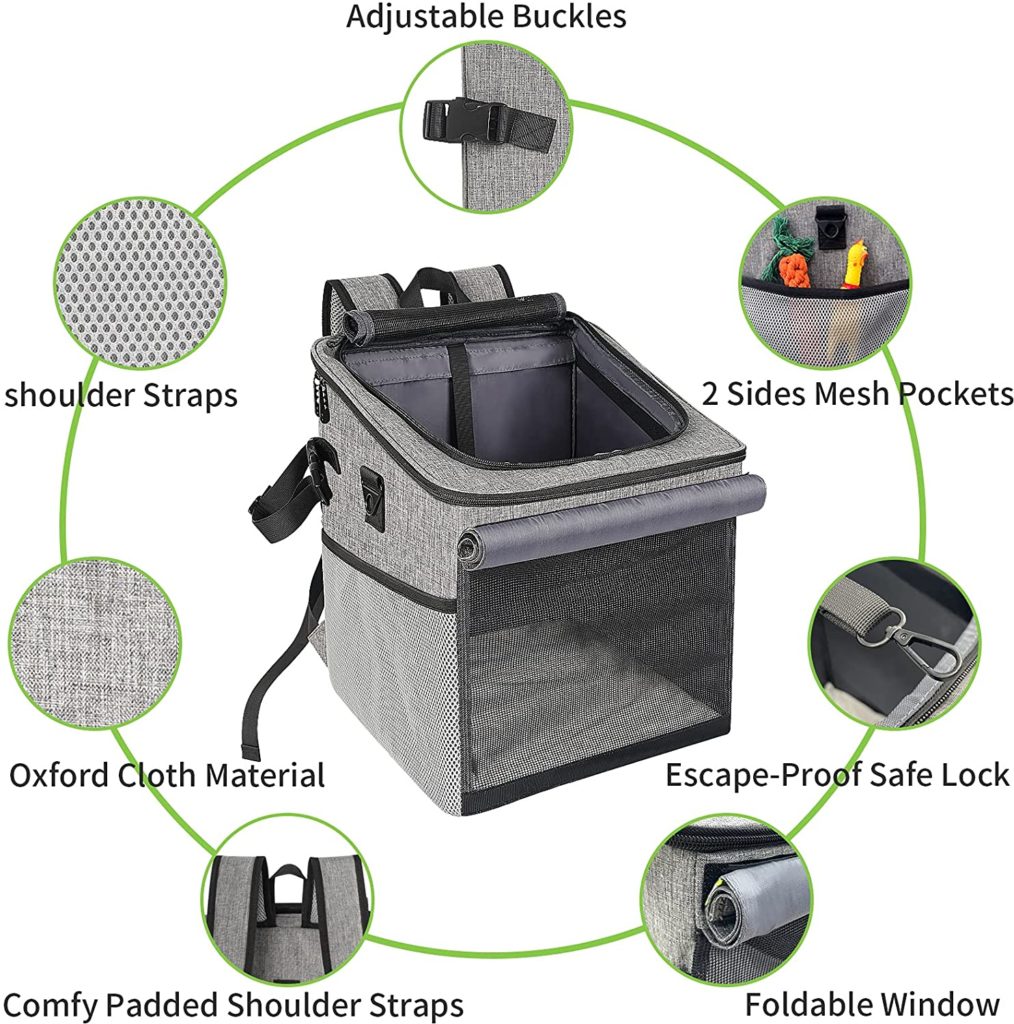 Conclusion
While many of us would love to use cat bike baskets, it is generally hard to find the best buying option because the market is flooded with them today. Luckily, there are many other ways to enjoy biking with your cat safely, including:
COFIT Detachable Bike Basket : These stow your best friend on your back during your bike ride, freeing up your handlebars. They typically feature mesh panels so your cat can breathe easily and take in the sites safely. These are best for small breeds and are especially good for kittens who are too wiggly to ride in a basket, like puppies.
PetSafe Happy Ride Wicker Bicycle Basket for Dogs and Cats: they're easy to attach to your bike and are an excellent option if you have a large dog or many cats who exceeds bike basket size restrictions and can't run beside you. They're also great if your cat is older or has mobility problems but still loves to get out and about.
We hope this guide has helped you in deciding on the right dog bike basket for your pet! If you have any favorite recommendations you want to share or have your own experiences with pet bicycle baskets, let us know what you think in the comments!