Introduction
Interested in an Axa bike lock? You're definitely in the right place, as we'll be reviewing some of the best buying options available in the market today.
Skimping on security is a common way for a cyclist to save money. Bikes are easy to steal, and once they're stolen, they're almost impossible to get back. In fact, there's a thriving market for stolen bikes that never seems to slow down: More than two million bikes are stolen every year in North America, and less than five percent of them are recovered.
While nothing is going to stop the most determined thief from making off with your bike, most thefts can be prevented by securing your bike properly with a strong, well-designed lock. It only takes a few seconds to lock up a bike when you dip into a café or stash it for the night in your apartment's garage, so you should always lock it whenever leaving it unattended.
Most thieves are opportunistic and will go for the bike that looks easiest and quickest to steal. For that reason, parking a bike alone in a secluded area is risky. And any lock is still better than no lock, so long as you use it right. Here are top Axa bike locks ready to help secure and keep your bike safe from thieves.
Axa Bike Lock – Best Options
#1 – Axa Unisex RLC 100 Bicycle Lock
The Axa Unisex RLC 100 Bicycle Lock is a short, mid-security chain lock designed for mobile security. When locked, it has slightly less internal space than a standard Axa bike lock. But the difference is: it's flexible, so you'll find loads more places you can lock your bike.
Like all chains, it's much heavier than a u-lock of comparable security. But it's still light and short enough to carry wrapped around your seat post or thrown in a bag. And when it comes to actually locking your bike up, the integrated locking mechanism makes the whole process that much smoother than the separate padlock you get with most other chains.
With 9 mm links, it's not the most secure bike lock, but it is rated Sold Secure Gold and it offers far more protection than any cable lock. Just keep it as far from the ground as possible, so it's safe from bolt cutters. I recommend you wrap it around your seat stays. Or you could even secure it around your top tube and then use other methods to protect your wheels.
So, if you're looking for something that's easy to carry and prefer the extra locking options of a chain lock, as long as your circumstances aren't high risk, this is a cheap and reliable option.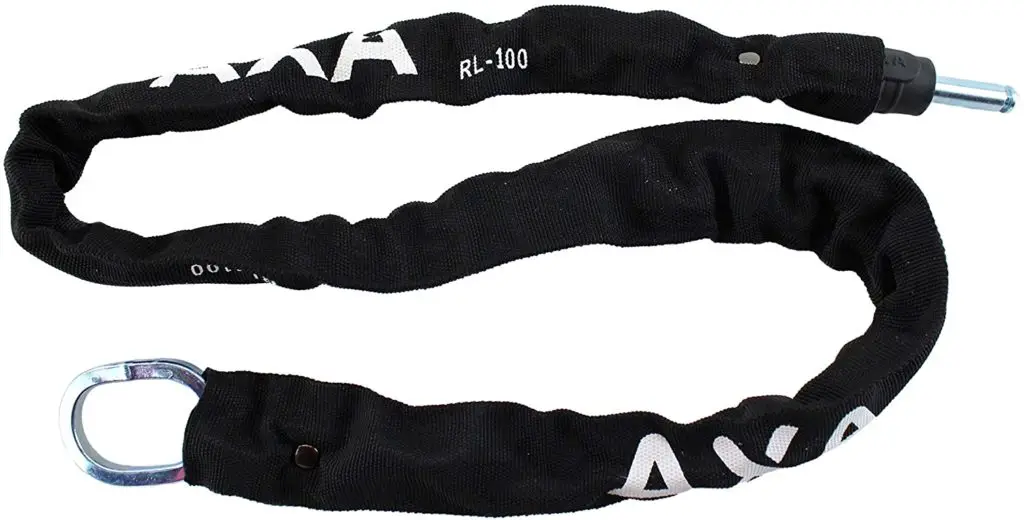 #2 – AXA "Defender" Frame Lock
The AXA "Defender" Frame Lock is the lightest folding lock that still offers a reasonable level of protection. What's more, it's also the most usable axa bike lock around.
The AXA "Defender" Frame Lock has around the same amount of internal locking space as a standard-sized bike lock. But because it's flexible, it should actually give you loads more options when you're looking for somewhere to lock your bike.
Compared to its main competitors, the AXA "Defender" Frame Lock is lighter and easier to use. It's easier to unlock, easier to unfold, easier to get around your bike, and comes with a better frame mount.  So, if your circumstances are lower risk and you're looking for a compact and lightweight alternative to a u-lock, this is a great choice.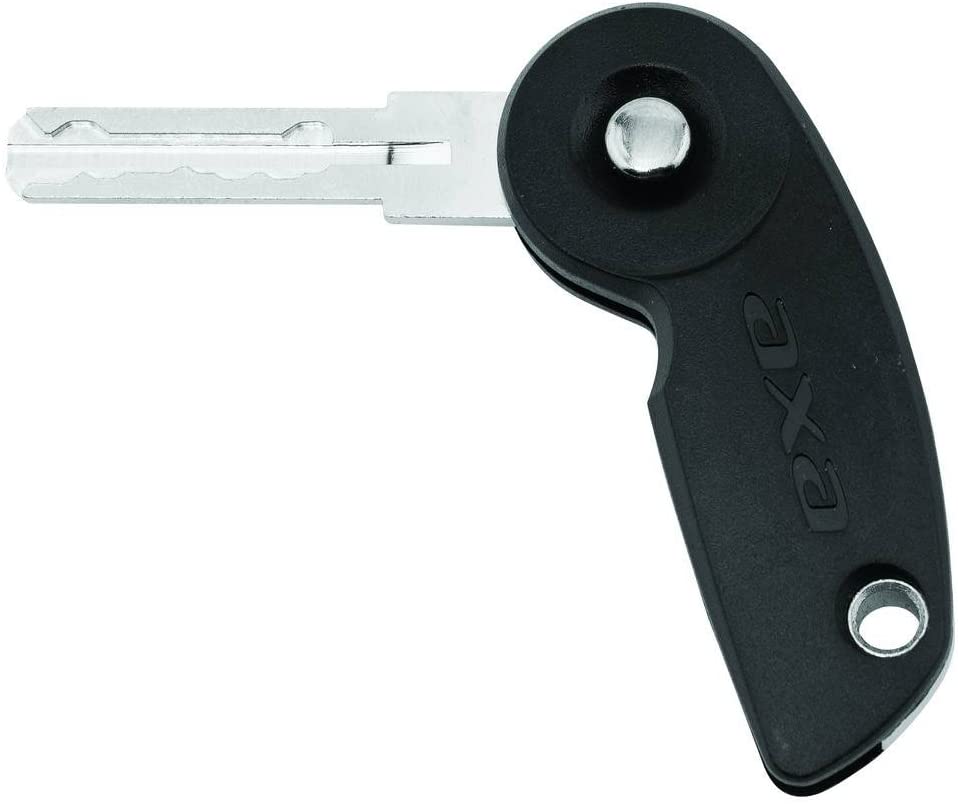 #3 – AXA Unisex RLC 140/5
The AXA Unisex RLC 140/5 is a chain lock designed to be worn. The chain has a patented nylon clip and hook-and-loop waist adjuster to close around your torso. It also features a burly 10mm-thick hardened steel chain and a 12mm hardened steel shackle that's encased in a nylon shell. The sleeve surrounding the chain is removable and washable, and its reflective coating increases your visibility at night.
The adjustable belt doesn't fit riders with waists narrower than about 30 inches and even riders with 32-inch waists might experience slippage. Many with 34-inch waists might become uncomfortable after an hour in the saddle. But it is best for shorter commutes.
#4 – AXA Unisex Defender mit RL 100 Bicycle Lock
Unlike other bike chain locks, the AXA Unisex Defender mit RL 100 Bicycle Lock is strong enough to use in high-risk circumstances whilst also remaining truly portable. That's not because it's somehow lighter than other chain locks. It's not! At 4.85 lb, like all chains, it's pretty heavy.
But its chains are unique because you can wear them around your waist like a belt! This makes them much easier to carry than normal chain locks, which you generally have to wrap around your seat post. Carrying them around your seat post is fine for shorter commutes. But when they get longer it can be a bit of a pain. Wearing it as a belt distributes the weight and bulk around your body so that it's much more manageable.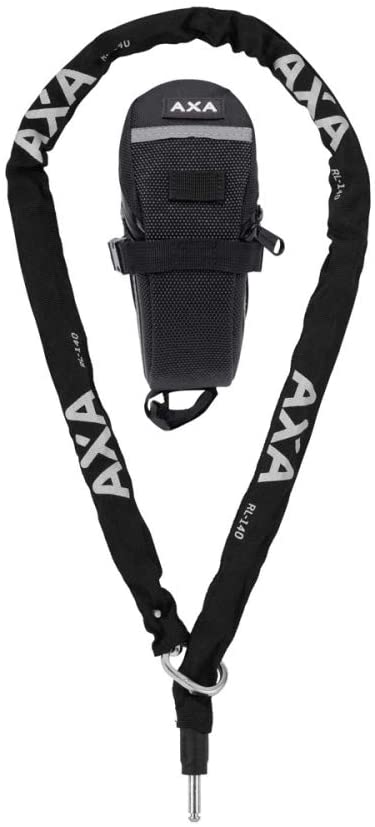 #5 – AXA Unisex's Frame Lock
Cyclists have developed creative methods for carrying u-locks, stuffing smaller ones in pockets, under belts, and tucked into waistbands below the small of the back. While these methods work to varying degrees, they can also be comfortable. Thus, the AXA Unisex Frame Lock works well and is reasonably comfortable, especially compared to having a u-lock shackle stuffed in your pants. 
Its shackle is 14mm thick, made of hardened steel, and locks on both ends so it requires two cuts to defeat. It's no match for a hacksaw but can take up to 30 seconds to cut through one with a five-inch angle grinder, which is about average for a single cut through hardened steel.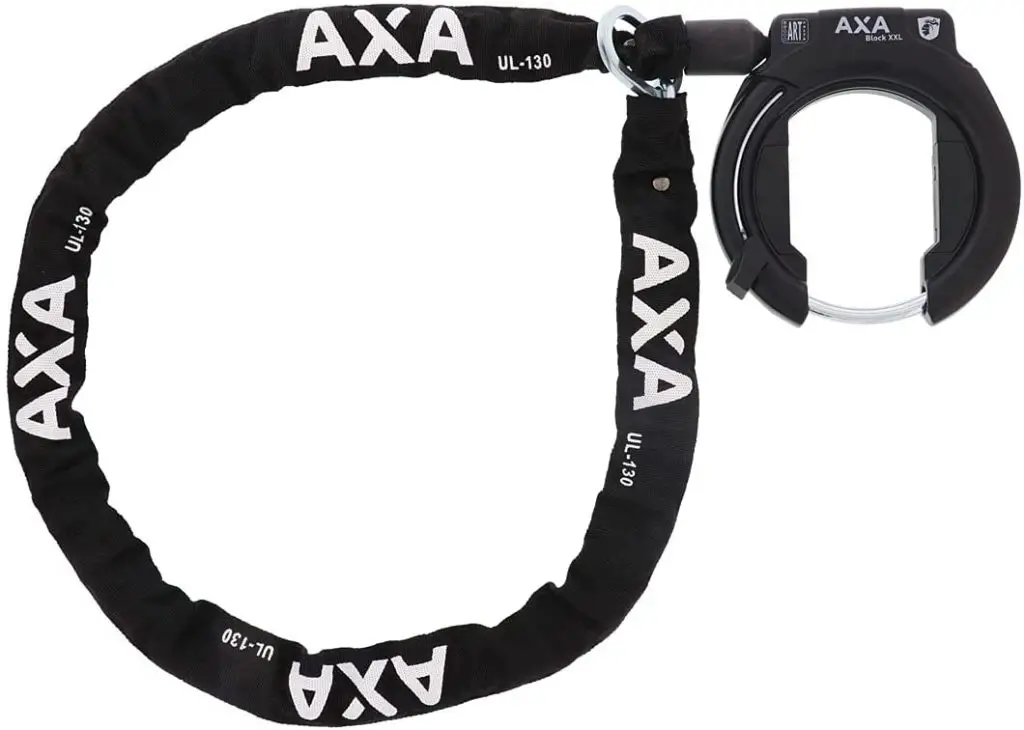 #6 – Axa RLC 140 Chain Lock
The Axa RLC 140 Chain Lock series is a Sold Secure Gold, ART Level 3 certified bike lock that provides a similar amount of shackle space to the average Axa bike lock. Whilst the Axa RLC 140 Chain Lock uses a 21.5" shackle, which is relatively short for a chain lock, it does offer an increased number of locking options compared to smaller bike locks.
Also, thanks to its shorter length, the Axa RLC 140 Chain Lock remains portable and lightweight. It is one of the best axa bike locks you can get. It's suitable for commuters and cyclists who are constantly on the move and will lock your bike safely to most objects.
The Axa RLC 140 Chain Lock works to provide a higher level of security than regular circular chain links, thanks to the increased area of their cross-section. Whilst it's heavier, it offers more security than the average axa bike lock. If you need an axa bike lock you can take everywhere with you, the Axa RLC 140 Chain Lock is the one you need.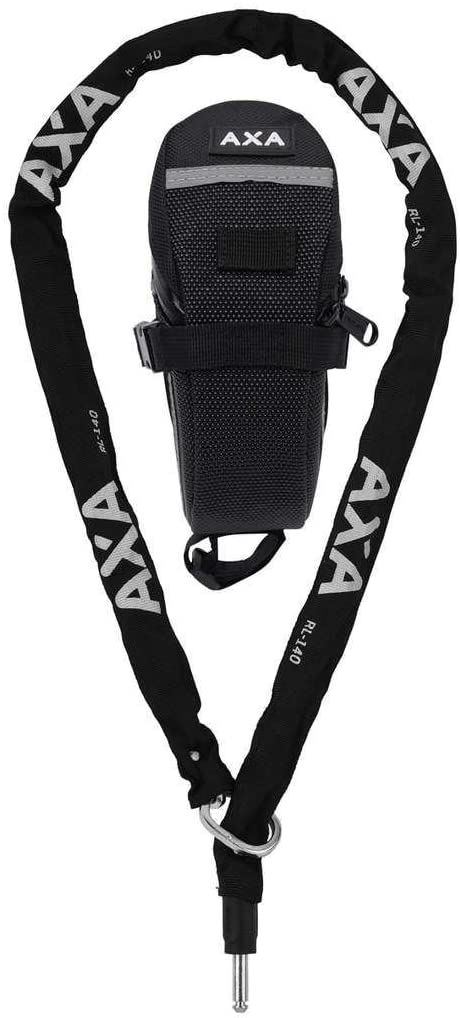 #7 – AXA Victory Frame Lock
Sure, AXA Victory Frame Lock is heavier than most axa bike locks, but it's much lighter than any Sold Secure Gold chain lock. And the beauty of folding locks isn't just the extra locking options that their flexibility gives you.
They're also the easiest bike locks to carry, in a case that screws into your water bottle holster. This means you won't notice the weight at all! So if your circumstances are high risk and you need more locking options than a u-lock can give you. But don't want to lug around a massive heavy chain. The AXA Victory Frame Lock could be a very good choice.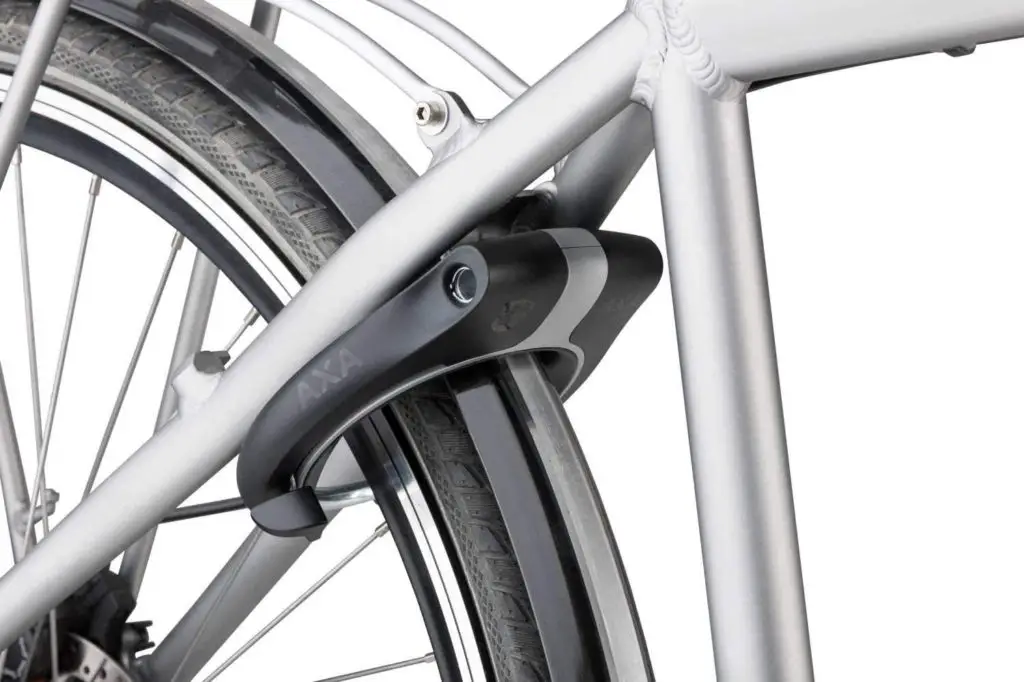 #8 – AXA Solid Antivol de cadre Noir
AXA Solid Antivol de cadre Noir is a steadfast bike lock. A 14mm hardened steel shackle paired to a double deadbolt locking mechanism provides extensive holding power. Anti-rattle bumpers keep the shackle snug against the crossbar and prevent unnecessary noise.
It represents great value for a lock with a Sold Secure Gold rating from a big name like AXA. Nothing short of an angle grinder is likely to be getting through this in a hurry. The bracket isn't the sturdiest but the bike will probably stay exactly where you leave it.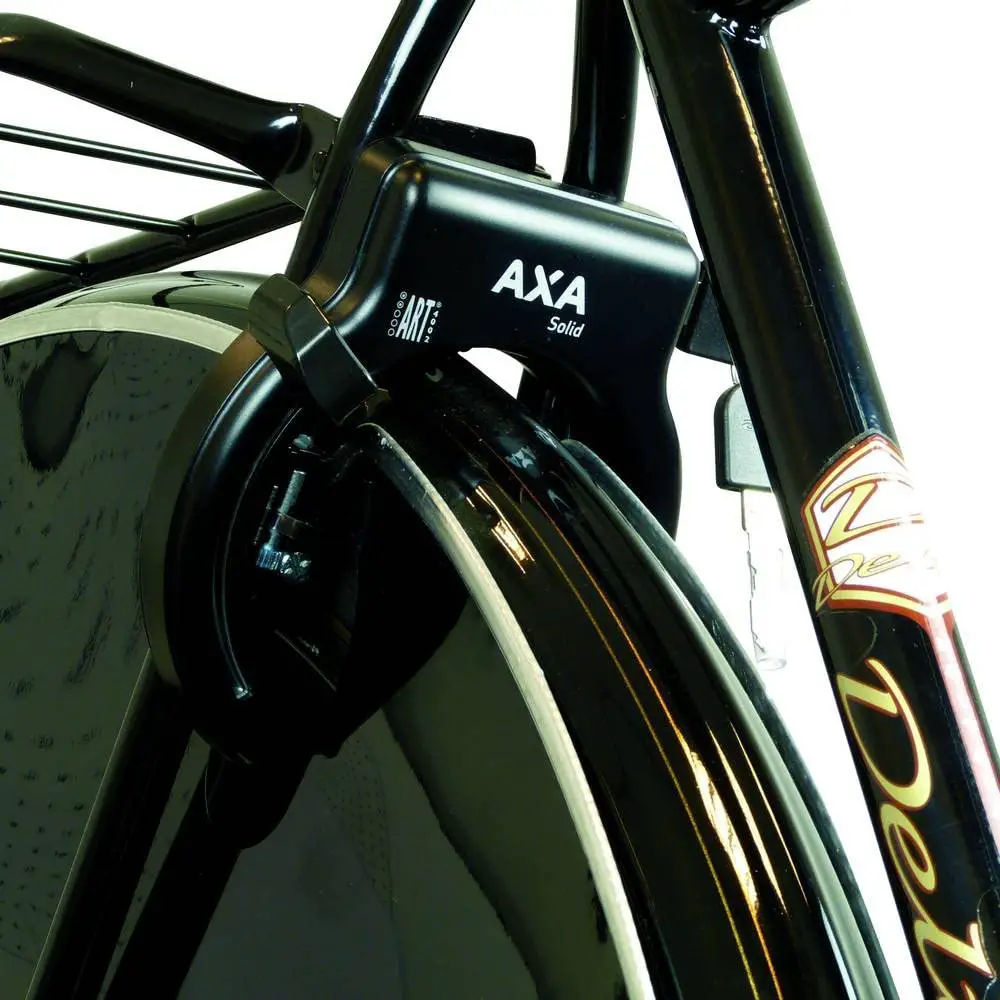 #9 – AXA Newton 150/10 Bike Cable Lock
The AXA Newton 150/10 Bike Cable Lock is normally made up of many strands of long, thin steel, braided together inside a plastic tube. They're light, flexible, and generally cheap. However, this flexibility means that they're also soft and almost all cable locks can be cut with a pair of handheld cables or bolt cutters in a matter of seconds.
And since the one tool that every bike thief carries is a pair of cable cutters, cable locks offer very little practical security. Bike thieves specifically target these locks and in fact, some reports suggest that 90% of all stolen bikes were secured with shoddy bike locks. Why not get the XA Newton 150/10 Bike Cable Lock for extra bike security.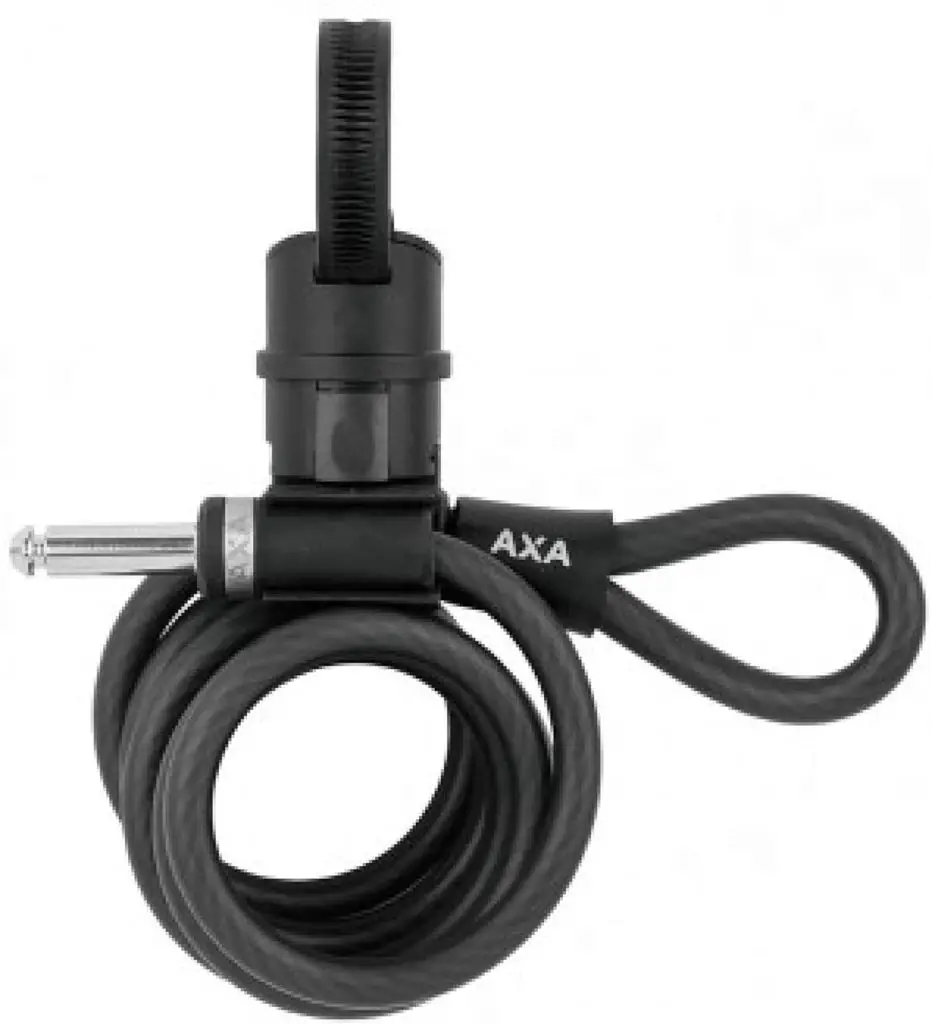 #10 – AXA Unisex – Adult's Newton 85 Bicycle Lock
The AXA Unisex Newton 85 Bicycle Lock combines the locking mechanism with the chain, forgoing the need for connecting an axa bike lock and therefore saving weight. The 10mm, six-sided chain links resist cutting, and the disc detainer locking mechanism is designed to resist picks and drills.
AXA doesn't consider the design as secure as its main lock-equipped chains, but the company still offers a whooping budget of anti-theft protection for buyers who register their bikes.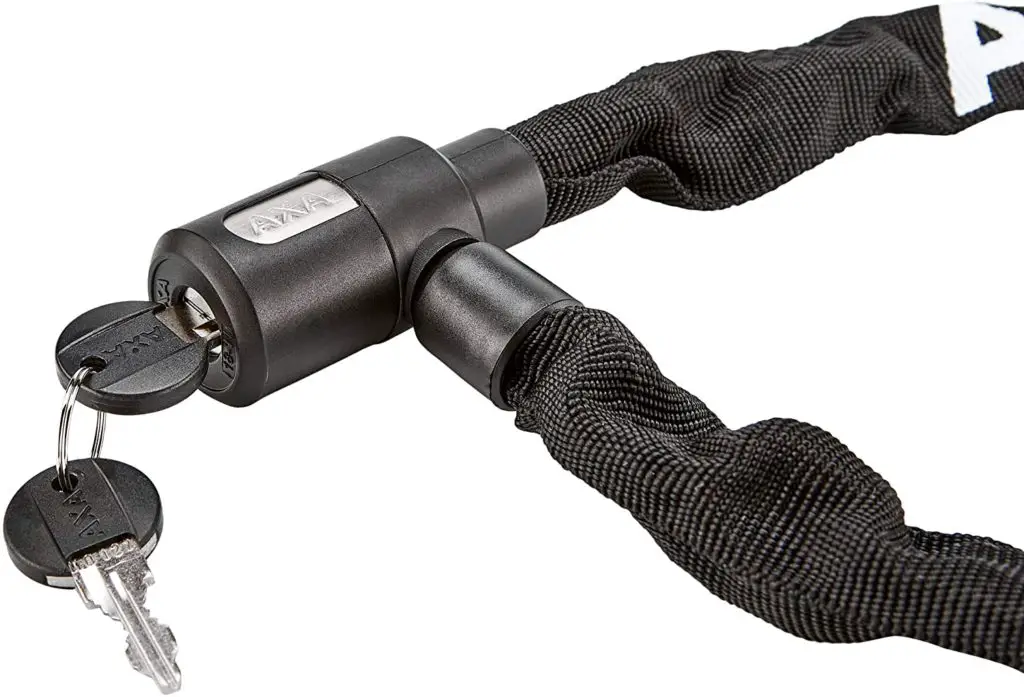 Conclusion
There's no point buying the best bike lock if you don't use it properly! So we've also written a pretty exhaustive article on bike types. If possible you should read this before you make a final decision on a lock. There are secure locking methods that you probably didn't know existed or thought weren't valid ways to keep your bike safe. Knowing all the appropriate techniques could help you choose a more user-friendly lock as there may be valid locking methods that allow you to use a smaller and lighter model! That's why we've compiled and thoroughly reviewed the above ten axa bike locks for you.