Introduction
Gravel bicycle fenders are a worthy investment, especially for frequent cyclists. When you bike around a lot, you can find yourself in a variety of places, terrains, and climates. It's no fun going on a long bike ride only to have the wheels splashing water, mud, and other nasty objects onto you. It's time to get yourself a pair of bike fenders, but how can you find the right one? Let's go over some of the most important factors to consider when purchasing a set of bicycle fenders.
Cost
There's a wide range of fender options for every budget, and you should be aware of what you're willing to spend. If you're only going to deal with the occasional mud puddle or rain shower, there are some modest options in the $5-20 price range. However, a dedicated rider should probably opt for something a little more durable. The best fenders (which are made out of stronger materials and cover more of the wheel) can cost hundreds, but they're more than worth it if you're going through a particularly treacherous bike ride.
Shape & Size
Bike fenders usually come in two shapes: First, you've got the short, straight ones. These are often made out of plastic, which is great if you want something cheap, easy to install, and lightweight. They're not very effective in comparison to other options though. Other bike fenders stretch around a full radian of the top of the tire, but they can be much pricier than the straight plastic ones.
Installation Process
Biking is a unique hobby because it's regularly practiced by cyclists of every experience level. Some people make it a tradition to ride their bikes at least once a week. Other people enter professional competitions and build their own bikes. It's important to find a fender that works for your needs. For example, if you want something that will teach you more about the anatomy of your bike, you can opt for DIY fenders, that let's you put each piece together one by one. Most people will prefer a quick installation fender, but these are usually only designed for certain bikes, so be sure to do your research and get what makes sense for you.
Added Bonuses of Fenders
When most people think of bicycle fenders, they usually associate them with a cleaner bike and a more enjoyable ride overall. Some people buy them purely for aesthetic purposes. But fenders are beneficial in a few more ways. For example, most of the debris and liquid that bikes pick up don't splash the rider, but those around them! By choosing to buy a fender, you're being a courteous cyclist to those around you. This is particularly beneficial if you ride in a group, or belong to a biking organization.
Fenders also protect the inner workings of the bike from the grind. Beyond giving you a bike that doesn't look like it was painted in mud, fenders keep the important pieces of the bike clean and new. They'll make sure that you get the most out of your bike, and they'll reduce costs to fix or replace the bike in the future.
There are a few types of fenders to look out for, and they can vary based on your exact model of bike:
Clip-on Fenders
Many bikes come with specific holes or spots for attaching a fender. Unfortunately, some bikes don't have this option. If your bike doesn't, you'll have to get a clip-on fender. These can fit snugly on pretty much any bike, and they're much lighter than their bolted alternatives. Most of these fenders will be the shorter, plastic ones we discussed earlier. They're typically a little weaker and a little less protective, but exceptions always exist.
Clip-on fenders are usually attached via the seat post, down tube, or front fork of the bicycle. What does that mean? It means you won't have to dig out the toolbox for a lengthy installation, and mixing and matching is a breeze. A real plus if you have a bike collection or someone needs to borrow fenders temporarily.
Bolted Fenders
This type of fender is considered "fancier" and they're typically found on the bikes of professional athletes and strong bicycle enthusiasts. Bolted fenders can only attach to bikes with drilled holes specially made for them. If you use your bike all the time, you should opt for this more permanent style of fender.
Not every bike has the proper holes/sizing for bolted fenders. If yours does, consider yourself lucky! Bolted fenders are usually more much more stable, and they offer more protection from the elements. They can require some attentive installation, so be careful about the reputability of the brand you buy them from.
Mountain Bike Fenders
Every seasoned mountain biker knows the rush of zipping through the rocky, rough terrain of nature. They also are well aware of how muddy and gross mountain trails can get. It's good to have fenders that can shield accordingly.
Mud and rainfall aren't fun, but mountain bikers have to deal with more damaging projectiles, like twigs and stones. Getting a strong (preferably) bolted set of fenders will keep your bike safe from dents and your face safe from vision obstructions.
Mountain bikers are notoriously ambitious, and many opt for the most efficient and simplistic design they can get their hands on. Some like to grab a small front fender and call it good. Others want full protection. It's always good to reflect on previous biking experiences and think about how your needs will best be addressed.
Urban Bicycle Fenders
If you don't plan on racing at high speeds, full-length fenders are the way to go. You can see them on pretty much any bike on any street corner. It's just worth having constant protection, especially if a small decrease in efficiency is no big deal.
If obtrusive fenders aren't your style, we recommend some small, casual mudguards. These are much less noticeable and still keep a lot of the mud and grime out of the way.
Gravel bike fenders – best options
#1 – RBRL Mudguard Bicycle Fenders
Ride Bike Ride Life is known for having sleek, effective products. This bicycle fender is no exception. The design, made out of elastic rubber, is lightweight and durable. It'll prevent splashing debris and protect you and your bike from the elements. Let's go over some of the most popular reasons this bike fender is bought.
For one, it's durable. The material is UV resistant and won't break from being twisted or tugged on. Users of the product often enjoy using it while going through harsh weather and terrain. Through rain, sleet, or snow, you and your bike will remain dry without having to worry about a broken fender.
It's also very easy to install. The product comes with easy-to-read instructions, and it fits comfortably on pretty much any bike, making for an easy setup experience. Putting the mudguard on is a piece of cake, and everything is adjustable, so your fender can be positioned just the way you like.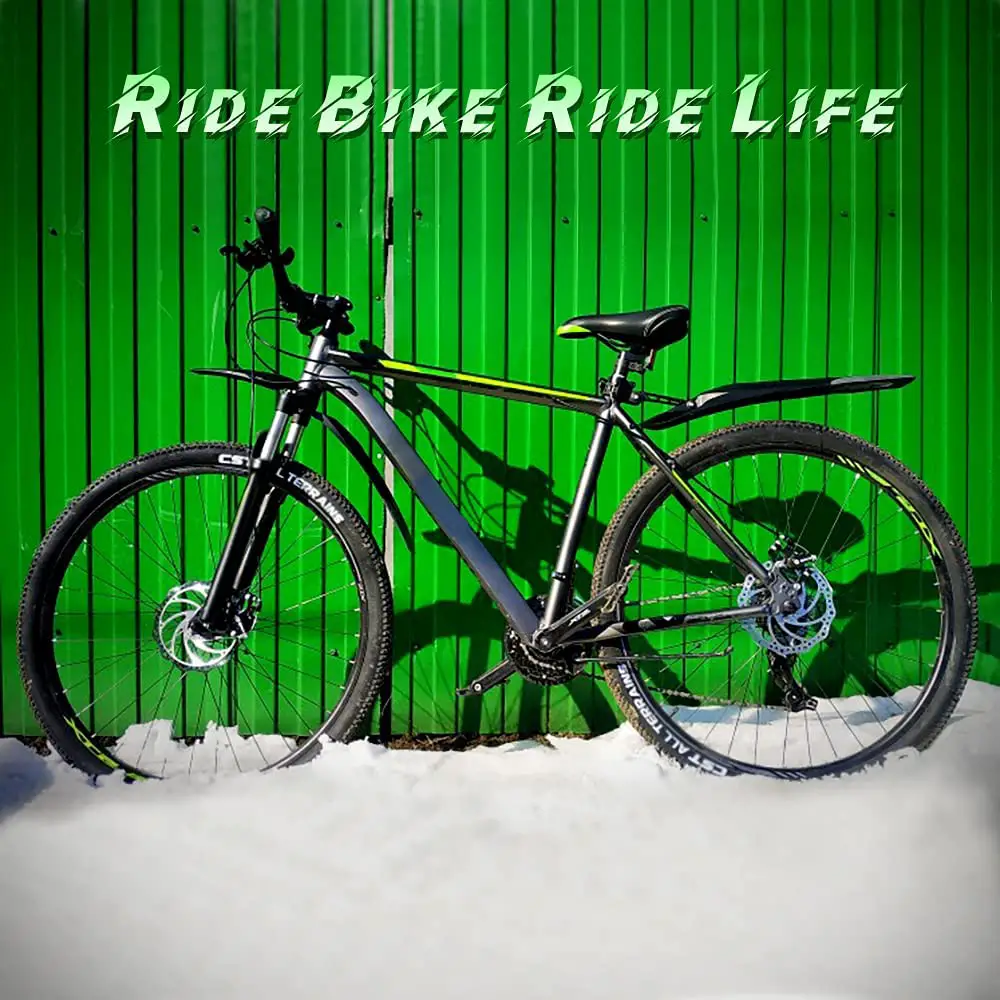 #2 – Planet Bike Fenders in Black
If you're looking for a strong, hassle-free bike fender with a shiny finish, you need to buy this one from Planet Bike.
If you don't have a fender of this quality, you risk getting grime, dirt, and whatever else everywhere. Plus, everything is already put together so you won't have to worry about a lengthy installation process. All of the hardware is included and assembled. All you need is a wrench (and a minute or two of your time) and this beauty will be shielding you from the elements in no time.
The side rods are easily adjustable, and the product comes with a couple of different configurations based on your personal preference. For example, there's an option for bikes with and without disk breaks, making it appealing for a bigger audience.
If your tread is prone to picking up gravel, it could cause a bumpy sound as the pieces hit against this large fender. But if you want something that will really stop anything from splashing up, this will do the trick. You also won't have to worry about this steel product falling onto a wheel and causing a crash. It's firm, durable, and it can take a beating.
The glossy finish is a big selling point. You really can't beat that matte black look.

#3 – Adjustable Road Mountain Bike Fenders
When it comes to price and minimizing weight, nothing comes too close to these fenders. You'd be hard-pressed to find a cheaper option. In fact, it's rare to find high-quality fenders in the 20 dollar range. If you are a rough rider prone to crashes and repairs, these are some cheap fenders you can throw on for quick elemental protection.
It's important to note that these fenders are a great deal, but they aren't for every cyclist. They are made of plastic, meaning they can be broken easily. Make sure that you have them properly installed before going on a test run. The wrong adjustment could easily lead to the plastic connectors snapping off.
They also don't offer full protection around the top of the tires. That may not be a bad thing if you're just trying to keep most gunk off of you and your bike, especially for the price. If you want slightly more protection with longer-reaching fenders, you should prepare for spending at least two or three times as much.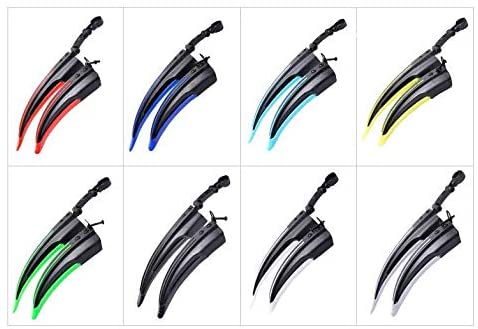 #4 – SKS Reflective Bicycle Fender Set
For cyclists looking to stay as protected as possible, for as long as possible, at the lowest cost, these reflective fenders are a fantastic choice. The rear fender covers the entire top half of the wheel, and the front fender has extra protection in the most splash susceptible part of the bike.
Quality and consistency meet here, with a set of fenders that has received constant praise since they were first released over a decade ago. These are the gold standard for many cyclists of all types. They usually last at least 5,000 miles, which is pretty great considering they are less than half the cost of some fenders.
The reflective stripe reaches across the entirety of both fenders, making riders extra visible and safe from traffic. Pretty much any bicycle can mount them, and their quality is astonishingly high for the price range. Plus they hardly weigh anything as far as full-coverage fenders go.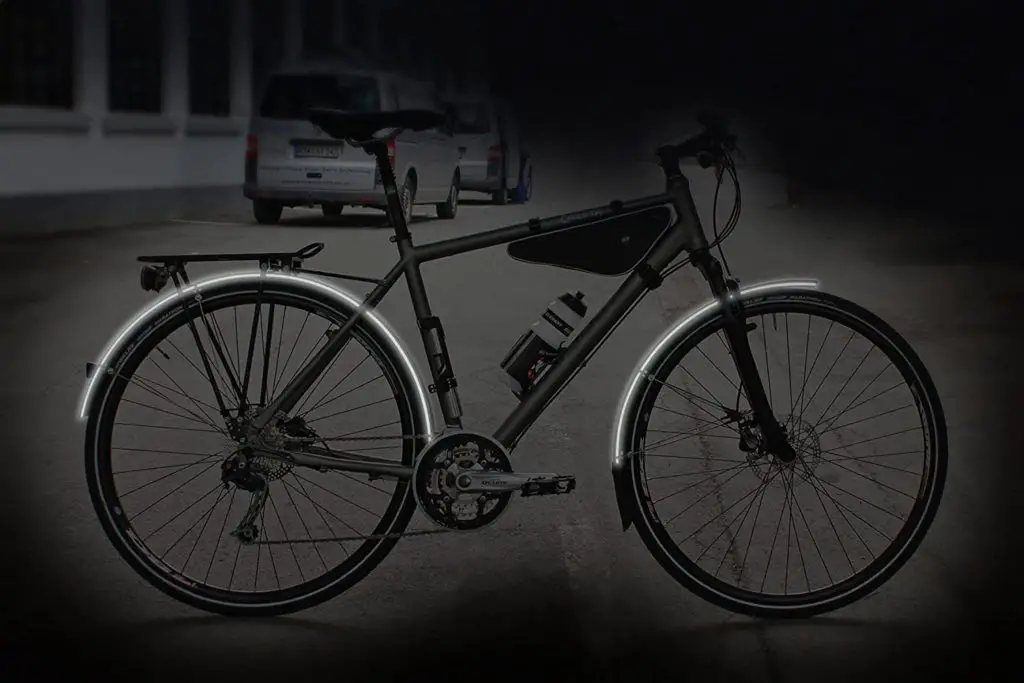 #5 – ROCKBROS Adjustable Mudguards
Contrary to popular belief, small mudguards aren't just for squares or people trying to get the cheapest possible fender. These ultra wide fenders are fold-able, and they'll protect you forever. Plus, they have built-in knobs for quick adjustments and installation. If you're traveling and you want a less permanent (but still effective) fender, a pair of these will work well.
Although they're made of plastic, the product is thick and wide. Also, the plastic design keeps them flexible. This means you won't accidentally damage or kick them off when mounting or dismounting. Also, the edges are smoothly polished so it's impossible to get any unwanted cuts during the installation or otherwise.
All in all, these are some of the most popular fenders on the market. Even if you find the perfect fender for your personal bike, it's worth picking up a pair of these as well.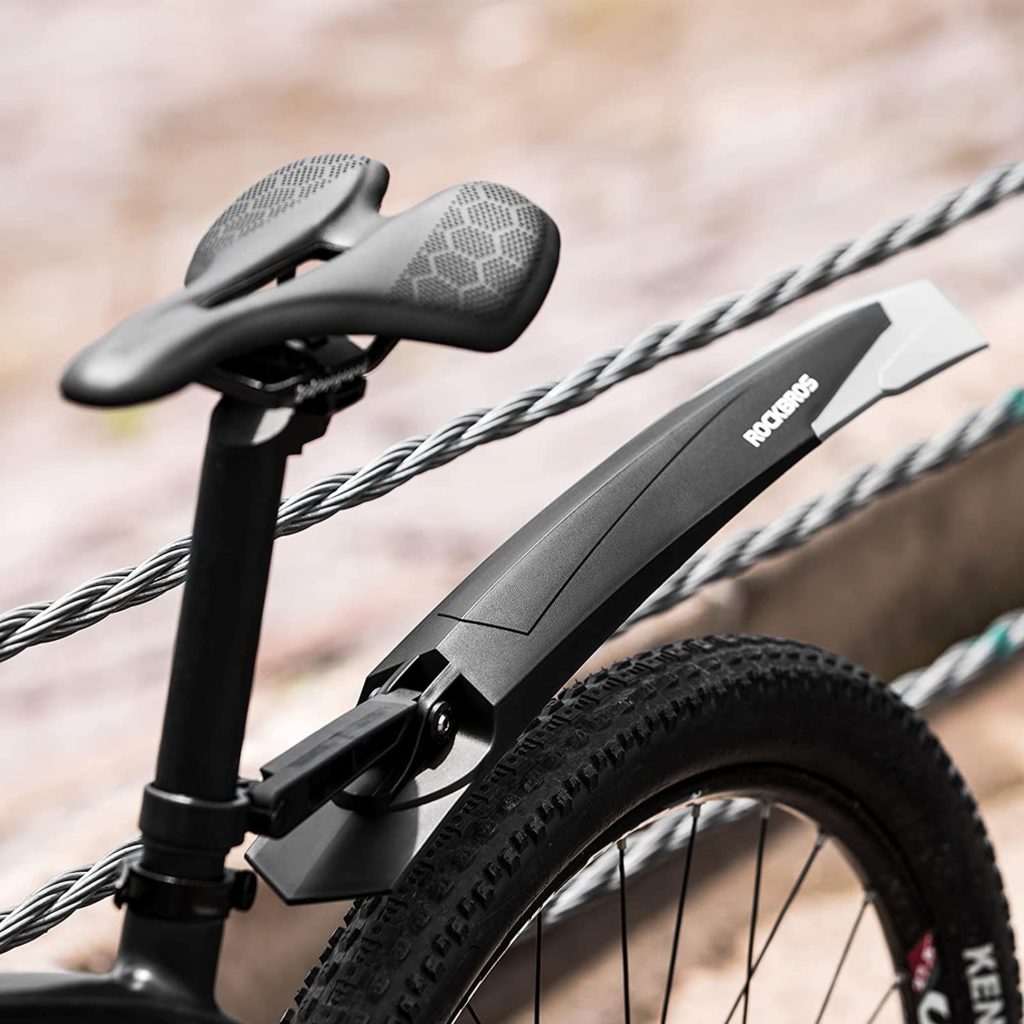 Conclusion
On a rainy day, riding a bike without fenders is a huge mistake. You'll probably come home soaked, and your bike and clothes might get covered in mud. Perhaps most importantly, you might be susceptible to rocks and gravel hurting you or permanently damaging your bike.
There's a lot of fenders to choose from, and the hunt for finding the right one can be arduous and overwhelming. However, going into the search with an idea of what you want will help you make a great decision.
It's smart to have fenders you can trust, and we hope that this list will help you make the right choice in buying your next set of fenders.