Introduction
So you've already packed up your Honda Civic for your biking adventure but there is no room left for your bike? You need a bike rack for Honda Civic to transport your bikes. Our car-specific guides are fully researched and full of relevant information regarding your specific car and bike rack requirements. So, can there really be only one best bike rack for Honda Civic?
Well, to be honest, there are several and in this guide, we will bring you the very best of the best. So we are pretty sure you are aware by now there are three versions of car-bike carriers, which include rear-mounted bike carriers, roof-mounted carriers, and tow-bar bike carriers In this particular guide we will only be covering a roundup list of carefully handpicked bike rack for Honda Civic.
Bike Rack for Honda Civic – Best Options
#1 – DELUXE TRUNK MOUNTED BIKE RACK
Deluxe Trunk Mounted Bike Rack for Honda Civic is a pretty simple and economic bike rack. It can easily fit on your Honda Civic sedans, coupes, and hatchbacks. Additionally; its convenient design means, you would be able to install it in your vehicle, within minutes. The tie-down feature means, it will hold down your bike, securely, protecting your bike's frame.
Moreover; the wider bottom-foot and sideways lashes mean this rack would be held very rigidly to your Civic. This ensures you can easily travel through the city or rugged county roads. Also; the top and bottom feet help in protecting your car's paint job and chassis. Last but not least; you'd be given a lifetime warranty for this bike rack.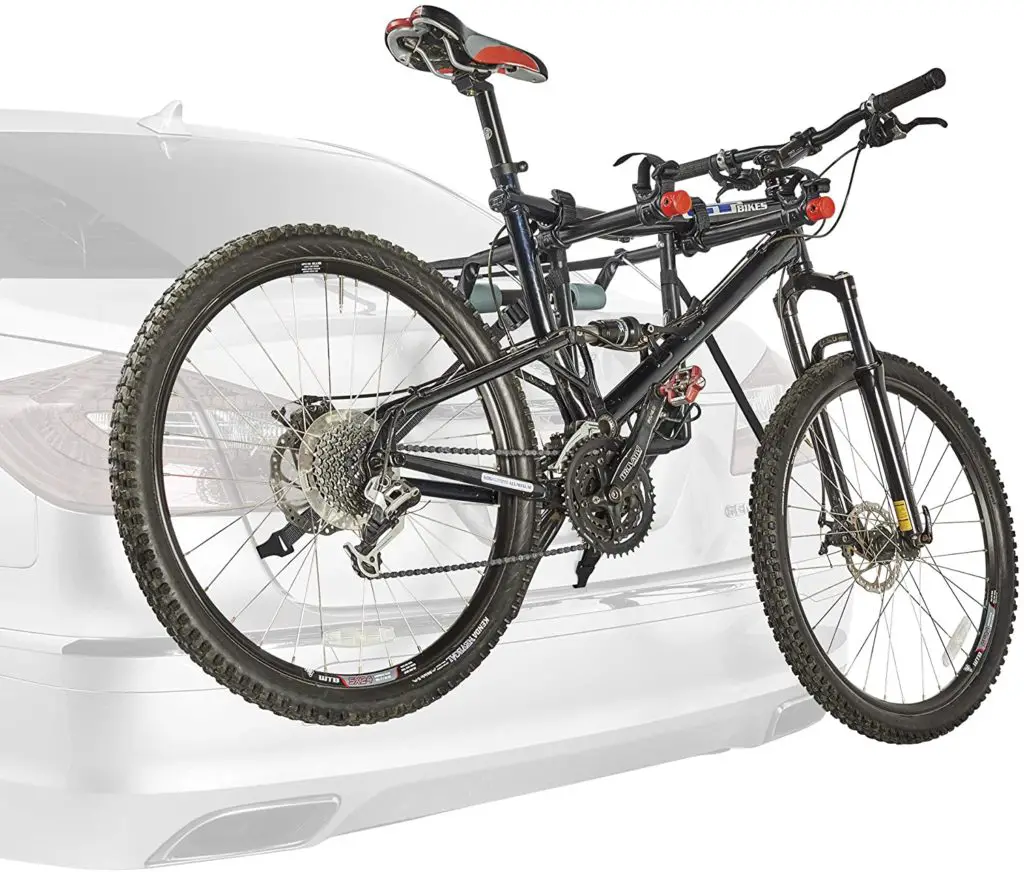 #2 – Saris Bones Car Bike Rack
The Saris Bones Car Bike Rack for Honda Civic is a trunk or Hitch carrier which is capable of carrying 2 bikes at the same time. The tried and tested design is fully compatible with the largest array of vehicles, thanks to its unique dog leg that can fit over most spoilers.  Moreover, while the rack itself is quite lightweight, it can carry up to 70 lbs in weight. It is also very user-friendly as it uses VIP treatment premium hold-downs.
These bike hold downs are super easy to use and very quick to use.  The arcs separate bikes on different levels to prevent any friction between each other. Besides, its articulated rubber feet protect the paint from falling off. As for the arms and legs, these are rust-free and injection-molded to keep the construction rock solid for years to come. 
Overall, it's one of the best bike rack for Honda Civic, fully compatible with most hatchbacks. However, there is one major flaw in the design. When fully loaded, this bike rack can hinder your rear window visibility. So, if rear window visibility is important for you, take a look at other options on this list.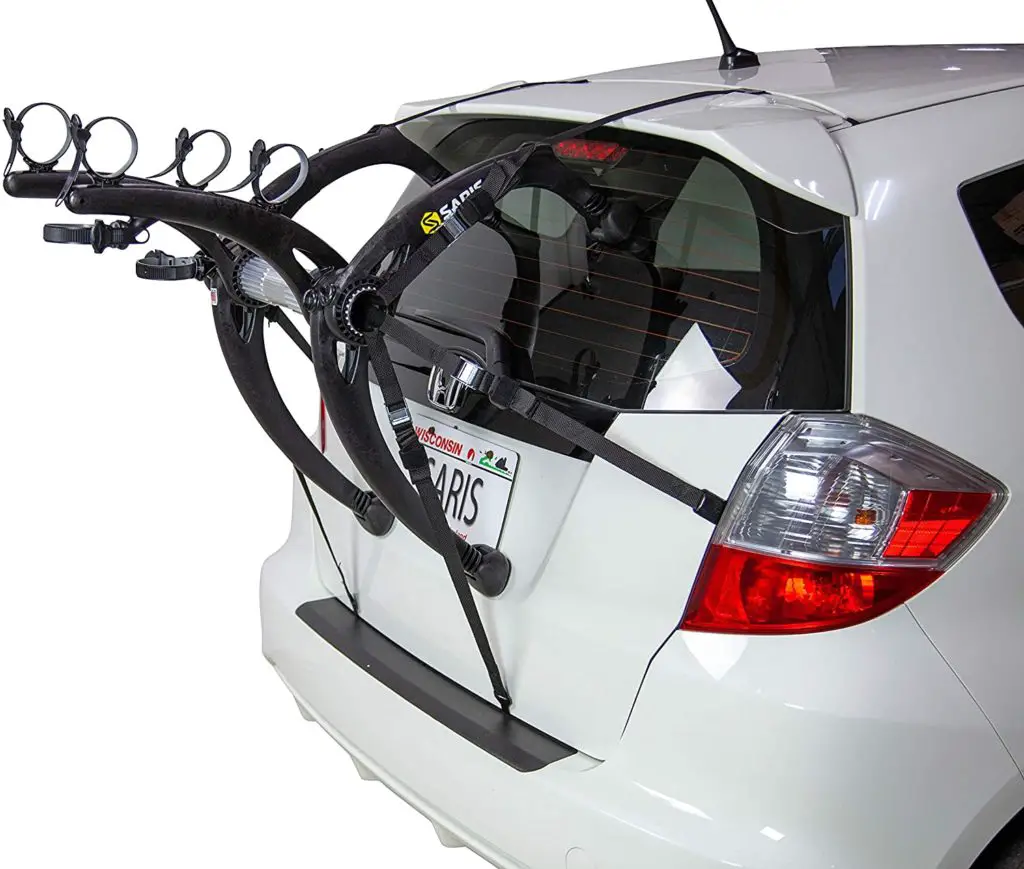 #3 – Allen Sports Deluxe Trunk Mount 3-Bike Carrier
The Allen Sports Deluxe Trunk Mount Bike Rack for Honda Civic is the best trunk bike rack for Honda Civic. It holds your bike very securely by its frame and doesn't let it budge. Allen Sports Deluxe is an excellent option if you are on a budget and want to take your bike along while traveling.  The best thing about this rack is that it is fully compatible with all variants of Civic – whether it's a coupe, hatchback, or sedan. The rack comes with 12 inches bike carrying arms. Therefore, you can use it to hold quite a wide range of bikes. 
What's more?
The Allen Sports Deluxe system is available in different modules designed to carry 2, 3, or even 4 bikes at the same time. You can go for either of them depending on your needs. The carrying capacity of this Honda bike rack is 70 lbs. Thus you can carry two bikes, each with a weight of 35lb. Overall, it's a very robust and easy-to-use bike rack. However, our only disappointment is that there is no locking or tilting feature to further secure the bike once it is mounted.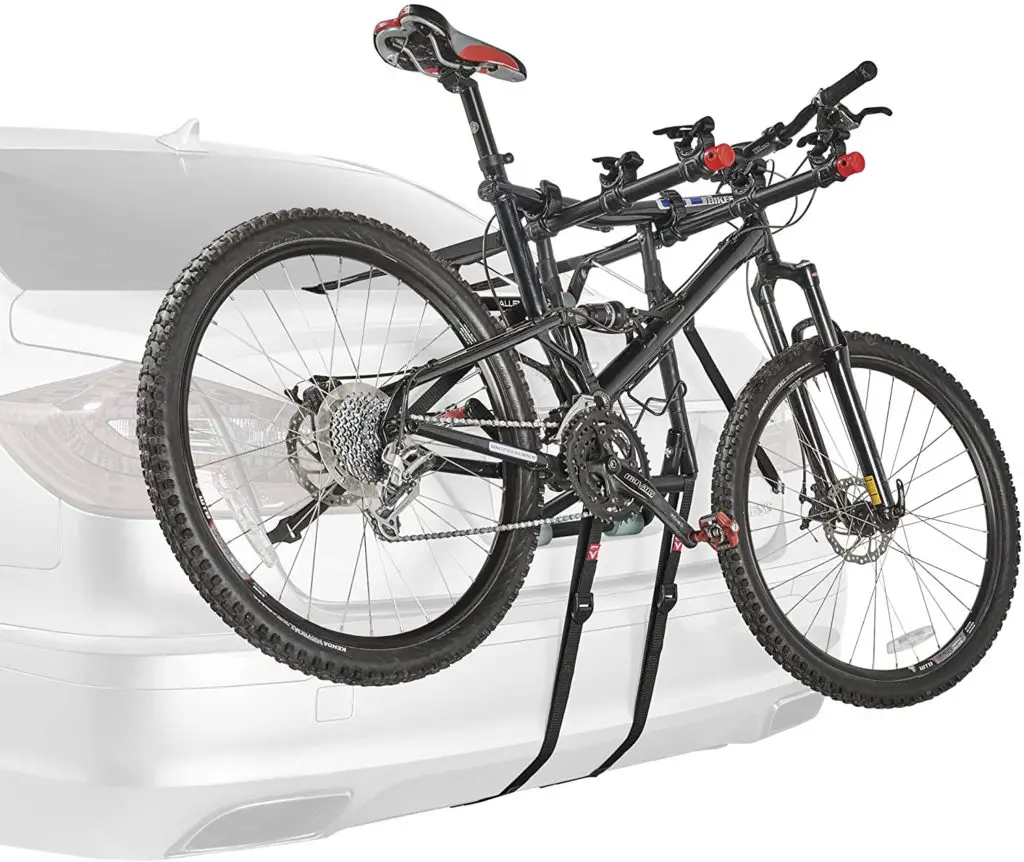 #4 – Allen Sports Deluxe 2-Bike Trunk Mount Rack
Allen Sports Deluxe 2-Bike Trunk Mount Rack features facet straps for elevated lateral stability, single configuration design eliminates setup hassles and complications throughout set up. Padded decrease body retains bicycles away from the car. It comes totally assembled arrange and installs in seconds 12 inch lengthy carry arms simply to accommodate a variety of bicycle types and 115 inches huge carry arms for larger bike compatibility. Patented design suits sedans, hatchbacks, minivans, and SUVs seek the advice of producer web page for particular car match data. Particular person tie-downs safe and defend bicycles. Ships in licensed frustration-free packaging 70 kilos max capability.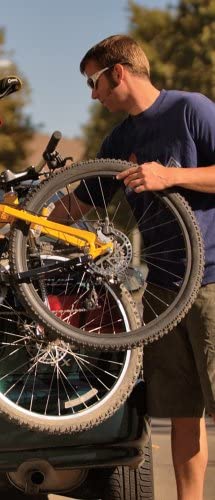 #5 – Tyger Auto TG-RK2B202B
The Tyger Auto TG-RK1B204B Bike Rack for Honda Civic is manufactured in a way so that it is well-built and convenient as well. Although; if your vehicle has a rear spoiler installed, then the TG-RK1B204B, cannot be fitted to your vehicle. For your bike's paint to not get scuffed off, the rack has been equipped with safety leashes and the wadded lower frame. Thus; this would help in maintaining a significant distance between your automobile and the installed rack. The TG-RK1B204B can hold a total of 3 bikes, with each weighing as much as 33 lbs.
Furthermore; the installation process is fairly straightforward and it is included, within the packaging. Additionally; you can rest assured that your bike's frame will be completely safeguarded, thanks to the soft cradles. Besides; this rack has fold-able carry-arms so that you can store it away, easily, when it's not occupied with your bike.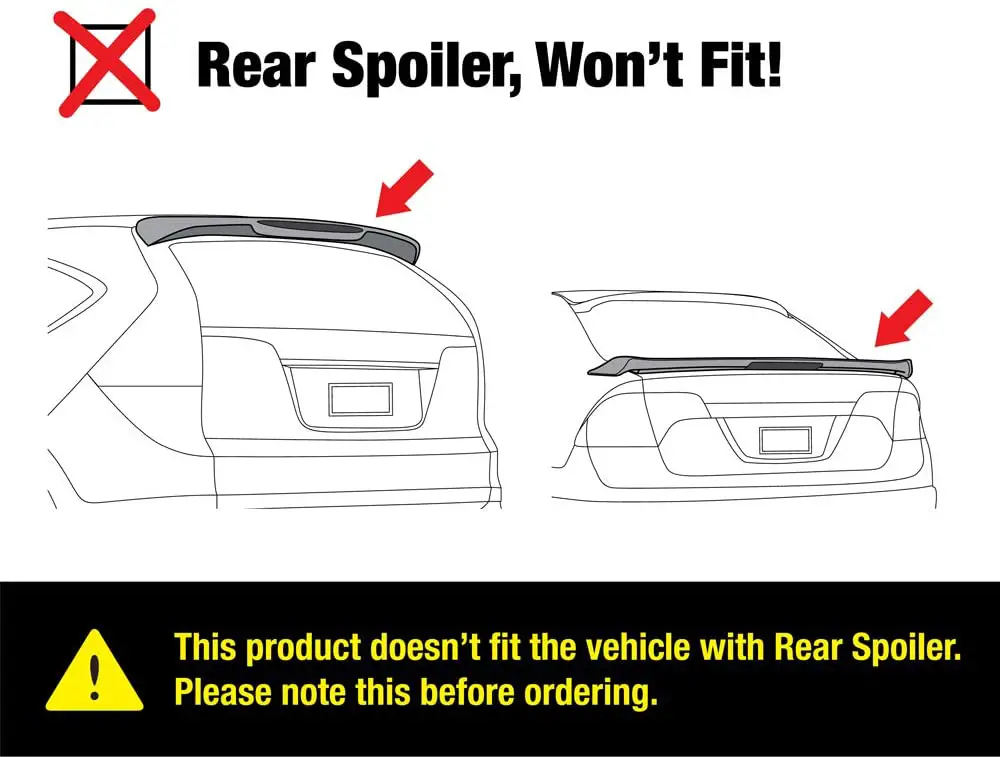 #6 – SeaSucker Talon Single Bike Rack
The SeaSucker Talon Single Bike Rack for Honda Civic is a zero-damage bike rack. It's a fork-mount bike rack that fits any vehicle and any place. That means you can take it on any of your outdoor adventures. It's also a very versatile option as its three vacuum cups can hold on to your chassis, rear windshield, or trunk. It's additionally a very lightweight option, with a weight of just 6 lbs. Still, don't be fooled by its lightweight chassis. It can carry up to 210lbs, which is right up there with the top-of-the-line carrying racks.
Because of its lightweight design and smaller stature, you can easily pack it up in your luggage when traveling. As for the type of bikes it can hold, you can use it for your conventional bike, mountain bike, and even the fat tire bike. However, keep in mind that the weight of the bike should never exceed the 45 lbs limit. Unfortunately, this excellent bike rack does not come with any built-in locking system. You have to purchase some secure locking system to shore up its security, which can be an additional cost in the budget.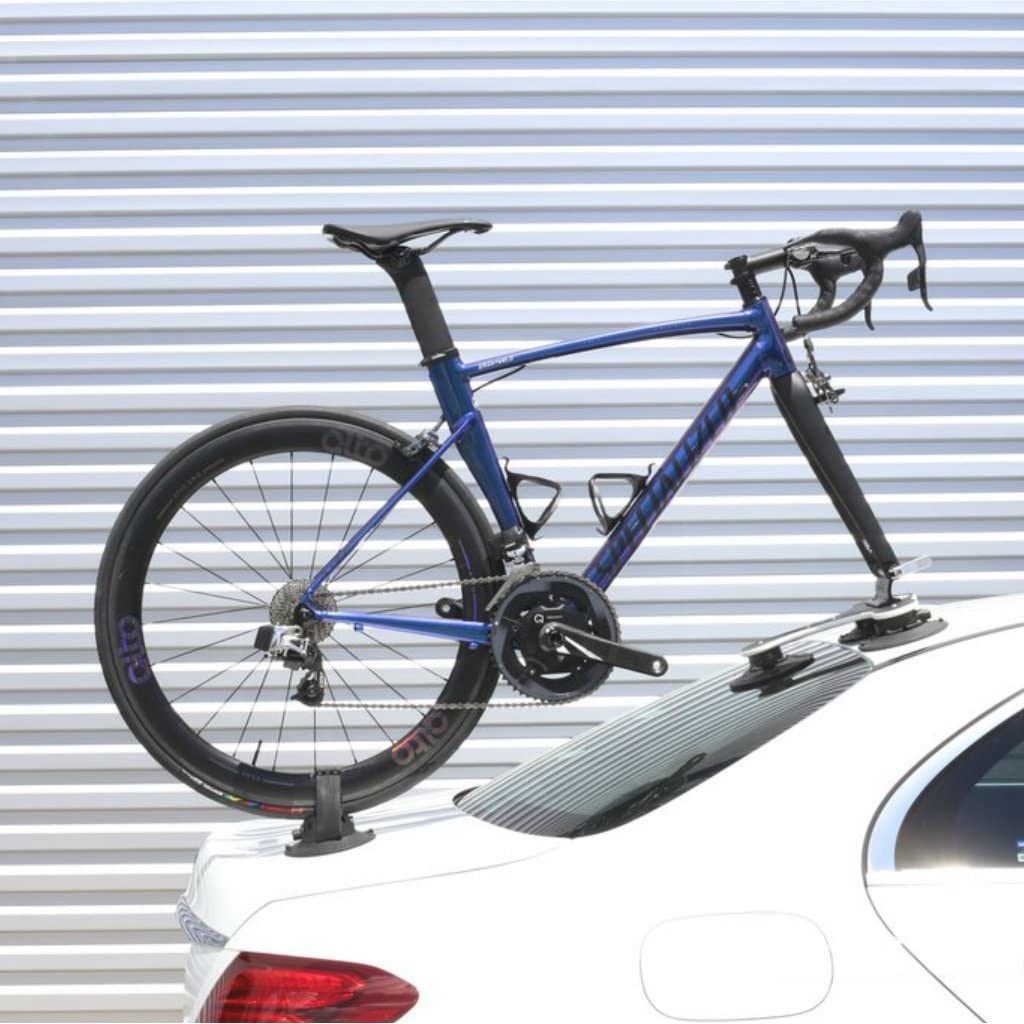 #7 – BENETA Bicycle Car Rack
The BENETA Bicycle Car Rack for Honda Civic is a great option. It will easily accommodate gravel, road, mountain, and cyclocross bikes. And with the addition of the fat bike adapter, it can also work with tires up to five inches wide. The clamp mechanism holds onto the down tube, tightens with a dial, and works with a wide variety of tube cross-sections. The manufacturer states a maximum load capacity of 44 pounds; if your e-bike is lighter than that and you're comfortable heaving it onto the roof, this rack will work for you.
But don't forget that mounting a bike on top of your car with both wheels on adds significant height to your vehicle, making drive-through windows and garages hazardous to the health of your beloved bike. Generally speaking, wheels-on racks aren't great options for tall vehicles like pickup trucks and SUVs. But of all the roof racks we've tried of this style, we found this one the easiest to use while standing on our tiptoes and reaching far overhead.
It would also be best if you use a small cloth rag to pad the frame against the clamp. This bike rack for Honda Civic is lined with rubber, but our tester recently discovered some wear marks on the frame after driving across the country with a bike mounted on this rack.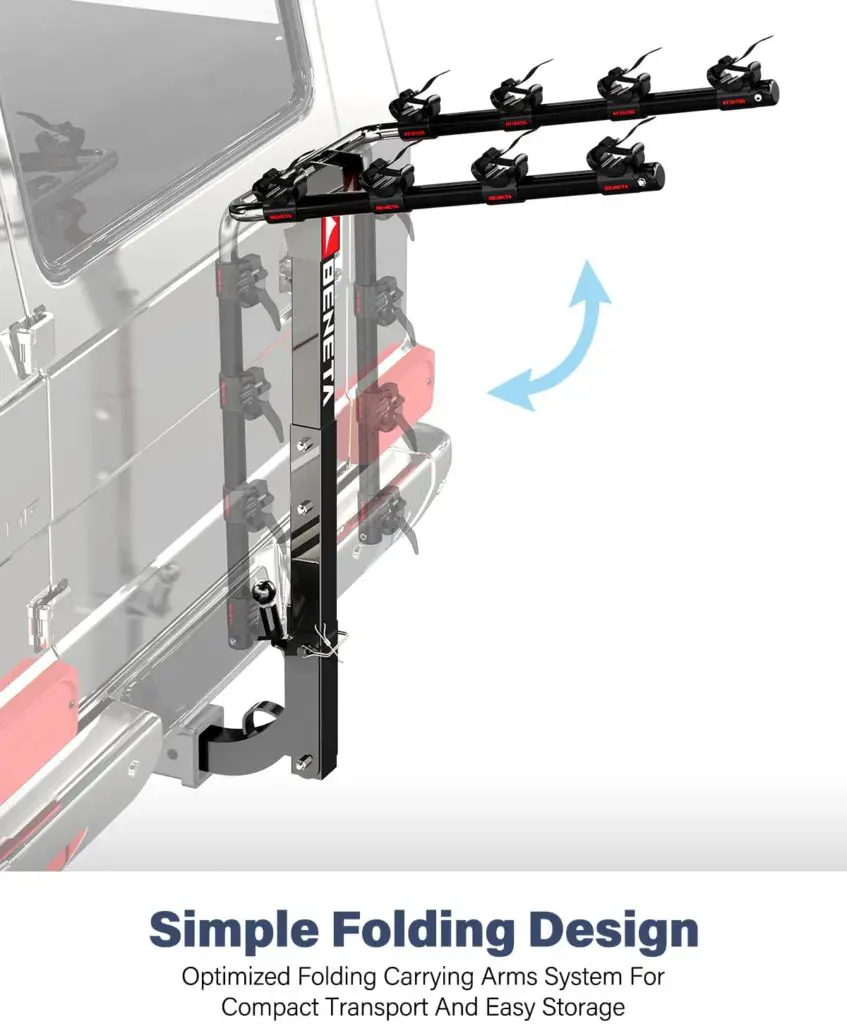 #8 – Venzo 3 Bike Rack
The Venzo 3 Bike Rack for Honda Civic is a highly versatile bike hauling rack that features an impressive set of add-ons. Its design is its biggest attribute is its ability to haul all sorts of bikes. Loading a bike is relatively easy since it includes tabs to keep the rack's wheel straps out of the way.
The rack itself can lock to the base rack, and even though the rack has a lock for the bike it's not a top scorer in security. Without a bike loaded, it folds down decently small. If your bike-hauling duties run the gamut from time-trial aero machines to full-squish fatties with all stops in between, but there's only one bike rack on your car's roof, this is a great choice.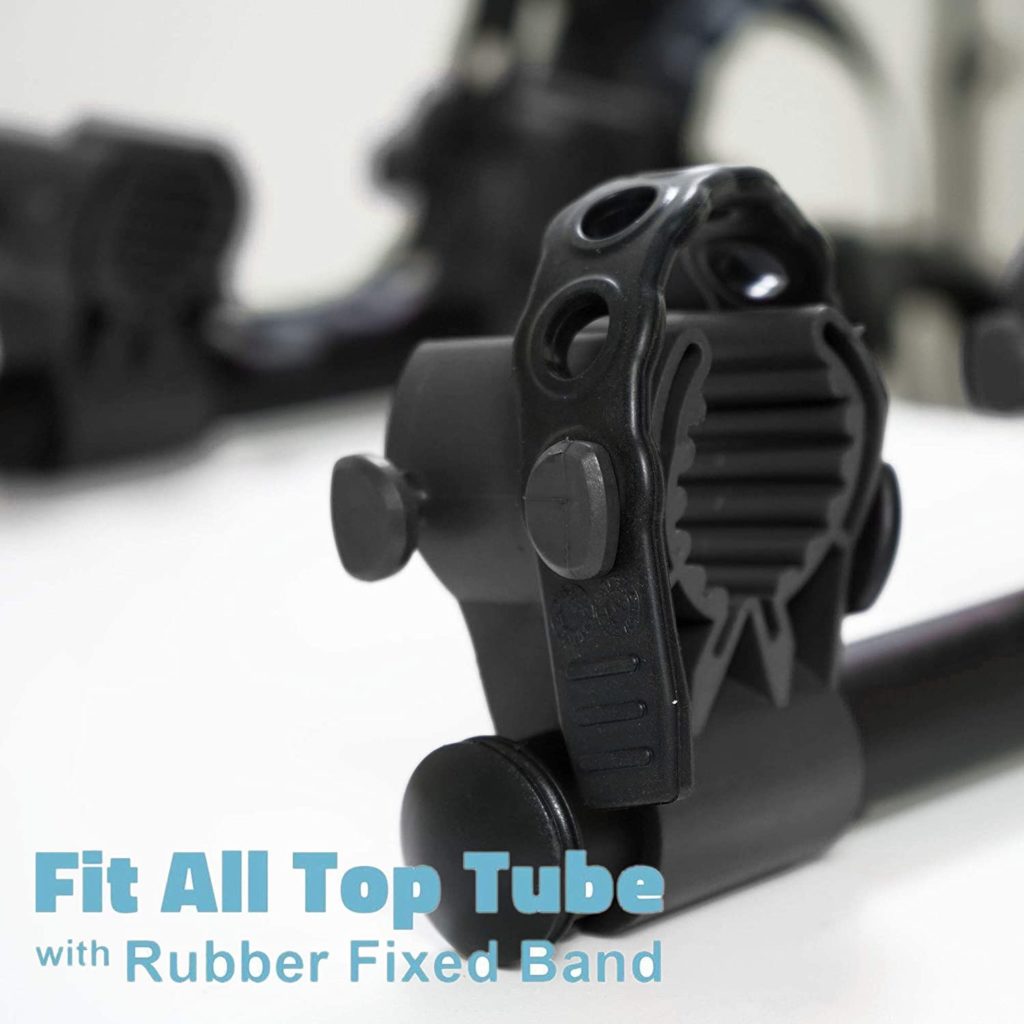 #9 – Schwinn Car Bike Rack
The Schwinn Car Bike Rack for Honda Civic is an affordable option that can haul up to two bikes. Its versatile design means this trunk rack is a good fit for most sedans, hatchbacks, and vans. Once your bike is in place you can use the included tie-downs to hold it firmly in place. If you're hauling more than one bike, the anti-sway cradles prevent bike-on-bike contact. This bike rack for cars doesn't require any assembly and sets up in just minutes. Plus, it's completely foldable and does not need much storage space.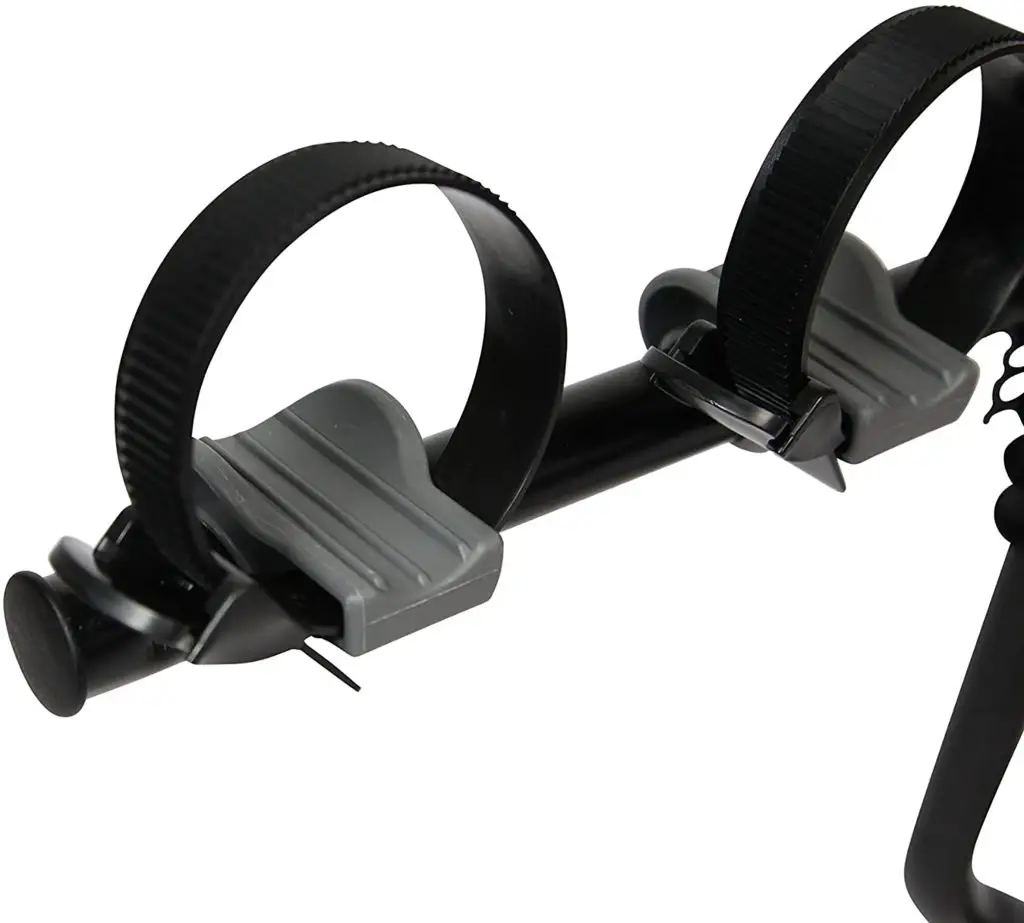 #10 – LT Sport Bicycle Rack
The LT Sport Bicycle Rack for Honda Civic used to mainly fit 4-door Sedan cars and it's made of heavy-duty metal construction. Unlike many competitors, packing your bikes won't necessarily need to remove the wheels. Other features you may like are individual rubbers holders for each bike, secured by adjustable straps, and strong steel tubing for durable outdoor use. It's basically suitable for all weathers and can carry a maximum load limit of 45kg. Just remember not to fit your vehicle trunk with spoilers.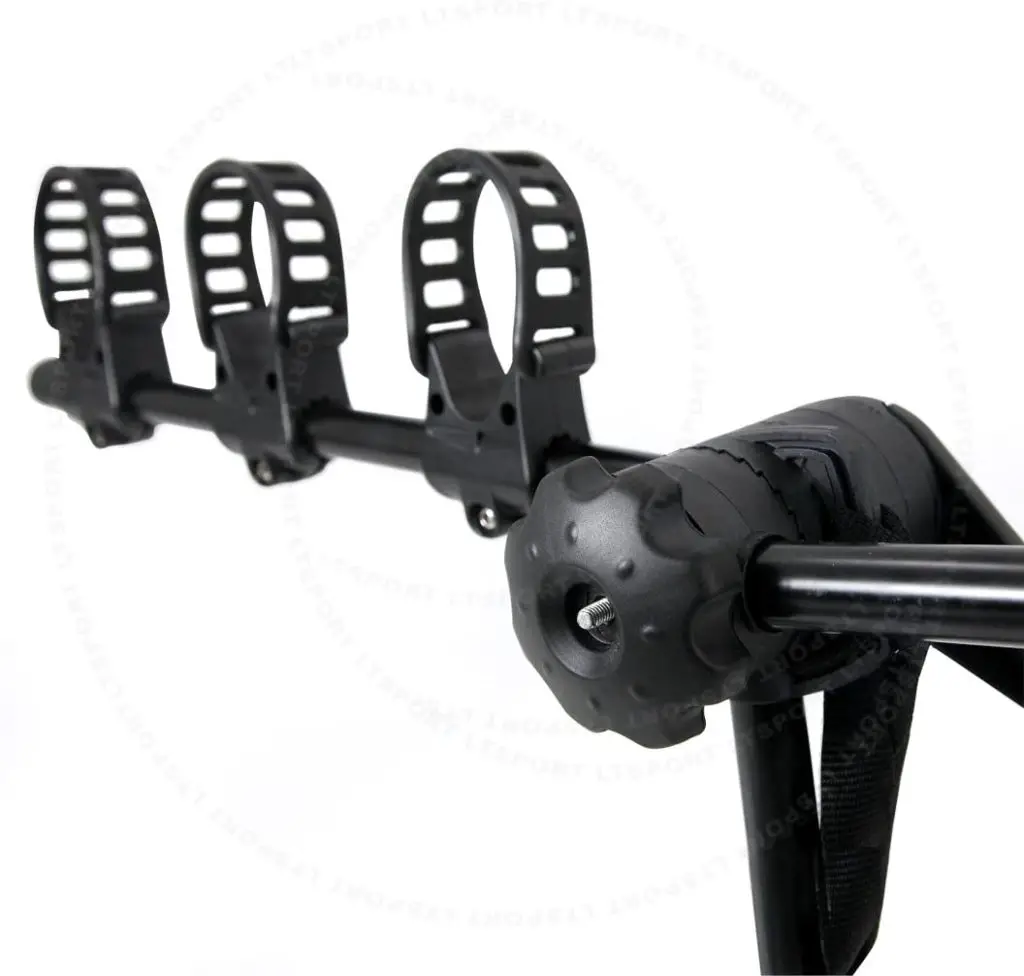 Conclusion
So, that's all about the best bike racks for Honda Civic. Meeting your requirements for a bike rack isn't difficult. You just need to know what you're looking for and what features you don't really need because of the bike model you have. For example, Deluxe Trunk Mounted Bike Rack for Honda Civic would do fine for many of you. Also, Tyger Auto TG-RK1B204B Bike Rack for Honda Civic and SeaSucker Talon Single Bike Rack for Honda Civic are excellent options if you are looking for a quick pick. We hope you will find this information useful and informative. See Yuh!