Introduction
Mountain bike pegs are usually found on most street bikes to enable riders to pull off specific tricks, including rail grinds and flatland maneuvers. They are steel or alloy cylinders attached to the front or rear axles, one on or both sides, so you can run your bike with up to four pegs as desired.
Attaching and detaching pegs is a simple job, but you need the right tools – a socket wrench and deep-well socket are necessary to tighten or unscrew the axle nut inside the peg. Read on to learn more about the different types of mountain bike pegs available and find the right one for you.
Which Mountain Bike Pegs Should You Choose?
Here is everything you need to look for when choosing mountain bike pegs.
Diameter
While you can use the standard, preferred diameter pegs of 38.5mm, there's also the option for slimmer 35mm diameter pegs. Most mountain bike riders are always delighted with 1 ½ inch diameter pegs, although the riders who choose the 'skinny peg' route do so because it lessens the load during stunts and is more lightweight.
Axle Size
There are two main axle sizes you'll see on bikes: ⅜" and 14mm. 14mm axles are more standard for most casual street bikes. ⅜" axles are more often seen on bikes used for extreme situations, like mountain bike racing. It's essential to understand your axle size and choose your pegs accordingly.
Material
Many mountain bike pegs are made of Chromoly or Chromo, a steel alloy lighter in weight than regular steel but still somewhat harsh. While aluminum alloys are sometimes used because they're more lightweight, they lack steel durability. There are even plastic pegs available, although they aren't recommended. That said, steel is the best material for mountain bike pegs; there are plastic and other sleeves to cover them for the best of both worlds.
Length
Bike pegs can vary in length, but there's a pretty consistent range if you're looking at mountain bike pegs designed for stunts and rails. Stunt pegs are typically between 4 and 4 ½ inches long. Pegs meant for passengers such as on a street bike can have a much more comprehensive range of lengths. Even some pegs on our list can be an inch or two longer; the choice often comes down to your comfort.
Mountain Bike Pegs – Best Options
#1 – KINSPORY 3/8 inch Mountain Bike Pegs
The KINSPORY 3/8 inch Mountain Bike Pegs are most easily summed up as sturdy and smooth. If you've ever dealt with loose, spinning pegs when you're trying to nail your latest trick, you're going to love these pegs. They're designed with special pins that keep them fastened in place. If you have ⅜ axles, you can use these pegs, too, since there's an adapter included for your convenience. Not only are they high-quality, hard-working pegs, but they also look good no matter what designs you have on your mountain bike.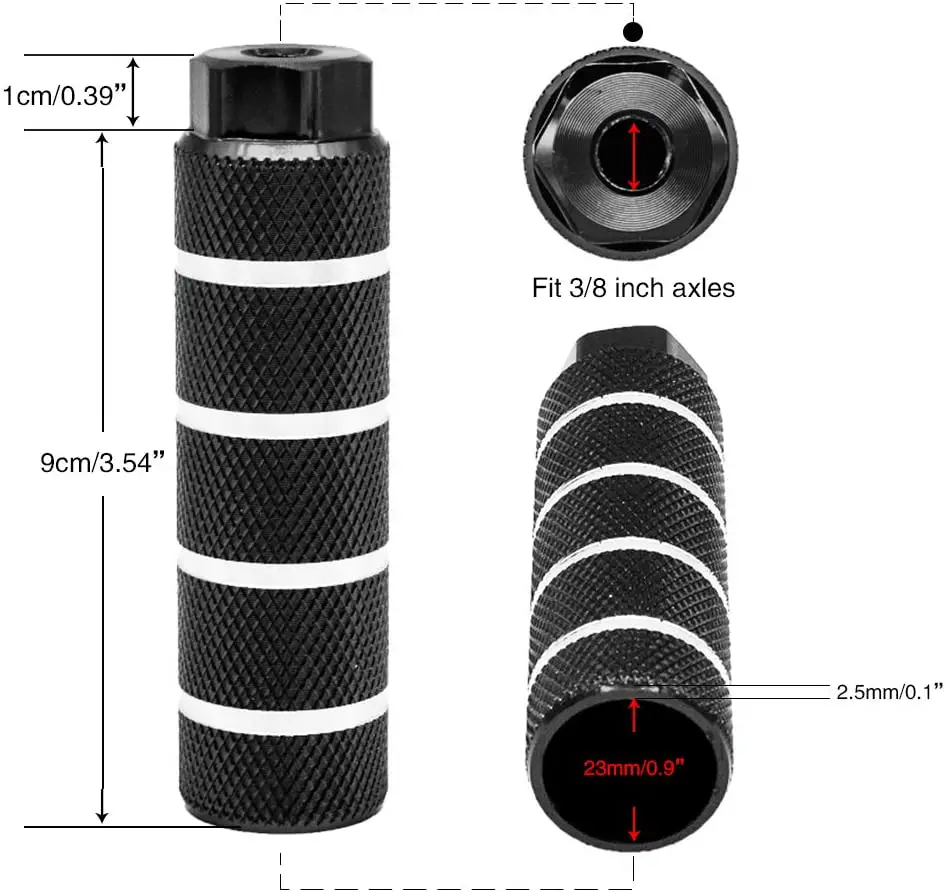 Key Specs
Suited for all axle dimensions
Durable aluminum alloy
Anti-rotation pins features 
Sturdy and lightweight design
Pros
Smooth and sturdy 
Quick to install
Extra-wide design
Doesn't wobble
Cons
#2 – 25NINE Anodized Aluminum Mountain Bike Pegs
The 25NINE Anodized Aluminum Mountain Bike Pegs is one of the best mountain bike pegs you can get today. This is because they're a sturdy pair of rigid pegs, no matter the impact, which is backed up by their 80-day money-back guarantee.
If you are looking for a durable set of Aluminum mountain bike pegs that'll last you many years, then the 25NINE Anodized Aluminum Mountain Bike Pegs are perfect. Their lightweight but very sturdy aluminum core is encased in a polycarbonate sleeve, making it one of the most rigid sets on the market.
Key Specs
Suited formultiple axle dimensions
Durable construction
Sturdy aluminium core
Pros
Slip-free construction
Highly compartible with bikes and scooters
Durable Krakton design
Cons
#3 – Vansa Aluminum Alloy Bike Pegs
The next best alternative on the list for best mountain bike pegs is the Vansa Aluminum Alloy Bike Pegs, which have also been an eye-opener in the industry. The Vansa Aluminum Alloy Bike Pegs come in a fine glossy black finish, made of structured, rigid steel that riders praise for its durability.
The pegs fit most mountain bikes as they come in a 3/8 inch axles fit and are 4.3" in length, ensuring a large surface area for the rider's foot to grab onto, making it the best peg for beginners and pre-intermediate riders.
Furthermore, these pegs have a ridged surface which means more friction, ensuring a safer peg grind as the surface is less smooth, which allows the rider to be in control, all at a reasonable price for what you get for average pegs.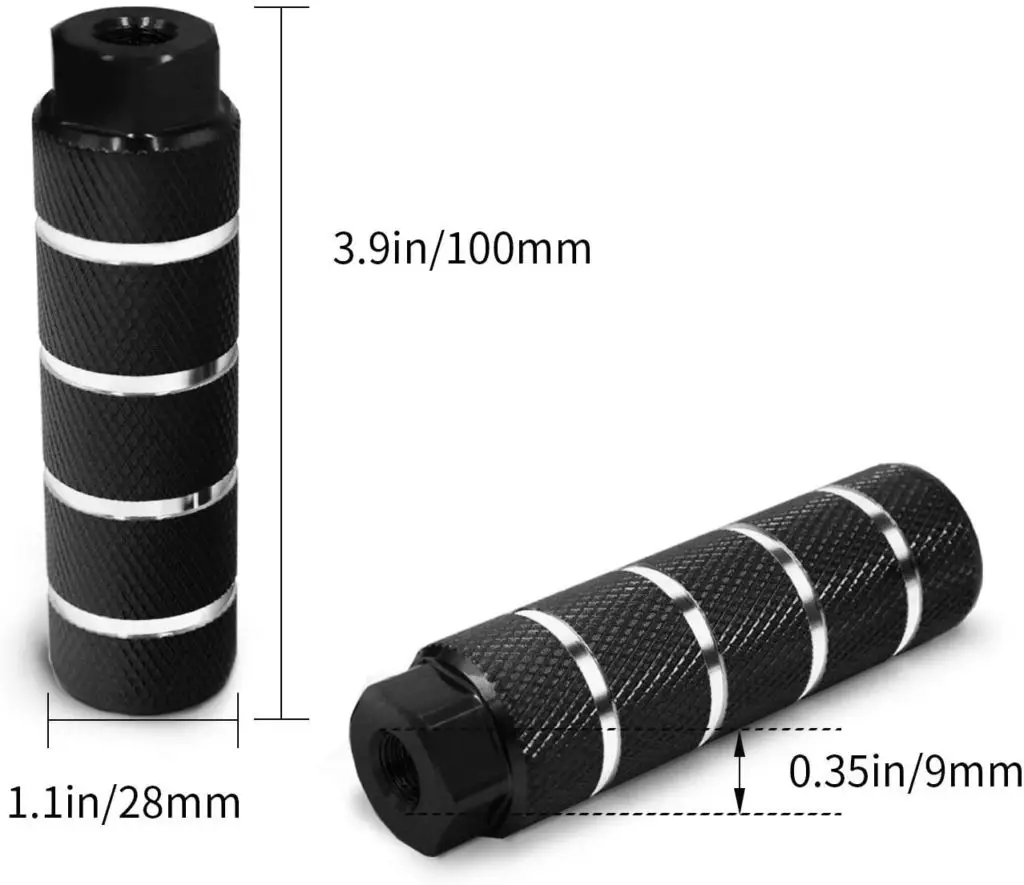 Key Specs
Is 110 mm long
Weighs 510 grams
38 mm diameter
Axle compatibility for 14 mm dimensions
Pros
High quality construction
Easy to use
Wide applicability
Cons
#4 – SMALL STAR Bike Pegs
The SMALL STAR Bike Pegs are a great pick whether you're just starting mountain bike riding or you've been doing it for some time now. They are certainly a budget-friendly option paired with the quality and performance you get. These pegs are an exceptional value. 
They won't wear out after a few rides, like most other mountain bike pegs in the price range. Even the paint holds up well after some rough riding. This set of pegs is that they have a grippy texture, making it easier to keep your feet on them when you're freestyle riding.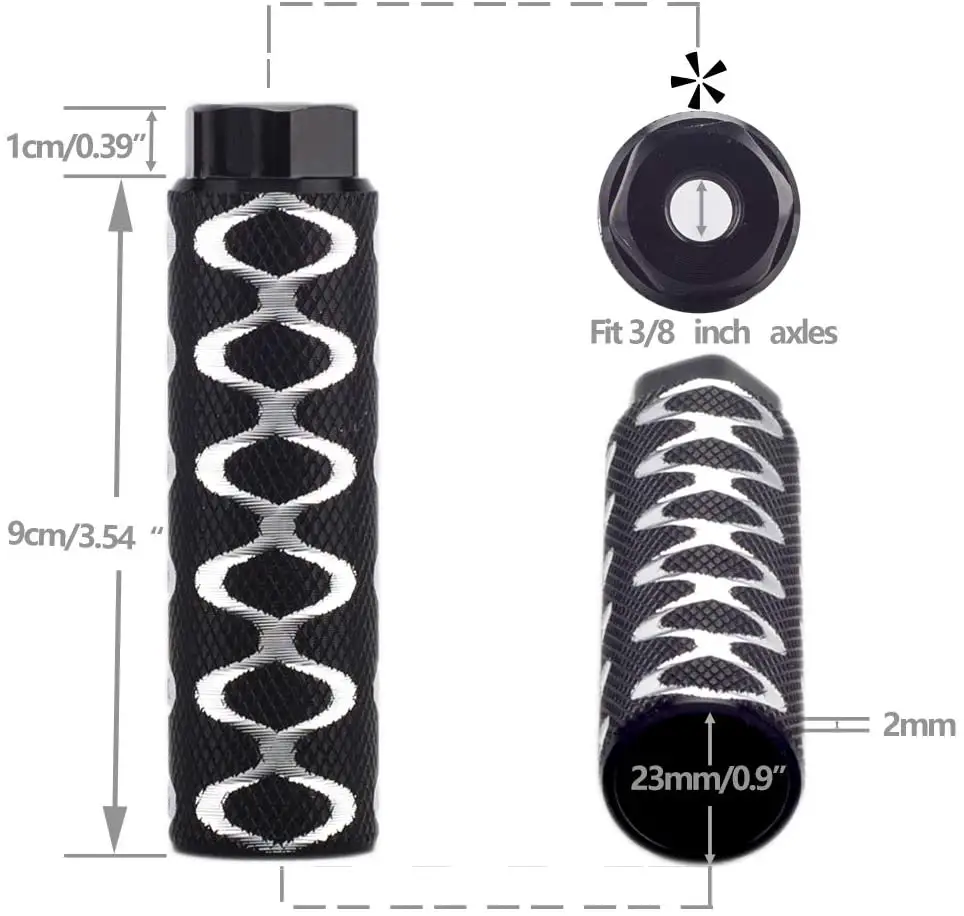 Key Specs
Durable steel construction 
Compatible with any ⅜ axle threading 
Textured surface for better grip 
110mm long and 38mm wide
Budget-friendly price point, high-quality pegs
Pros
More significant than most mountain bike pegs; it makes executing freestyle stunts easier 
Pegs have a textured surface that's easy to grip 
Impressively sturdy and durable without much extra weight 
Quick and easy installation
Cons
Instructions for installation aren't included
#5 – Vansa 1 Pair 3/8 inch Bike Pegs
From one of the most recognized and trusted bike companies worldwide, the Vansa 1 Pair 3/8 inch Bike Pegs are everything a freestyle mountain rider could ask for. Like any other piece by Vansa, you are probably aware that these pegs are of high quality with high spec in their design and construction. While they are made of some really strong steel, they also come with an electroplated finish. In short, they keep the tough core construction you need but add some nice flash too.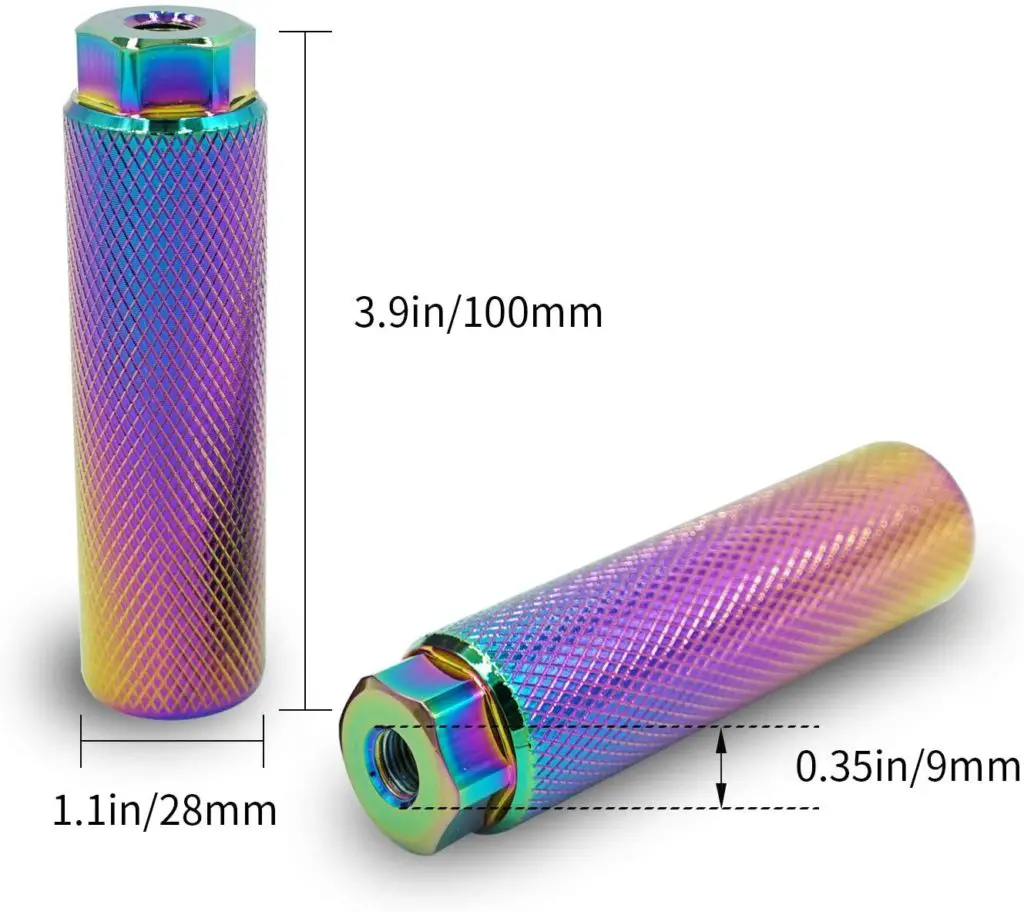 Key Specs
Product measures 3.9*1.1 inches long
Package includes 2 bike pegs
Universal fit for popular bike models
High quality aluminum construction
Pros
Easy to use
Durable design
Great looks
Wide applicability
Cons
#6 – Aili Ye Aluminum Alloy Mountain Bike Pegs
The Aili Ye Aluminum Alloy Mountain Bike Pegsare as sleek and cool looking as you would expect from the onset. But they're high performers too. The best thing about their design is that it does include a textured outer surface for grip, but it's not visibly apparent unless you're looking up close. 
The subtle texturing is consistent over the entire peg, which is nice if you've ever missed a trick when your foot hits the tricky part of a textured peg. If your foot happens to slip, you won't scrape up your legs since these pegs don't have the rough edges that so many mountain bike pegs do.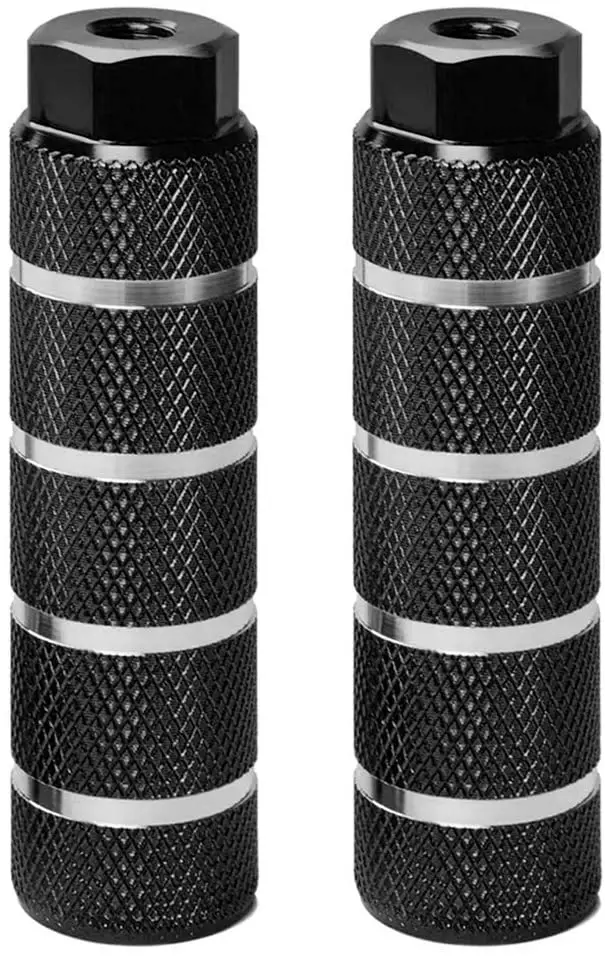 Key Specs
Made of high-quality, durable steel 
Easy installation, thread into the axle 
It fits all standard ⅜ inch axles 
The outer surface is grooved for grip 
Suitable for all types of mountain bike riders
Pros
It grips well but doesn't scrape if your foot slips 
Seriously easy to install; thread it in and tighten the pegs by hand 
You can feel how sturdy they are, but also aren't heavy 
Large enough to work for all sizes of rider 
Cons
There's a size difference between the black and silver pegs.
#7 – Amotor Bike Pegs
The Amotor Bike Pegs mainly work and outdo most other buying options that you'll find today. They feature super-tough steel construction and thoughtful design to make the most out of your mountain bike and freestyle riding. They're 6 inches long, just enough space to get a good hold, but not enough to get you stuck on your bike. Not only that, but these pegs also have a tapered edge; it's not a common enough feature in mountain pegs today since it does wonder for keeping fork interference at bay.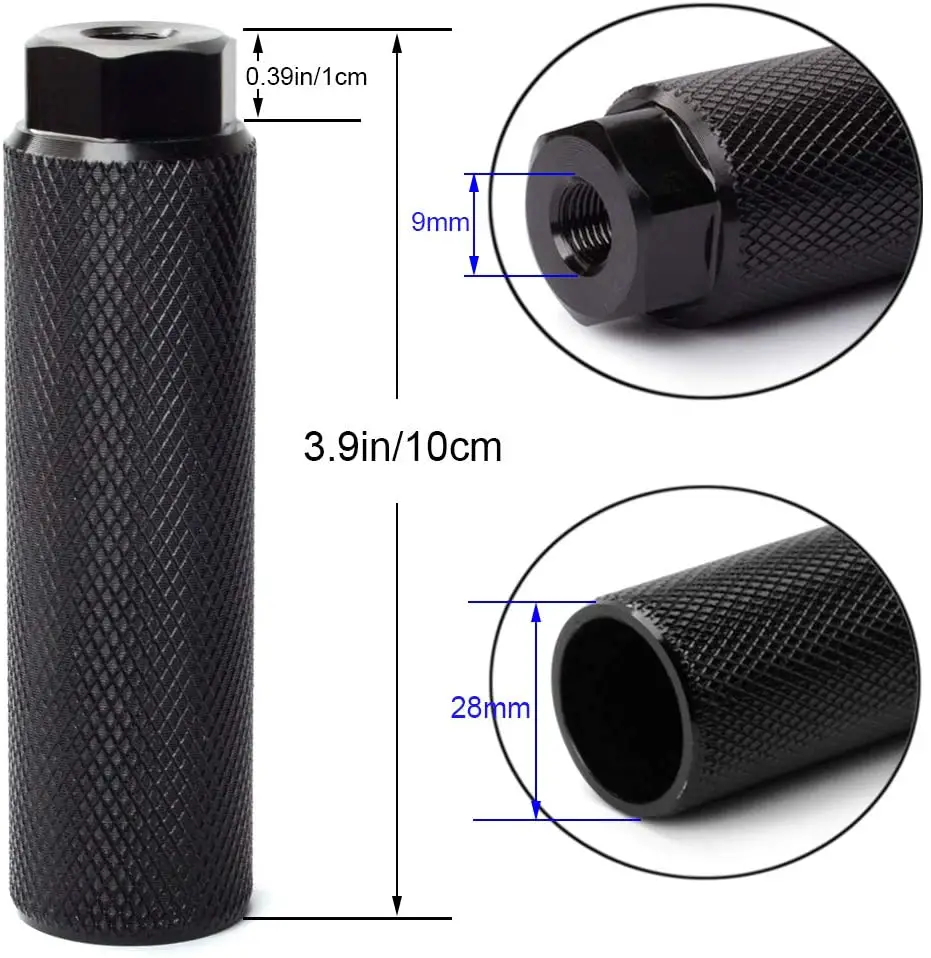 Key Specs
6 inches long, compatible with ⅜ inch axles 
Designed with a tapered edge to prevent fork interference 
Constructed of heavy-duty steel 
Knurled, textured surface improves grip 
Threaded with a nut on end for easy installation 
Pros
You can feel the traction on the peg without too much movement 
Sturdy and durable construction 
The tapered edge is an excellent feature for riders that spin their bikes 
Longer than many mountain bike pegs, and the pegs don't get stuck 
Cons
Not compatible with 14mm axle without an adapter
Conclusion
It goes without saying that all the mountain bike pegs discussed in our review are high-performing and reliable pegs. They are all excellent choices, but a couple stands out like the KINSPORY 3/8 inch Mountain Bike Pegs.
These are particularly well built, look good, perform well, and even sound great. The  25NINE Anodized Aluminum Mountain Bike Pegs are at a close second and they are equally tough and comfortable to use. Their super grippy textured surface is a plus, especially when you are starting to freestyle or trying out a new bike stunt.