How much is a bike tune up?
Well, I will tell you. But, it's really going to depend on how much you ride and the condition of your bike and how regularly it has been tuned up over its lifetime. You may need new parts? You may not.
A good bike mechanic will advise you on the best options for repairs, if any are needed on top of the normal service, and will let you know the costs and get your approval before just going ahead with the work.
Bike tune up prices generally only reflect labor costs. In most cases, Tune ups require the replacement of worn or damaged parts, which can easily add up to just as much as the tune up itself, or even more.
Someone asked on Reddit if bike tune ups were worth it. One person commented on the post saying, "If you don't want to be bothered to do it yourself, they are worth it. If you want to do it yourself, you could. It all depends on how you value convenience/peace of mind/time/DIY." I think the value in that statement is in the "peace of mind". The cost of a bike tune up is pretty cheap peace of mind knowing that your bike is safe and maintained and will function the way you expect it to when you need it to.
What is included in a bike tune up?
As you would imagine, a tune up will include cleaning off any old dirt, oil and grease from the bicycle. The alignment of the gears and derailleurs will be checked as well as looking for any damage.
Stretching and kinking in the drivechain can cause serious issues so that will be checked as well. The brakes are always good to have in working order so they are inspected for grip and any wear so that you can stop when you need to!
Every nut and bolt must be checked and tightened to ensure that the stability of the bike is maintained for riding. Moving parts have the right oils and greases where required.
A list of the bike adjustments included would look like this:
Removing dirt, oil, and old grease from the bike.
Check for damage and alignment of gears and derailleurs
Check for stretches or kinks in the drivechain
Check for brake wear and grip
Check for tire wear, cracks or swelling
Adjust all settings on tension cables as required
Check wheel and frame alignment
Check wheel spokes (if any) and tighten if necessary
Headstock and seat post should be checked for accidental movement
All bolts and nuts must be tightened to ensure stable bike riding.
Apply proper oil and grease to moving parts when necessary.
Tuning the bike basically means getting your bike in the perfect shape for use!
Why should you get your bike tuned up?
If you've ever had your bike tuned up, you know exactly why you should get it done… It's like putting those clean Egyptian cotton sheets on your bed, it feels A-MA-ZING afterwards!
Not taking care of your bike, or just neglecting regular maintenance can end up leading to costly repairs and sometimes the frame ends up beyond repair. Not a great place to be.
Like any machine, to function properly bicycles require regular maintenance. This is especially true if you've been cycling in the winter, as rain, road dirt, and cold weather put extra pressure on the bike's moving parts. You may not think much of it if only one thing is not right on your bike. But, as the saying goes, one thing leads to another and you can end up causing damage to multiple components. The best (and cheapest) cure, is prevention.
Besides, you love your bike and you paid good money for it! Why wouldn't you look after it as the valued member of the family that it is?
How often should you get your bike tuned up?
It all depends on how much you ride. Your bike doesn't recognize time as much as it does distance. Every 3-4 months if you're riding more than 3 times a week. If you're riding only 1 or 2 times a week then it would be a good idea to have it tuned up at least once every 8-12 months.
One thing though that you must get looked at regularly is your chain. It needs to be measured and should be replaced every 600-700 miles without fail. If you end up with a stretched chain it can and will become a very costly problem if you don't replace it on time. We'll talk more about that in a minute.
We also recommend that you seek a bike tune up when you're using it for a long time (such as long-distance travel or a race) or when you will use the bike under conditions that you're unaccustomed too. Also, keep in mind that extreme weather can have a huge impact on bike performance.
If there is a problem between services, you should take action as soon as possible to prevent the problem from becoming serious and you may not have to worry about the question, "how much is a bike tune up"!
Due to various reasons, your bicycle sometimes starts playing up before the scheduled service time. In this case, you may need to repair it as soon as possible. Some of the most common symptoms that may indicate that you need to visit the workshop are: if your chain starts to squeak or loosen, your gears start to make strange noises or become harder to mesh, or your overall ride becomes less comfortable and noisy. The good thing about bicycles is that they are relatively easy to maintain and the problems are usually minor. We'll look at these symptoms in more depth in the next section.
Daily maintenance is very helpful for you to avoid going to the bike repair shop sooner than required and also to extend your trouble-free riding time. It only takes a few minutes to check the condition of the tires and the air pressure, check the wear and oxidation of the brakes and make sure that the chains, levers, and cables are clean and lubricated. Also pay attention to the sound and feel of your bike on the road.
The key to knowing when your bike is in trouble and may need repair is to know it. In this way, when a problem occurs, you can easily detect it.
When is it time to get your bike tuned up?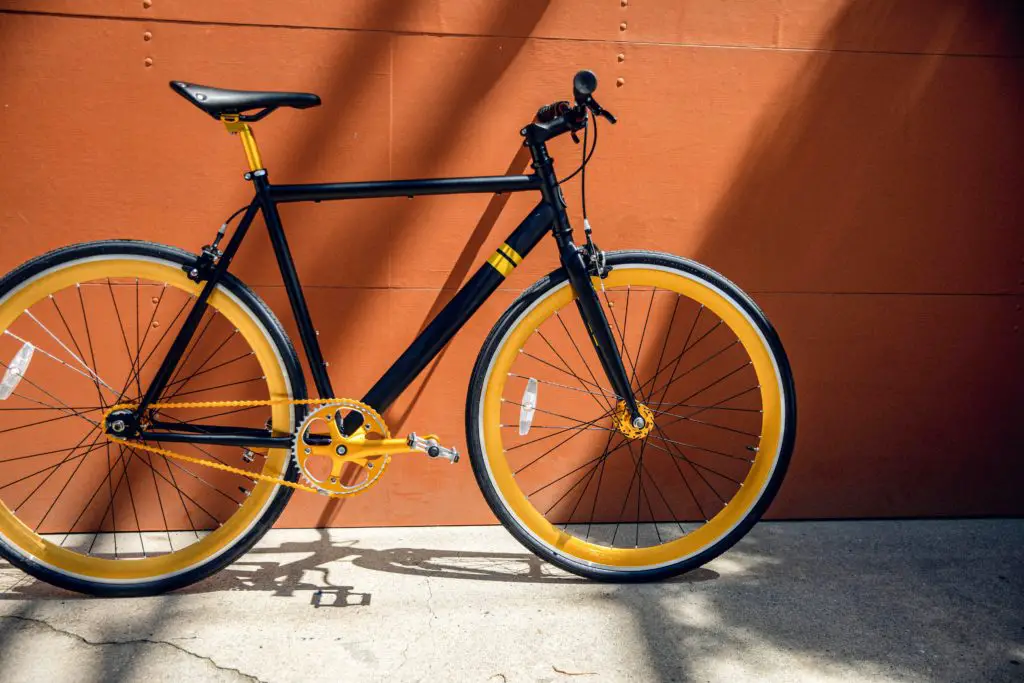 Wondering how much is a bike tune up is one thing. But, what are the signs that it actually does need one if I don't know how far I've actually ridden? Unfortunately, a lot of people don't realize the signal from their bike and continue to ride until it can barely work. Proactively maintaining your bicycle will not only make your riding more enjoyable, but it will also save you money and trouble in the long run. Therefore, we have compiled a list of common signs that your bike is ready to be adjusted.
Poor Shifting of Gears
If you find that your gear is not shifting smoothly as before, it may be time to replace the gear cable and housing. Dust, dirt, and other contaminants can enter the enclosure and reduce the efficiency of the system. This is especially true of all the dirt on the road in winter. If you have to hold down the shift lever before the shift lever works, or if your gear is jumping, then it's time to check.
2. Stiff Brakes
This may be worn out cables, or they may just need adjusting. Either way, brakes are generally important! Regularly adjusting your bicycle brakes will help them perform better and ensure you ride safely. … Brake pads that are too low or too high may cause safety hazards. Too loose brake cables will make braking harder.COPY
3. Jumpy Brakes
Frequent commuting in winter can wear rim brake pads within two weeks. When riding regularly, check the disc brake pads every two months. Brake vibration is due to a problem with the brake pad or disc. If your brakes wear unevenly, the brake pads will come into contact with the flat spots on the rotor or rim surface, causing vibrations that we call brake vibration. This uneven brake disc wear can be due to a number of reasons and needs to be addressed.
4. Rust
This seems obvious, but when the moving parts are visibly rusty, you will be surprised how many people still continue to ride their bikes! Not only will this damage it and it will be more expensive or harder to repair in the future, but it will also be bad to ride. If your bike looks rusted, then you definitely need to get it checked out!
5. Squeaking
If properly maintained, the bicycle will not squeak. If your bike sounds like a flock of birds flying in the street, it may be time for repairs. In short, you may only need to clean and lubricate the chain. Use wet weather lubricants in the case of spring showers. If the brakes squeak, it may be time to replace the brake pads with new ones.
6. An Old Chain
Poor shifting may indicate that you need to replace the cable and housing, but it may also mean that your chain is stretched. A general rule of thumb is to replace the bicycle chain every 2,000 miles, but please note that this is just a starting point. No two chains will wear out at exactly the same speed, because all riders treat their chains differently. The internal parts of the chain, rivets and rollers, begin to wear out and create the illusion of stretching. This type of wear can cause poor meshing between the chain and the gears and sprockets, resulting in poor transmission, premature gear wear, and even skipping.
7. Visibly Dirty
If your bike is very dirty, it will cause unwarranted damage to the drivetrain system. Keeping your bike clean is one of the easiest ways to ensure its proper functioning and avoid future mechanical failures. If your drivetrain sounds rough, is visibly dirty, or leaves grease on your leg every time, it's time to clean it up.
If not too bad, a simple cleaning of the bike is enough. However, if it's been a long time since you last cleaned it and you've gotten through the winter, you may need to take the drivetrain section apart to give it a whole lotta love.
Just tell me! How much is a bike tune up?
Okay, down to the details.
How much is a bike tune up is going to depend on where you are located at the time you want to get it done!
Many places will give you the choice of either giving your bike a basic tune up (Minor) or a Major tune up. The Minor tune up can cost around  $55 to $89. While the Major tune up can cost you somewhere between $119 and $150.
So, you could say that while the average tune up for a bike can be anywhere between $60 and $100, you may end up paying more if there are parts involved.
What should I do?
The best way to go is to find a bike mechanic that you can trust. Someone that has the knowledge as well as the skills and is willing to advise you at every step of the process on the best way forward and what you do and don't need.
These trusted mechanics are fairly easy to spot once you start talking to them. They're helpful and friendly, full of advice but they also make it understandable and easy for you to digest the information when they explain it to you.
It might be worth it to bring it in just to check. We recommend that you bring your bicycle in before problems arise to prevent rather than fix them. Many bicycles require maintenance if they are not used for a period of time. A typical example is a bicycle left in a shed/garage for the winter.
Now that your bike is ready you should be also ready for your another mile!