Introduction
Foldable bikes usually bring a lot of convenience to the life of cyclists and day-to-day commuters. As a result, its popularity is quickly catching on as many people begin to appreciate its advantages. 
Those who continuously cycle to work will agree with me that it's one of the best ways to avoid traffic and still keep fit. The only problem is that they often get to work all sweaty and panting, right? 
Well, not anymore because folding electric bikes are here to help you get to work a lot quicker than and as fresh as a daisy. 
Besides all these coupled with the chance to help reduce carbon emission, these folding e-bikes don't come cheap. But considering their efficiency, durability, and usability, getting one for yourself is worth every dime.
However, you should note that e-bike manufacturers are constantly trying to find ways to help produce better models that fit everyone's budget. For that reason, we've set out to test and compile one of the most informative reviews for the best folding electric bikes under 1000 for all of your biking needs.
Therefore, expect to find a well-scrutinized roundup list of the eight best folding electric bikes under 1000 that you can easily find at the marketplace today.
Let's get to it then.
Best Folding Electric Bike Under 1000 – Best Options
#1 – METAKOO 26″ Electric Bike Cybertrack 100
To kick us off is the black METAKOO 26″ Electric Bike Cybertrack 100. This mountain electric bike is our best folding electric bike under 1000 and is a 21-speed model under the METAKOO brand. Its Shimano gear system comprises of triple chain front ring and up to seven rear gear cassettes. If you are entirely new to gear bikes, the smallest on this e-bike is always the hardest, and the largest is much easier to handle. In any case, this pick ensures that you can quickly cycle through hilly terrains even without electric power assistance.
The METAKOO 26″ Electric Bike Cybertrack 100 is powered by the 350W brushless Bafang powerful motor, accelerating to a maximum speed of 20 mph. It basically runs on a 375Wh battery that takes only 3 hours to recharge fully and can only support up to 37 miles when exclusively riding on electric mode. That's more than enough for an average day's commute for most people.
If your workplace is located far away, you can consider using the pedal-assist mode from time to time. Luckily, this can easily be controlled by either switching off the power or using the throttle to engage level 0.
The dust and waterproof battery cap cover generally help reduce maintenance and repair costs, and the overall aluminum alloy frame enhances its durability. This model has two highly responsive mechanical disc brakes for riders' safety and comfort r an all-weather safe stopping and a front suspension fork for a smoother riding experience.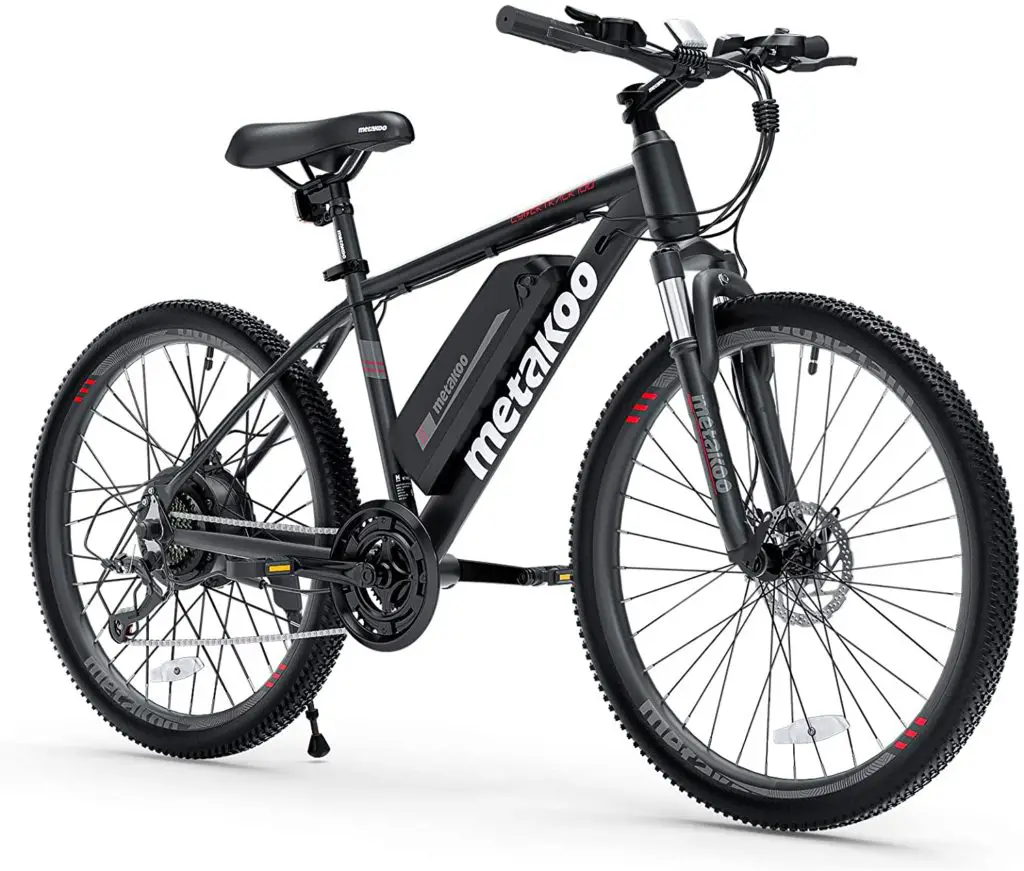 #2 – VIVI Folding Electric Mountain Bicycle
Suppose you're looking for an option that can help you fasten your everyday commutes, improve your workout routines, or one that can make your weekend riding more exciting. In that case, the VIVI Folding Electric Mountain Bicycle Adults 26 inch E-Bike is for you. As one of our chosen best folding electric bikes under 1000, the frame on this model is made from aviation-grade aluminum alloy that generally makes it lightweight, strong, and fully responsive.
Powered by a 350W high-speed brushless motor, the VIVI Folding Electric Mountain Bicycle Adults 26 inch E-Bike can reach a top speed of 21 km/h and can only sustain a maximum mileage of up to 25 miles when purely running on throttle mode. It's also equipped with a removable 36V/8Ah Lithium-Ion battery and an energy-saving system that promises to handle an average range of between 21 to 40 miles per charge.
This model additionally features a professional Shimano 21 speed transmission system and is fitted with a premium shock absorbing equipment both at the front and back. These combinations ensure that you can smoothly cruise all terrains at varying speeds. If you're worried more about servicing, this e-bike always comes 90% assembled, and the remaining 10% is usually easy to handle. For more convenience, both the handlebar and seat are adjustable, and you can quickly readjust them to meet your preferences.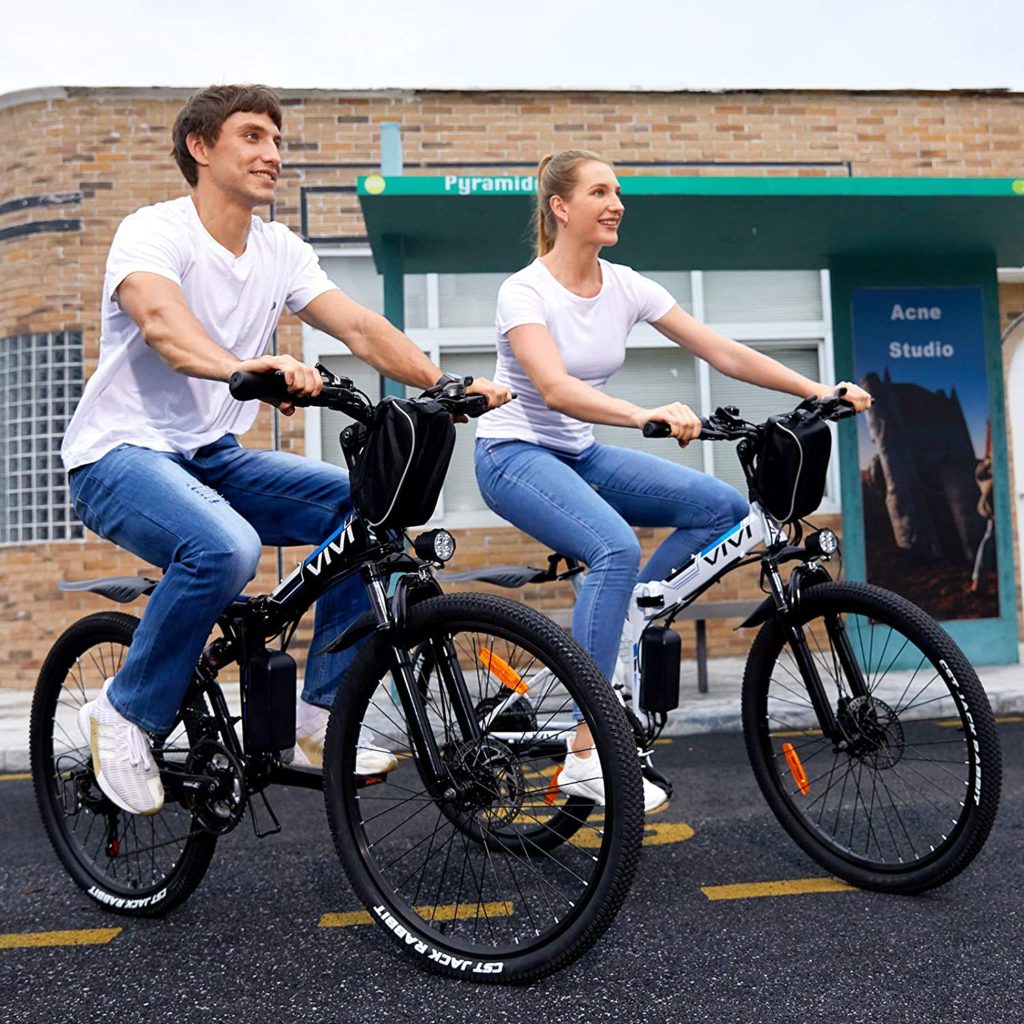 #3 – VIVI Folding Electric Mountain Bicycle
The 65 pound VIVI Folding Electric Bike Electric Mountain Bicycle 26″ Lightweight 350W Ebike is yet another best folding electric bike under 1000 that you can find in today's marketplace. Right out of the box, you'll quickly notice its detachable waterproof line design as well as the high-quality metal frame design. It is a common Vivi sign for most foldable electric bicycles, making it easy to replace accessories, carry around, and handle.
This model is also powered by a combination of a powerful 350W motor (that's brushless) and a removable 36V 8Ah Lithium battery system that promises to deliver an average range of up to 50 miles on pedal-assist mode and up to 25 miles on thumb throttle electric mode. To be clear, this foldable e-bike features three different riding modes that include pedal-assist, electric, and normal bike modes. 
With a charge time of between 4 to 6 hours and a Shimano derailleur transmission system that supports up to 21 variable speeds, the VIVI Folding Electric Bike Electric Mountain Bicycle 26″ Lightweight 350W Ebike promises a top speed of up to 20 mph that's more than enough to get you to your destination in time. Other desirable factors that you should know about for this option include a bright LED headlamp, strong climbing ability, double shock absorption, and mechanical disc brakes on both front and rear tires. As for the package, it usually arrives 85% part-assembled. So, you don't have to worry much about the technicalities of setting yours up.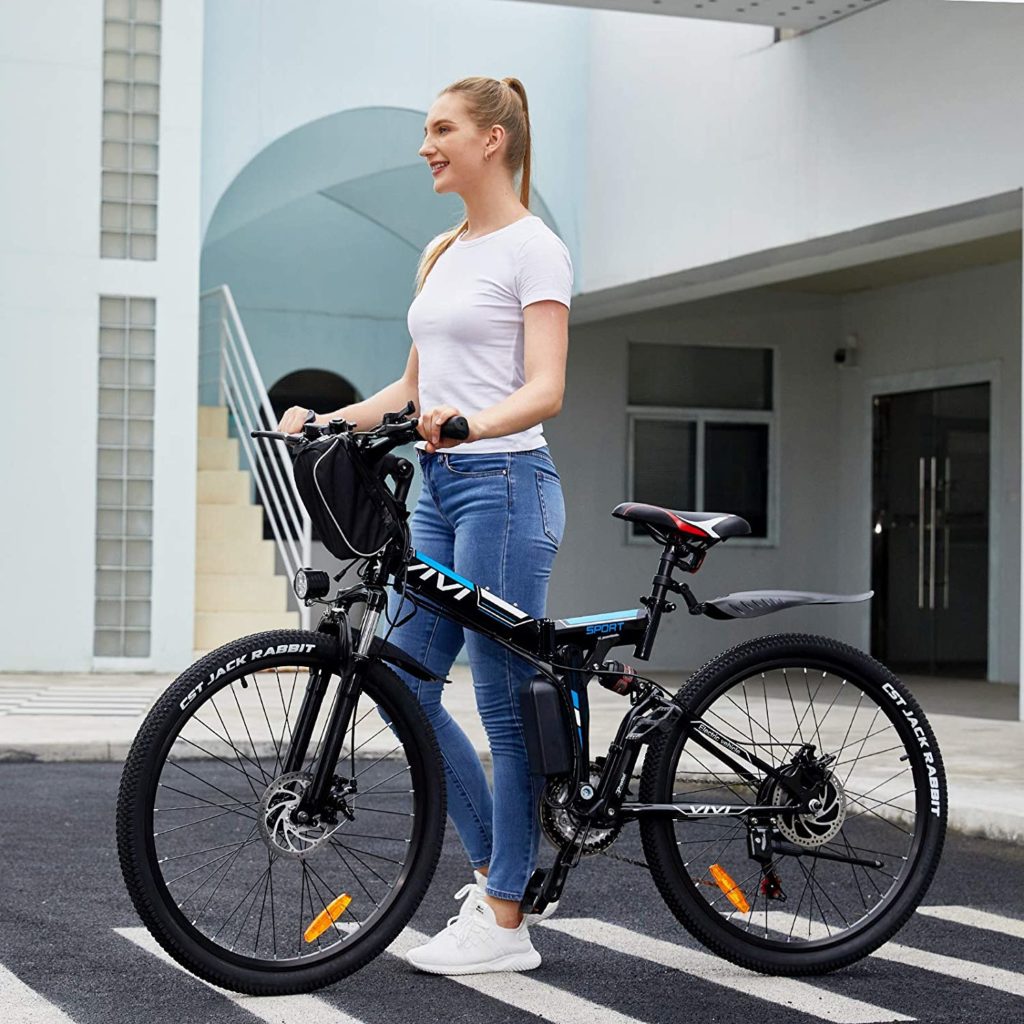 #4 – Vivi 350W Electric Mountain Bike
The Vivi 26″ Folding Electric Bike is an excellent folding mountain electric bike made of carbon steel to enhance durability and ensure that it's light enough to store, carry, and transport after folding. Unlike many of its kind, this option is fitted with detachable cables that are also waterproof to ensure that users have an easier time replacing accessories even under wet conditions.
Both the seat and front handle are height-adjustable, making it one of the most versatile folding electric bikes you can find. The Vivi 26″ Folding Electric Bike features a pair of 26" wear-resistant non-slip wheels, a 21-speed Shimano professional transmission, and an advanced dual disc braking system to ensure that all your rides are safe and comfortable.
It's good to see that they've also included double shock absorbers to help extend the bicycle's life and smoothen rough riding terrain. Luckily, this model supports up to 3 riding modes, including pedal-assist, fitness, and purely electric modes, for your convenience. The LED meter on the front bar makes it easier for users to switch between their methods quickly.
As for power, the Vivi 26″ Folding Electric Bike features a powerful electric system that comprises a 350W brushless silent motor coupled with a removable 36V 8Ah lithium-ion battery. This system mostly dissipates enough power that enables users to ride up to 22 mph with an overall mileage of 21 miles purely depending on the electric mode. Once depleted, you will need to wait for about 4-6 hours for the large-capacity battery to recharge fully.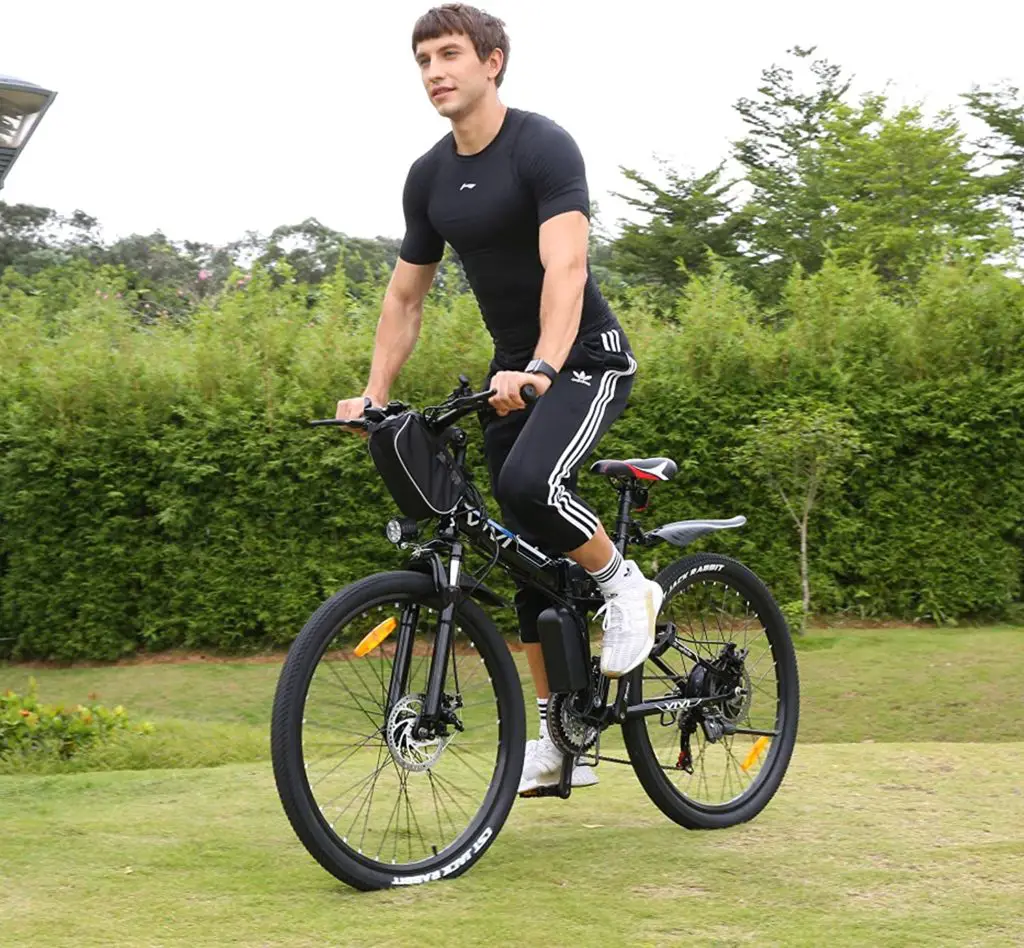 #5 – VIVI Folding Electric Bike
Our fifth best folding electric bike alternative is the VIVI Folding Electric Bike for Adults 26 inch E-Bike. This option relies on a robust 350W power motor that's both brushless and high-speed for electric power, mainly supplied by the fitted 36V/8Ah removable battery. It is a modern alternative, so you can expect it to have an energy-saving system for more reliability and efficiency in your day-to-day commutes and mountain biking. 
Talking of riding on rough terrain, the VIVI Folding Electric Bike for Adults 26 inch E-Bike is equipped with high-quality double shock absorption for a more comfortable riding experience. What's more? Its 26" wear-free tires have aluminum alloy spokes to reduce drag when riding, and the two wheels are fitted with premium mechanical disc brakes for reliable stopping power under all-weather conditions.
Like any other powerful folding electric bike under 1000 from the Vivi brand, this model also features the renowned Shimano 21-speed professional transmission system with multiple-speed gear selection for smooth rides on hilly and flat terrain. This is further complemented by its three riding modes: assisted bicycle, e-bike, and a regular bike. 
Other excellent additions include a bright LED headlight and a horn for those who love riding at night. The fact that it comes 90% pre-assembled makes it more usable and functional in the hands of complete newbies.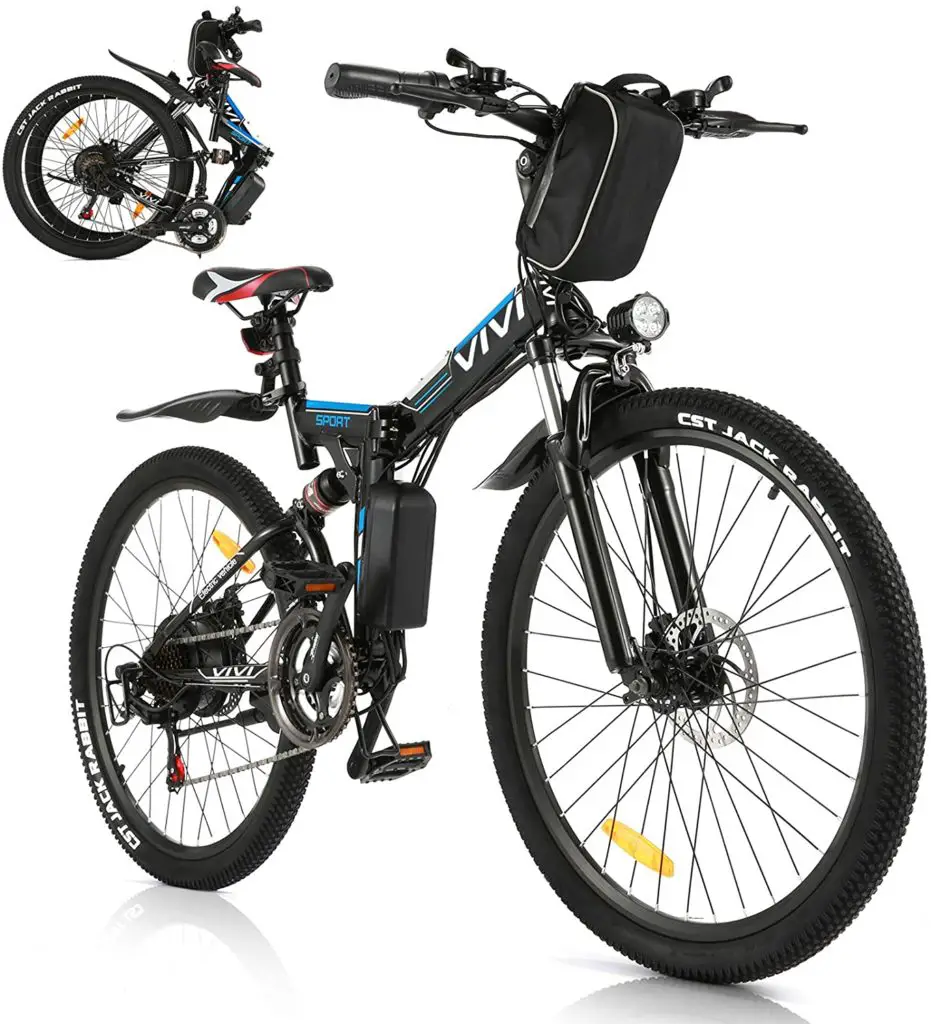 #6 – ANCHEER Folding Electric Bike
Commonly touted as a leading icon in the foldable e-bikes front, the ANCHEER 20" Folding Electric Bike is a black aluminum-made folding electric bike that promises to quench your thirst for outdoor riding. Running on a 48V 10Ah removable battery and a 48V 350W powerful brushless motor, this model can easily do a top speed of 20 mph and promises to deliver up to 30 miles for every charge. That's more than enough mileage power to cover an average day's adventure or standard trips to and from work.
As for its derailleur transmission, this folding electric bike features Shimano 7 speed gear system and can carry a maximum weight of 330 pounds. Changing between the riding modes and choosing between speed levels can quickly be done from the controls on the frame. For your convenience, ANCHEER includes a bright LCD screen that displays various key conversion metrics important to the rider. This includes things like battery power levels, and total mileage covered, current speed, etc.
This 20" foldable e-bike option further adopts a collapsible aluminum alloy frame that quickens folding for easy storage and transport. Other notable features on this model for you to keep in mind include two spoked 20 by 1.95 double layer magnesium alloy integrated wheels, a high strength aluminum fork, and a dual mechanical disc braking system.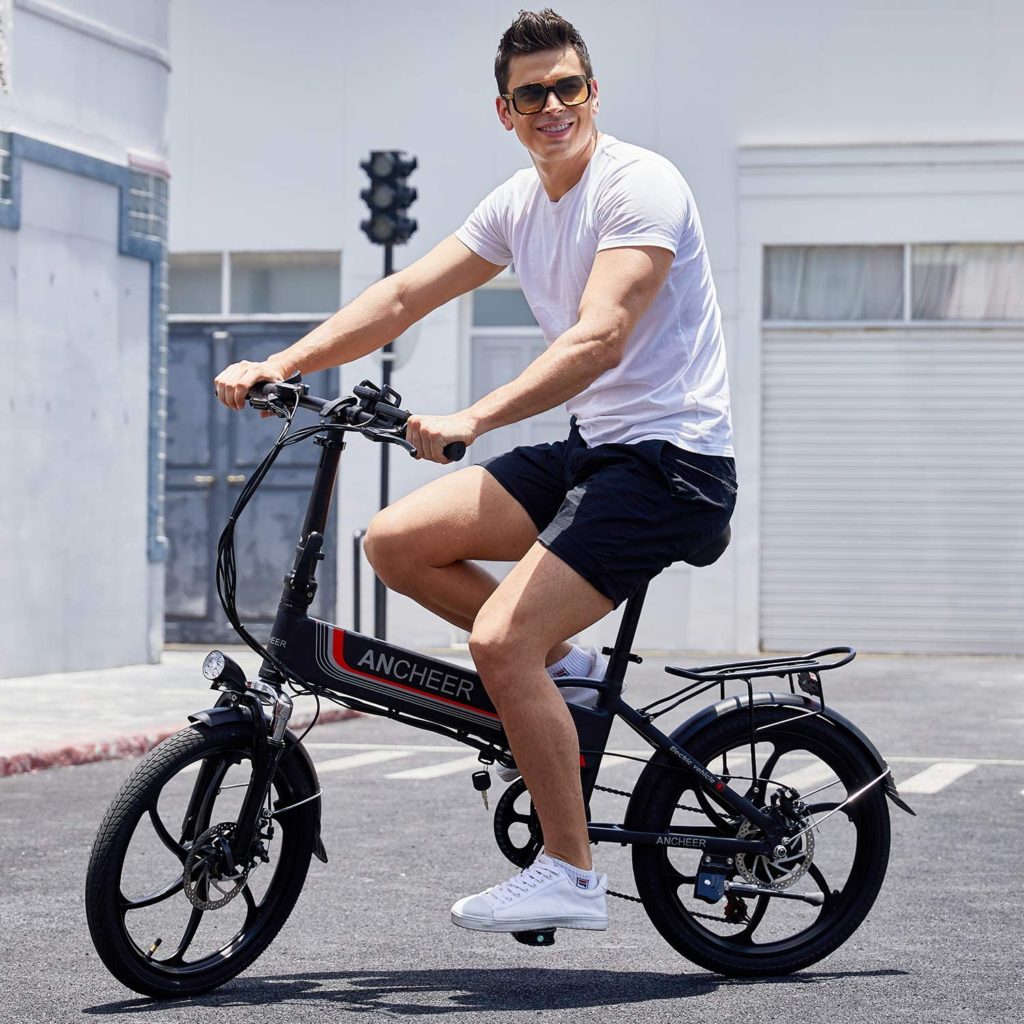 #7 – KGK Adult Folding Electric Bike
The KGK 20" Folding Electric Bike for Adult Teens is a 50 pounds 20" black folding electric bike meant for outdoor fun and mountain camping enthusiasts. Powered by a powerful combination of with 350Wh motor and 36V 10.4Ah lithium battery, this folding electric bike can comfortably sustain a mileage of up to 25 miles on full throttle. If you're worried about charging, its package includes a smart charger that promises to fully charge the lithium battery in 4-6 hours, making it more adaptable to long-distance riding.
This e-bike further wields a set of dual mechanical disc brakes and a 7-speed transmission system, allowing users to conveniently adjust to preferable speeds and still have the advantage of a responsive braking system. The top speed on this model is 20 mph.
Its design essentially includes a pair of 20" large tires for easy cycling and a foldable design that makes it ideal for storage. Based on its aluminum alloy-made frame, the KGK 20" Folding Electric Bike for Adult Teens is the best folding electric bike under 1000 if you're looking for something that's both lightweight, functional, and durable.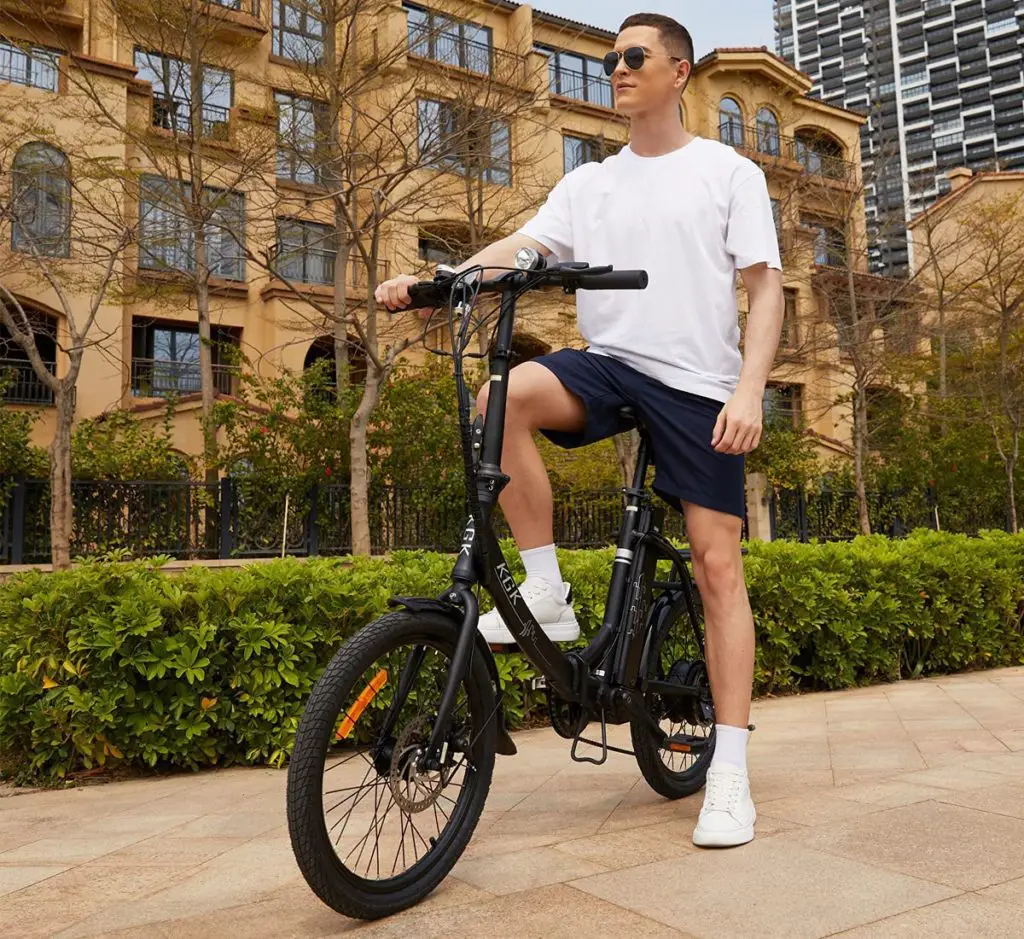 #8 – VIVI Folding Ebike
Closing our list of the best folding electric bike under 1000 is the VIVI Folding Electric Bike 26" Electric Mountain Bike. It's a 60-pound aluminum-made lightweight option that won't give you so much headache when it comes to storage.
Right off the bat, this model features double shock absorption, a professional 21-speed gear transmission system, and a set of rear mechanical disc brakes for a more comfortable and amplified riding experience. Its electrical mode is powered by a solid 350W high-speed brushless motor that generally gives it more hill-climbing power. This system is further complemented by a 36V 8Ah removable lithium-ion battery that delivers a maximum range of up to 25 miles when using the electric mode.
Moreover, its powerful electrical system also contains an intelligent lithium battery charger that allows users to charge the bike conveniently. As for charging, it only takes between 4 and 6 hours for the cycle to be fully charged. That's perfect for day-to-day bike travels.
Some more nice features on the VIVI Folding Electric Bike 26" Electric Mountain Bike includes three easy-to-change riding modes, and an LED intelligent meter speed/mode switch and a collapsible frame. Despite its package being 85% preassembled, VIVI promises to offer all-day technical support to take you through any issue or challenge.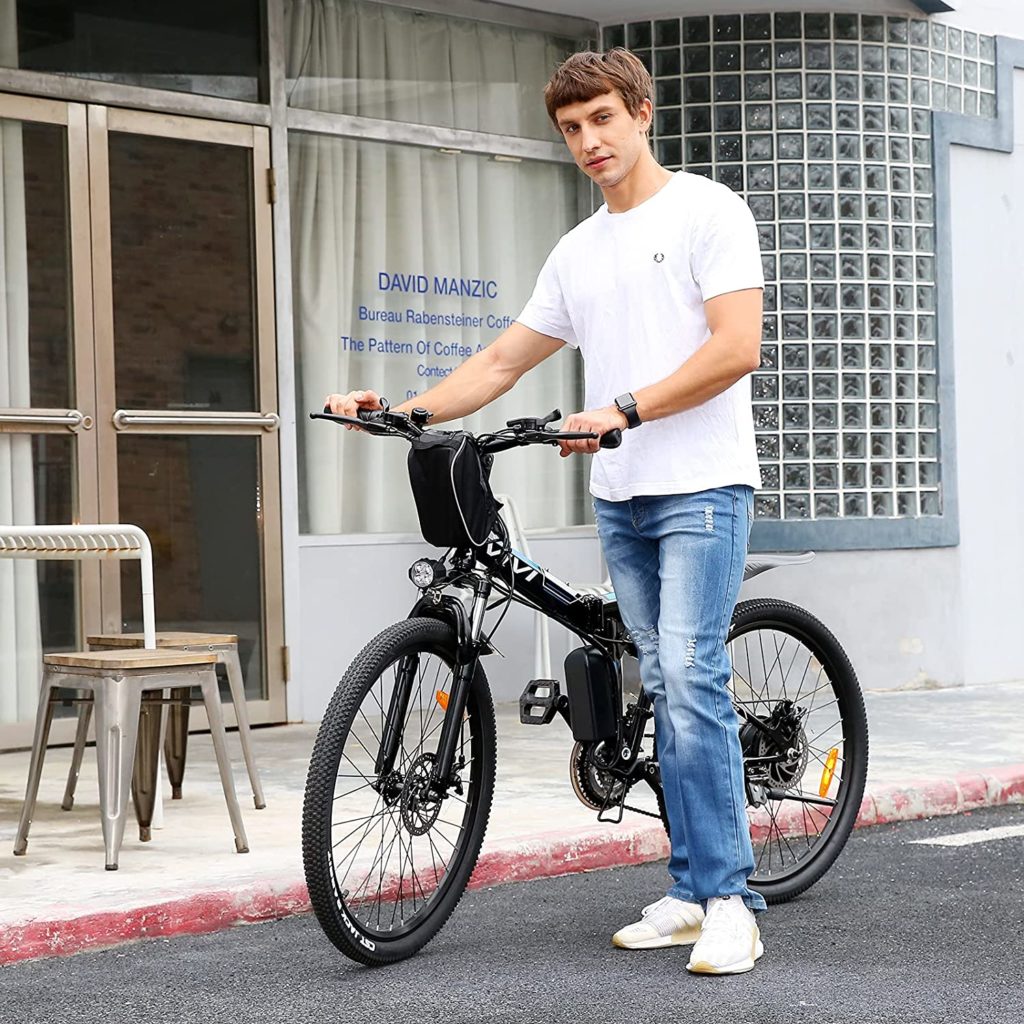 Conclusion
TeThere you have it; the discussed foldable electric bikes are our top choices for the best folding electric bike under 1000 that you can find. All of the reviewed options have a formidable build, but your choice should revolve around your biking needs. They are all affordable, as they are all under the $1,000 budget, but be careful not to forget that quality outdoes price.