Are you longing for a fun, creative way to connect with others and explore the outdoors? Have you ever considered riding a tandem bicycle as your next adventure? Riding a bike on your own is already one of the most enjoyable activities, but combining it with another person can be much more exciting.
Tandem biking is an exhilarating experience, allowing two people to ride as one. Whether you're looking for a fun day out with family and friends or want to get some exercise along with your partner, tandem biking can offer the perfect combination of bonding time and adventure.
This blog post will show you how to ride a tandem bike and some great benefits of doing so.
What are the Benefits of Riding a Tandem Bike?
1. Increased Connection and Bonding With Others:
Riding a tandem bike requires teamwork, communication, and coordination. This can help to strengthen the bond between you and your partner or other riders while also building trust and communicating effectively in challenging situations.
2. Fun and Exciting Adventure:
Tandem biking is a great way to experience the joy of riding a bike with someone else. Whether you're exploring new trails or heading out for a leisurely ride through your favorite city, tandem biking is sure to provide an exciting and fun adventure.
3. Increased Fitness and Cardiovascular Health:
Getting regular exercise is crucial for maintaining good health, and riding a tandem bike can help you stay fit while also enjoying yourself. The added effort required when riding as a team can burn more calories than riding solo, improving your cardiovascular fitness in the process.
If you're looking for a fun way to exercise and connect with others, consider taking up tandem biking today! With proper preparation, communication, and teamwork, you will surely have a great time and strengthen your relationships.
10 Easy Steps on How to Ride a Tandem Bike
Step 1. Find a Safe, Flat Area:
Before you start riding your tandem bike, it's important to ensure that you have a safe and level surface on which to ride. Look for a smooth pavement or trail that is free of obstacles and traffic. Ensure that you always ride with safety in mind and take necessary precautions to protect yourself and others.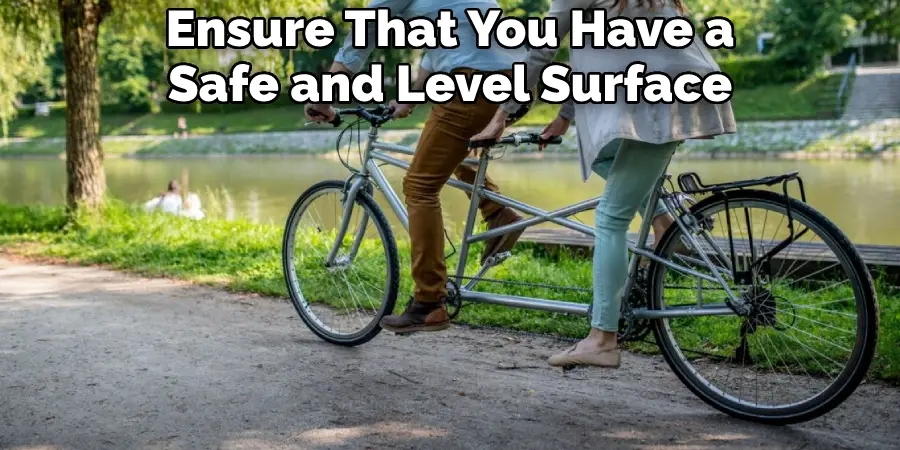 Step 2. Adjusting Your Seat Height:
Once you find an appropriate area to ride, take some time to adjust your seat height to be comfortable and properly aligned with the pedals. You should be able to comfortably bend your knees while pedaling without overextending your legs. Be careful not to raise your seat too high, as this can lead to injury or discomfort.
Step 3. Getting on the Bike:
Next, carefully mount the bike by getting onto the saddle from behind and swinging one leg over each side of the frame. Make sure that both riders are securely seated before beginning your ride. Don't forget to wear a helmet and other protective gear, such as knee pads, to keep yourself safe while riding.
Step 4. Balancing the Bike:
Once you're both seated and ready to ride, it's important to balance the bike while moving forward. Many new tandem riders find this challenging at first, but with practice and patience, it will become easier to control. Concentrate on keeping the steady bike while shifting your weight back and forth simultaneously.
Step 5. Steering:
Once you have a good handle on balancing and pedaling properly, the next step is learning how to steer your tandem bike in the direction you want. To do this, simply lean slightly in one direction or the other until you feel yourself gradually begin to move in that direction. With enough practice and coordination, steering will become second nature.
Step 6. Braking:
Finally, before heading out onto the road or trail, ensure you are comfortable braking your tandem bike. There are two different types of brakes that you can use to slow and stop, depending on your preferences. You can either engage the front brakes by gently tugging on the handlebars with your hands, or you can use a quick stomping action with your feet to bring the bike to a complete stop.
Step 7. Having Fun:
The most important thing to remember when riding tandem is that it should be fun! Whether you're out for a leisurely ride around town or tackling an epic trail together, always take the time to enjoy yourself and appreciate how great it feels to be in sync with another person. With these basic steps and some practice, you will quickly master how to ride a tandem bike like a pro.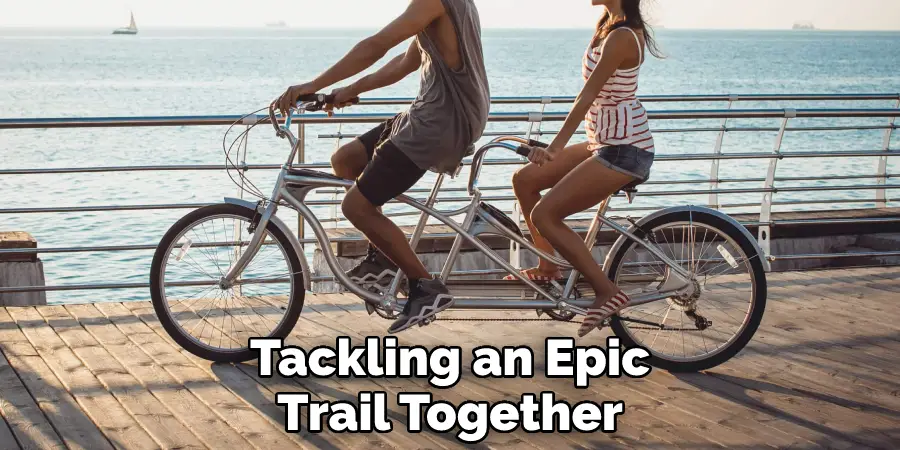 Step 8. Maintaining Your Bike:
In order to keep your tandem bike performing at its best, it's important to maintain and clean it regularly. Check the chain, brakes, tires, and other components for signs of wear or damage. Ensure that you keep the bike well-oiled and lubricated to prevent rust and gear slippage.
Step 9. Joining a Club:
If you want to take your tandem biking adventures to the next level, consider joining a local club or group where you can meet others who share your passion for cycling. Many clubs offer organized rides and races that are a great way to stay motivated while also having fun with like-minded individuals. It will be a great way to meet new people and get even more enjoyment out of your favorite hobby.
Step 10. Staying Safe:
Lastly, remember always to ride safely and responsibly. Whether you're out on the road or in the woods, be aware of your surroundings at all times and make sure that you follow all traffic laws for maximum safety. With some practice, patience, and common sense, you can enjoy tandem biking for years to come. Moreover, always remember to wear a helmet and other protective gear when riding, as this will help keep you safe and injury-free.
If you are looking for an exciting new way to explore the outdoors or simply enjoy some quality time with your partner, riding a tandem bike can be a fun and rewarding experience. With just a few basic steps and some practice, you will quickly master how to ride like a pro and get the most out of this unique two-person cycling adventure.
5 Additional Tips and Tricks
Ensure that both riders are on the same page when it comes to riding a tandem bike. Whether you're new to cycling or have years of experience riding solo, riding with someone else can be challenging if you're not in sync.
Keep your posture relaxed and balanced when riding a tandem bike. Maintaining good posture is essential for an enjoyable cycling experience, no matter how long or short your ride may be.
Practice proper braking techniques when riding a tandem bike. Just like in solo cycling, how and when you brake will make a big difference in how safe and controlled your ride is.
Stay focused on the road ahead when riding a tandem bike. One major difference between tandem cycling and solo cycling is that it's generally easier to lose your focus while riding with someone else.
Communicate frequently with your partner while riding a tandem bike. Whether you're trying to navigate around obstacles or simply stay in sync with each other, clear communication is key for an enjoyable tandem experience.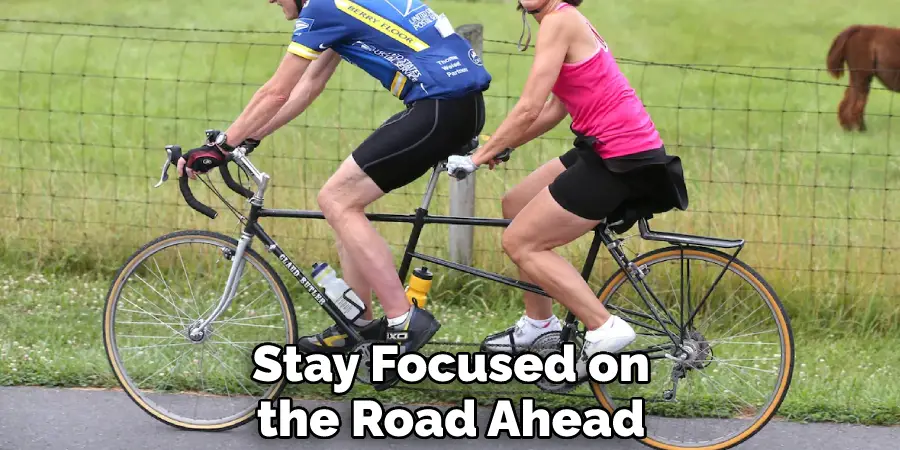 At the end of the day, learning to ride a tandem bike comes down to practice and patience! By following these tips and tricks, you can start enjoying the benefits of tandem cycling today.
5 Things You Should Avoid
Relying solely on your front rider for balance.
Tilting too far forward or backward when cornering or taking turns.
Taking sharp turns at high speeds.
Overbraking, which could cause the bike to skid.
Trying to shift while going up steep inclines or down steep declines.
These are just a few things to remember when riding a tandem bike. Whether you're an experienced cyclist or a beginner, it's important always to practice safe and responsible biking habits to enjoy your ride and stay safe simultaneously!
Who Should Sit Where on a Tandem Bike?
There is no specific "right" or "wrong" seat position on a tandem bike, as this will depend largely on both riders' preferences and riding styles. That being said, there are a few things to remember when deciding how to sit on a tandem bike. For example, if you are new to cycling or tend to be more tentative or cautious while biking, it may make sense for the front rider to take on most of the steering and braking duties. 
Alternatively, if you have more experience with cycling and prefer to lead the way, you may wish to take the front position. Additionally, some tandem bike designs allow the front rider to adjust how much weight they carry, making it easier to shift positions if necessary.
Ultimately, how you choose to sit on a tandem bike will depend on your individual preferences, riding style, and comfort level. Whether you prefer to take the lead or enjoy more of a supporting role, there is no right or wrong way to ride a tandem bike – just make sure that you are always practicing safe and responsible riding habits!
Conclusion
Tandem biking is a great option if you're looking for a fun activity with a friend or partner. Riding a tandem bike requires coordination and communication, but it's also a lot of fun. By following these tips, you'll be able to ride a tandem bike and enjoy the experience successfully.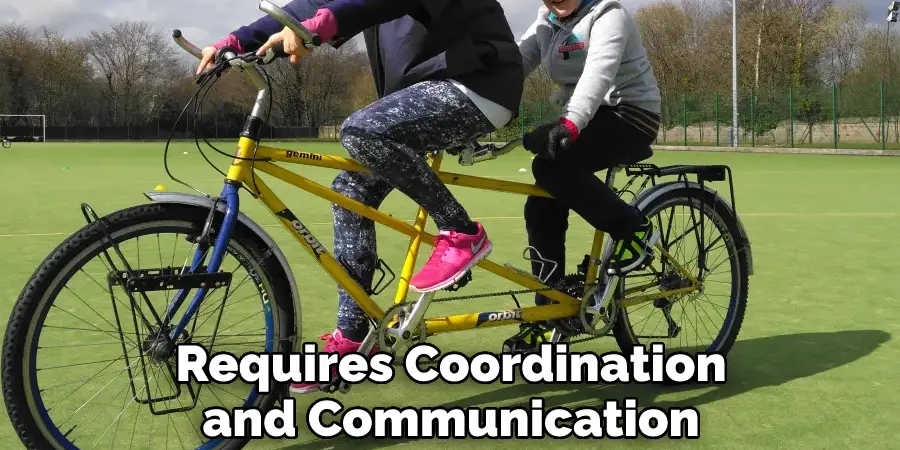 Now that you know how to ride a tandem bike get out there and enjoy the wind in your hair! Just remember to communicate with your partner and pay attention to traffic. Riding a tandem bike is a great way to bond with a friend or loved one while getting some exercise, so don't be afraid to try it.
Hopefully, you'll have fun and stay safe on your tandem bike adventures! Happy riding!