Do you need to carry more stuff on your bike but don't want to wear a backpack? A bike rear rack is a perfect solution! Not only does it allow you to transport items while keeping your hands free, it can also make your ride easier by distributing weight evenly among both wheels. In this blog post, we'll discuss how to choose and use a bicycle rear rack for maximum convenience and safety.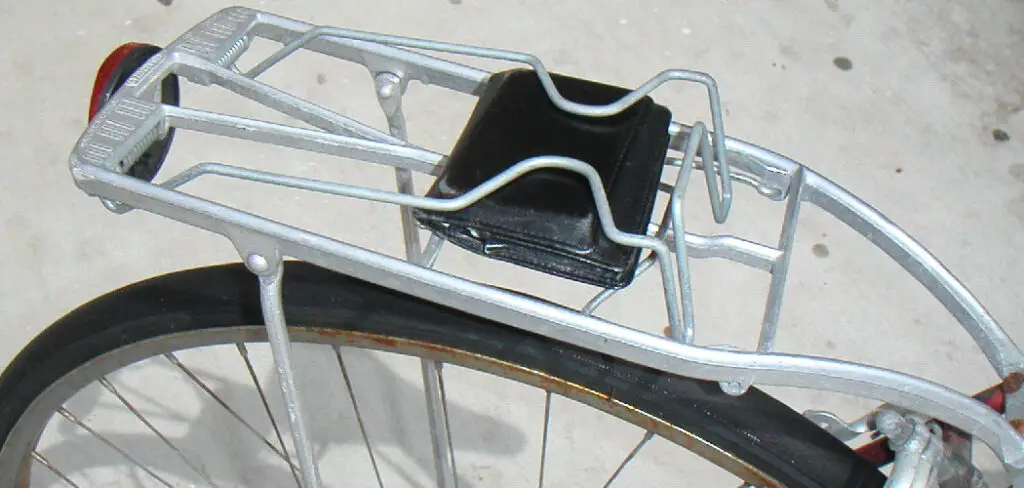 If you're an outdoor enthusiast who loves cycling and traveling, then having a bicycle rear rack is essential for your adventures. So if you're looking to get some extra storage on your bike without carrying a bulky bag in one hand, then it's time to look into getting yourself a bicycle rear rack! In this blog post, we'll be exploring what makes rear racks so useful and how they can help improve your cycling experience by giving riders easy access to cargo space right on the back of their bikes. Keep reading to learn more about how to use bicycle rear rack!
Benefits of Using Bicycle Rear Rack
1. More Convenient
One of the biggest benefits of using a bicycle rear rack is that it makes it much more convenient to transport items while riding your bike. Whether you need to bring groceries, sports equipment, or other belongings with you on your next ride, a rear rack can help ensure that you have everything you need and are easily accessible.
2. More Secure
In addition to being more convenient, a bicycle rear rack also provides added security when transporting items. This is because it keeps your belongings safely out of the way, preventing them from getting caught in the spokes of your wheels or flying off as you ride.
3. More Efficient
A rear rack can also help increase the efficiency of your riding by allowing you to easily transport heavier items. This allows you to maintain a consistent speed as you ride, instead of having to pedal harder or slow your pace when carrying a heavy load.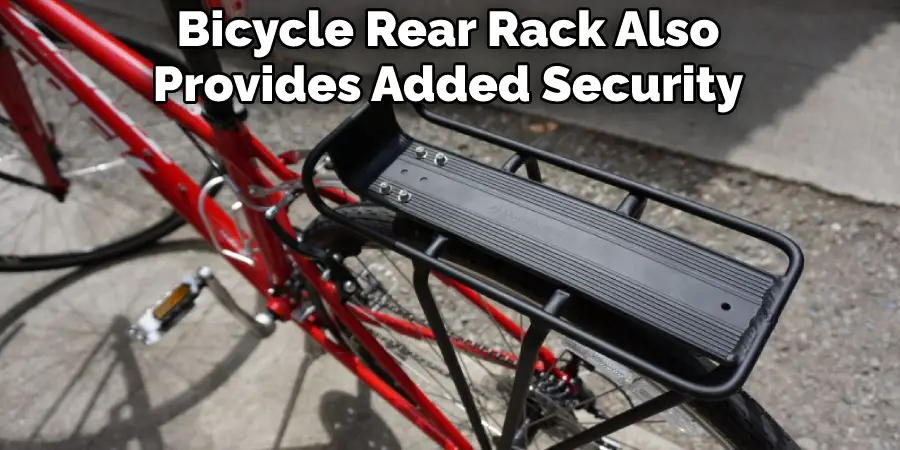 4. Better for the Environment
Using a bicycle rear rack can also help reduce your impact on the environment by allowing you to avoid using fossil fuels in order to transport your belongings. By opting to use a bicycle, you can reduce both your carbon footprint and the number of negative health effects associated with pollution and other air contaminants.
If you are looking for a way to make your cycling experience more convenient, secure, efficient, or environmentally friendly, using a bicycle rear rack is definitely worth considering. Whether you use your bike for commuting, recreational riding, errands, or any other purpose, a rear rack can help make your experience even better. So why not give it a try today?
How to Use Bicycle Rear Rack in 5 Easy Steps
Step 1: Start by Placing Your Bicycle on a Level Surface
Before attaching any accessories to your bicycle, it's important to make sure that it is placed on a level surface. This will ensure that the rack or other components are properly aligned with the rest of your bicycle and will reduce the risk of slippage or instability while you're riding.
Step 2: Attach the Rear Rack to Your Bicycle
Once your bicycle is placed on a level surface, you can begin attaching the rear rack to your bicycle. This typically involves using bolts or other hardware to secure the rack in place, so you may need an Allen wrench or other tools to complete the task.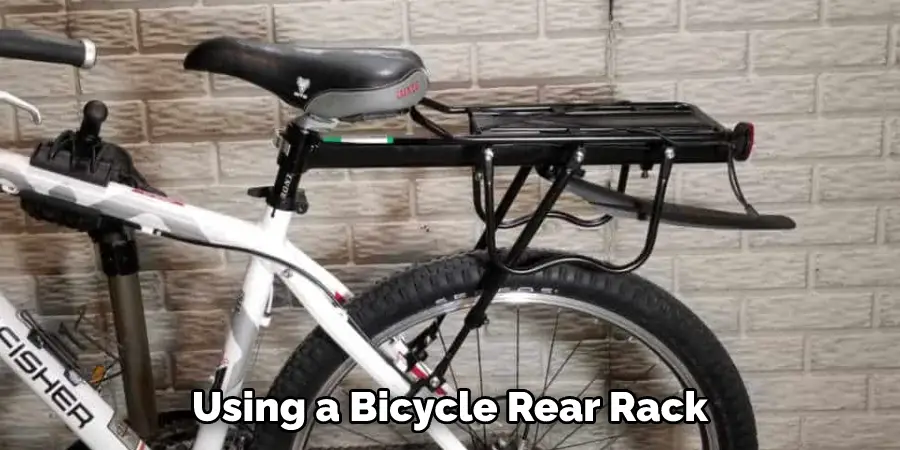 Step 3: Secure Your Bicycle Luggage onto the Rack
Once your rear rack is securely attached to your bicycle, you can begin attaching your luggage or other accessories. This may involve using straps, bungee cords, or other fasteners to keep your belongings securely in place.
Step 4: Test How the Rack Holds Up During Your Ride
Before hitting the road, it's important to test how well your rear rack is holding up. Try riding your bicycle for a short distance, making turns, and braking along the way, to see if your luggage stays securely in place. If you notice any signs of instability or slippage, make any necessary adjustments before continuing with your ride.
Step 5: Adjust Your Luggage as Needed
As you continue to use your rear rack, you may find that you need to make adjustments to the way that it is holding up your luggage. This can include tightening any loose fasteners, adjusting straps or bungee cords, or making other minor adjustments as needed.
Some Additional Tips And Tricks to Use Bicycle Rear Rack
1. Do Not Overfill Your Bike Rack
It is important to make sure that you do not overload your bike rack, as this could cause it to become unstable and even fall off while you are riding. So make sure that you only place light, but bulky items on your rack, and avoid heavy or awkwardly shaped items.
2. Position Your Panniers Carefully
In addition to making sure that you do not overload your bike rack, it is also important to be mindful of how you position the panniers on your rack. Ideally, the panniers should be positioned in the center of your rack, with the weight evenly distributed between them.
3. Be Mindful of How You Secure Your Load
When using a bike rack, it is important to take the time to properly secure your load so that it does not become loose or fall off while you are riding. Some useful ways to do this include strapping down your items or installing bungee cords across your rack.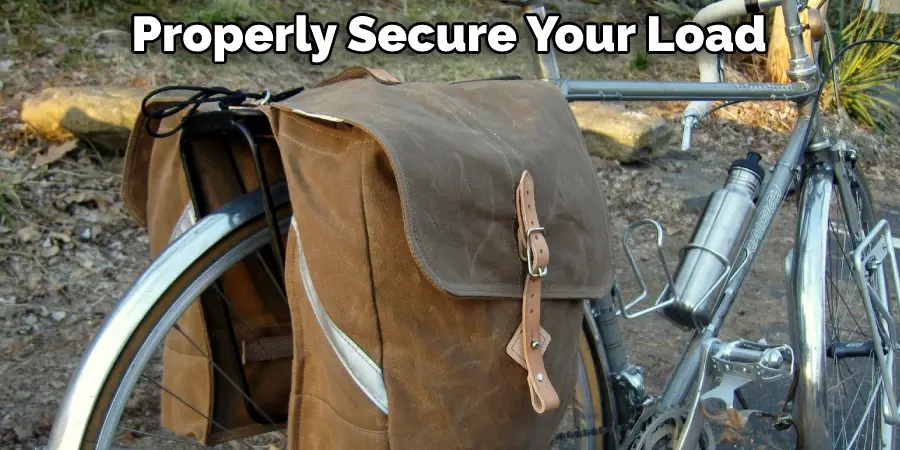 4. Make Sure That Your Rack Is Properly Installed
Before you use your bike rack, it is important to check that it is properly installed and secured. To do this, simply make sure that the frame or forks are firmly attached to the rack and that all bolts or screws are fastened properly.
5. Be Mindful of How You Secure Your Bike
In addition to securing your rack and load properly, it is also important to be mindful of how you secure your bike when using a bike rack. This can be done by attaching a cable lock to both the frame and the wheel of your bike or installing an additional lock around the rack itself.
Frequently Asked Questions
What Precautions Should You Follow When Using a Bicycle Rear Rack?
Whether you are new to using a bicycle rear rack or have been using one for years, there are several important precautions that you should always keep in mind when installing and using your bike rack. These include being mindful of the weight limit of your rack, ensuring that all mounting hardware is secure and properly installed, and wearing appropriate safety equipment, such as a helmet or reflective vest. Additionally, it is important to be aware of any potential hazards when using your bike rack, such as road debris or potholes that could damage your rack or cause you to lose control of your bike.
Can I Use My Bicycle Rear Rack for Heavy Loads?
Yes, if your bicycle rack is designed to support heavy loads and is securely mounted to your bike, you can safely use it to transport heavier items. However, it is important to be mindful of the weight limit of your rack and check regularly to ensure that all mounting hardware remains secure. Additionally, it is recommended to use a bungee cord or other tie-down system to keep your heavier loads securely in place while on the road.
How Do I Secure My Bicycle Rear Rack?
There are several different methods that you can use to secure your bicycle rack, including using mounting brackets or clamps and tightening all hardware with wrenches or pliers. Depending on the type of bicycle rack that you are using, it may also be necessary to use additional accessories, such as a cable lock or anti-theft system to keep your load securely in place.
What Do I Do With the Back of My Bike Rack?
On your bicycle, a rack offers a sturdy framework for holding stuff. Items can be fastened to the rack straight in good weather without a cover. Bags like rack trunks and panniers are simple to fasten to the back rack for bad weather or the capacity to hold loose stuff together. So you can use this in that way.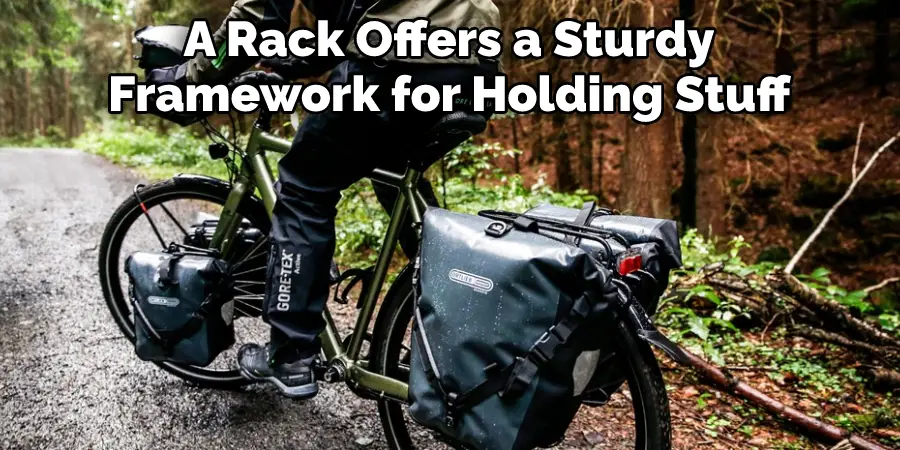 Conclusion
Now that you know how to use bicycle rear rack, you can put it to good use hauling around your gear. Whether you're going on a long bike ride or just need to transport some items, a rear rack is a great option. Just be sure to follow the tips above so that you can properly and safely install and use it.
There are many types of racks to choose from, and the best one for you will depend on what kind of bike you have and how you intend to use it. If you're planning on doing a lot of heavy lifting, investing in a sturdy metal rack is probably your best bet. But if you're only going to be carrying light loads, something simpler and more lightweight will do the trick. Whichever type of rack you choose, make sure to follow the instructions carefully so that you can install it properly and avoid any accidents on the road.