Introduction
Your toddler's first tricycle is a sweet milestone, and it is also an excellent way to help her develop motor skills, balance, and coordination. Pediatrics claim that most children don't have the skills needed to ride a two-wheel bike until the age of 7, so a tricycle is an excellent option to help build those skills in younger kids. Plus, tricycles also help foster a sense of independence that toddlers love. So, to set your toddler up for riding success, it's worth doing a little research to pick the right set of wheels.
Main Types of Tricycle Strollers
Big-wheel tricycles: These have an oversized front wheel and sit lower to the ground — they're often easier for new riders to manage and to climb in and out of without assistance. 
Standard three-wheeler: This trike works well for older tots who've had more time to hone their balance skills (and are tall enough to reach the pedals). They are low to the ground, but higher than big-wheel trikes and have handlebars that toddlers can steer with ease.
Push trikes: This version comes with a handle for you to help move your little one along when she gets tired — or if she likes sitting on her bike but isn't quite ready to ride on her own yet.
What to Look for in a Tricycle Stroller
When you're trike-shopping, it makes sense to seek out a model that has age-appropriate features and is sized right for your sweet pea. Test the trike, too, to make sure it feels sturdy and won't tip over. Picks that sit lower to the ground are less prone to tipping, so they tend to be a safer choice for younger tots. As always, present a tricycle with a helmet, and have your toddler wear it right from the start. Good habits start early, and she's less likely to fight you if she knows head protection is simply a non-negotiable part of the ride.   
Tricycle Stroller – Best Options
#1 – Radio Flyer 4-in-1 Stroll 'N Trike
The Radio Flyer 4-in-1 Stroll 'N Trike offers a classic option at a good price for children aged 9 months and above. There's no backward-facing mode on this trike, but it does have a removable handle to let you shift from parent mode to self-pedaling. On their website, you can custom-build a trike with optional add-ons like a bell, safety bar, and a snack tray and cup holder. If you're planning to take it on an airplane, get the EZ Fold version, which folds down in one easy step. Other features include a parent pouch, removable footrest, a canopy with UV protection, and a rear basket for additional storage.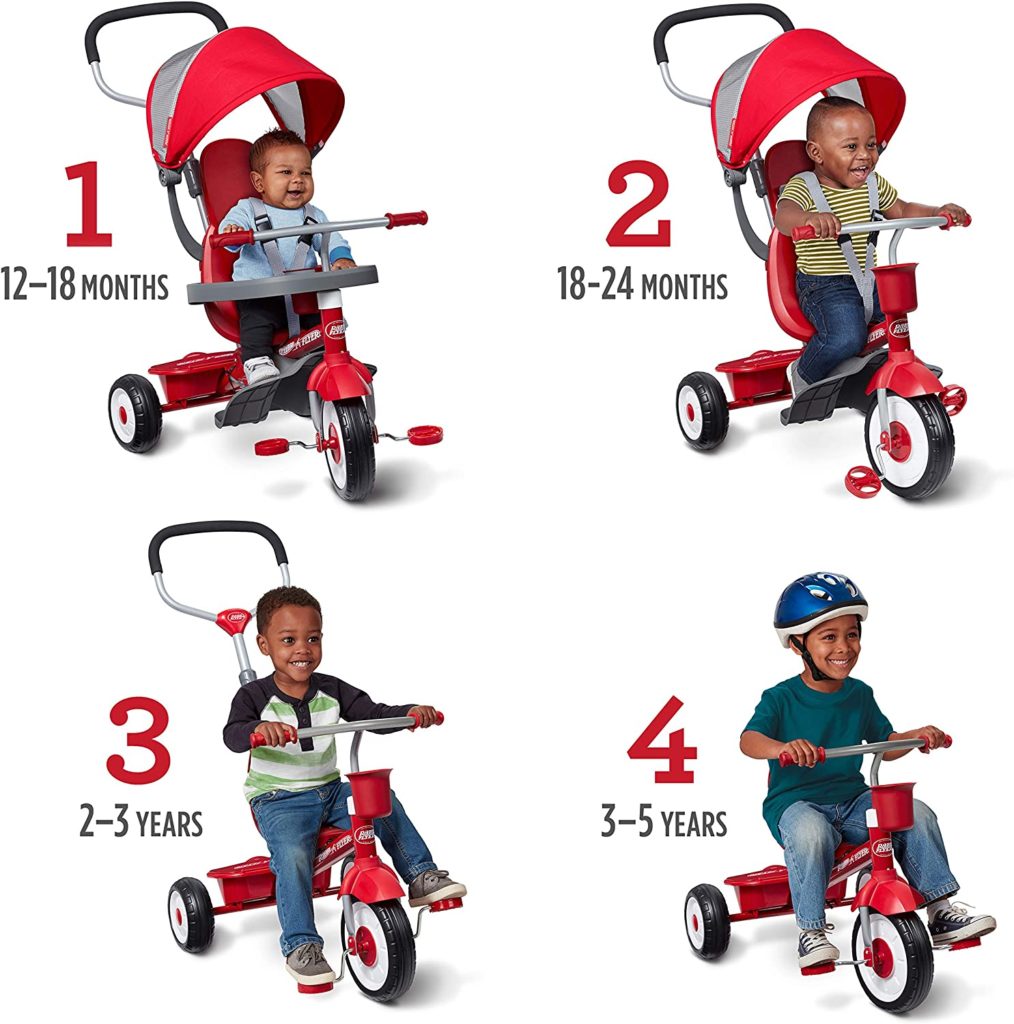 #2 – Radio Flyer 4-in-1 Stroll 'N Trike Pink
The Radio Flyer 4-in-1 Stroll 'N Trike Pink  is a favorite in the cycling community where many love it specifically for the rear storage bin and its adjustable seat. When kids get tired, you can push them the rest of the way with the parent-controlled steering bar. Speaking of the steering bar, moms and dads report that it's truly comfortable to use. Its frame is sturdy and sits low enough to the ground that even solo riders don't have to worry about tipping. You'll also appreciate the pedal design, which locks into footrests for your sweetie when you're pushing, so her feet don't drag.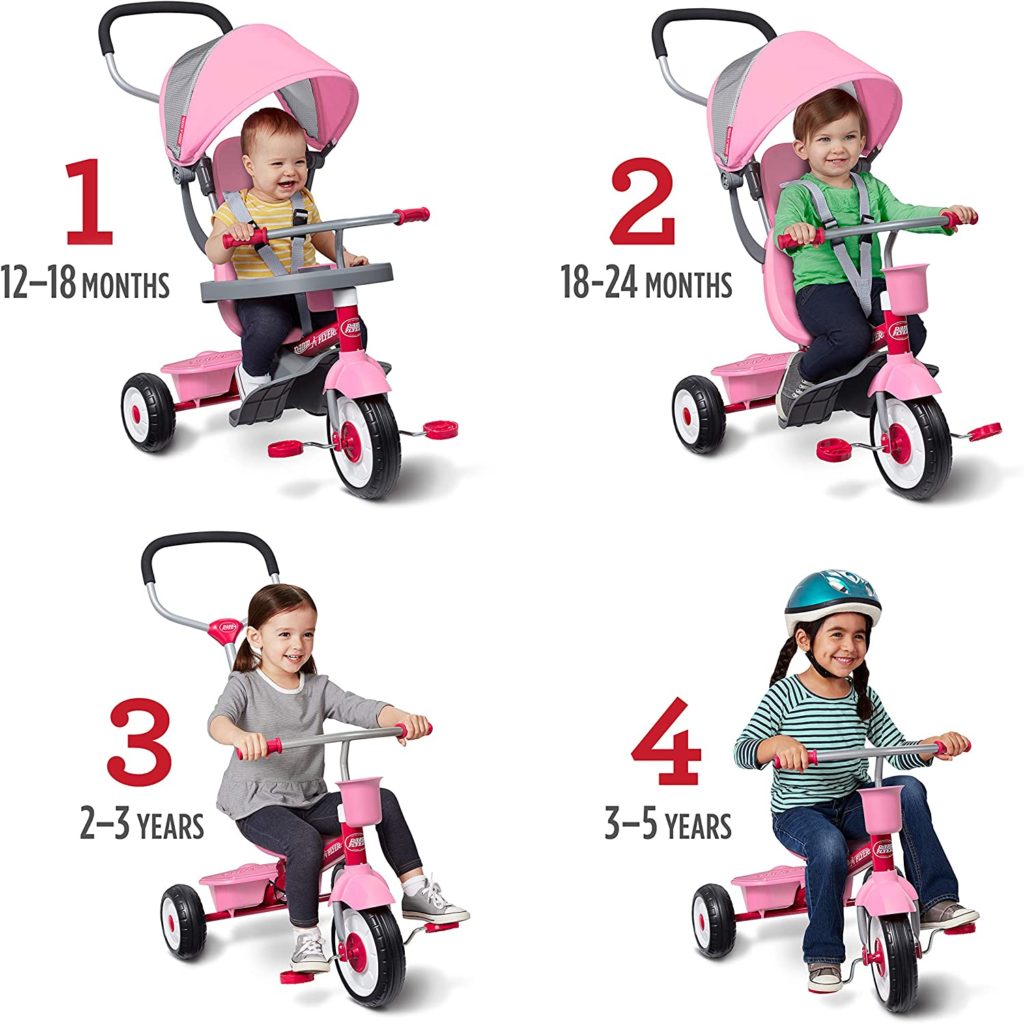 #3 – Joovy Tricycoo 4.1 Kid's Tricycle
In terms of features, the Joovy Tricycoo 4.1 Kid's Tricycle is an excellent tricycle stroller that's a more affordable alternative for parents on a budget. You can start using it around 6 months, with the seat facing you or out. It rotates, so you don't have to detach it and lift it to reverse it. Its seat recline is deeper, allowing the kid to take a nap.
This tricycle stroller has generous, comfy padding, a 5-point safety harness, bumper bar, and additional detachable footrests for younger passengers, just like top-performing tricycle strollers for toddlers. Around 9 months you can start using the fully upright position. If your toddler likes to look around and observe everything during the stroll, he/she will love how straight the backrest is. Its sun canopy has an impressive size, and it also has a useful peek-a-boo window.
From 12 months and up you'll be able to use Joovy in "push trike mode" – just detach the additional footrests, and allow your toddler to use the basic footrests. Around 18 months you can fold the basic footrests, so your little rider can place their feet on pedals without controlling the wheels yet. Kids can also move the handlebar without actually steering the tricycle. At this time you can also remove the canopy.
#4 – BOOWAY Baby Trike
The BOOWAY Baby Trike is designed to help your baby find their confidence on three wheels — and grow with your rider as she gets bigger and more experienced. It can be used as a stroller for babies as young as 10 months, thanks to the secure harness seat and UV-blocking canopy. When you're ready to transition to a push trike, the free swivel mode means the push handle is easy for you to control. And once you remove the handle when your toddler strikes out on her own, the extra-wide front tire helps her stay steady. In short, it's a worthy investment that'll stand up to years of use.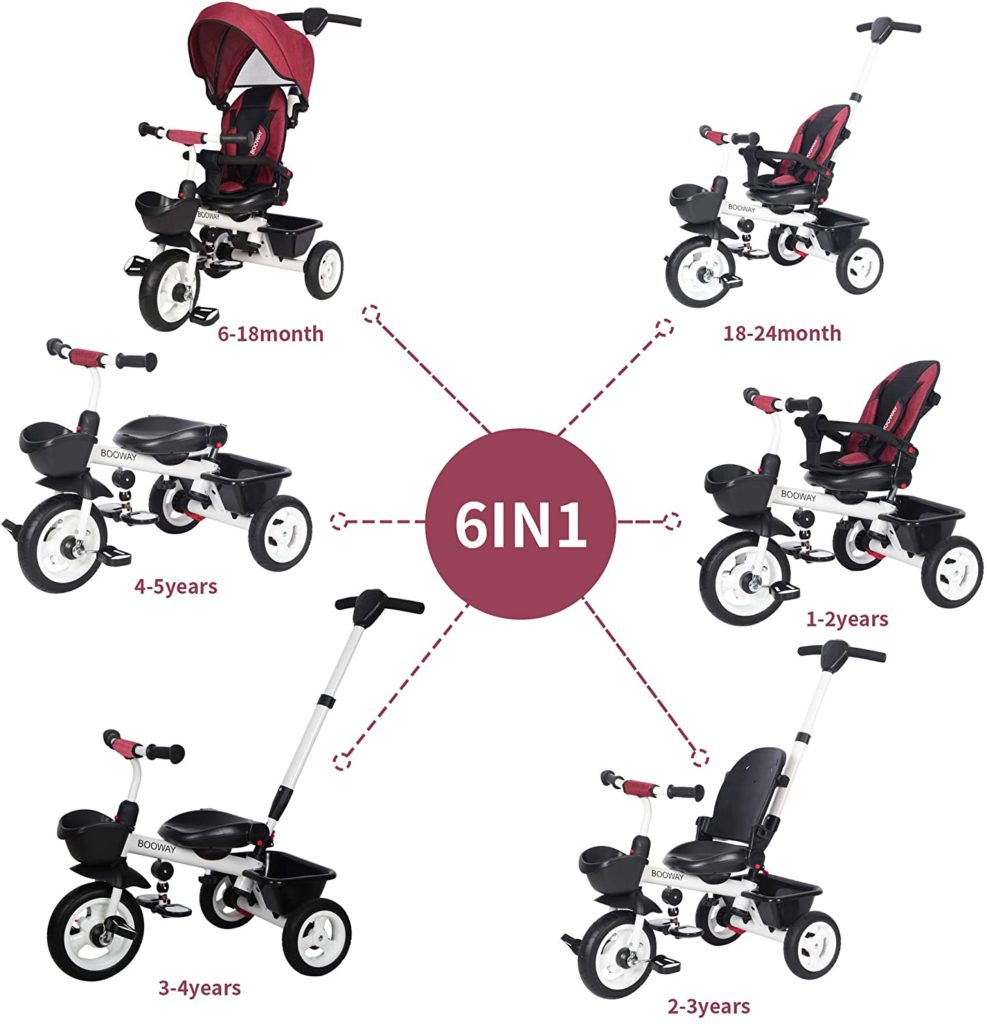 #5 – Bentley Toddler Stroller/Trike
The Bentley Tricycle Stroller/Trike is a high-end, more luxury option in this ranking. It is a tricycle stroller that's basically super useful and practical. From 6 months you can use it as a stroller – with the seat facing you or the world. The seat actually rotates, so you can easily change its direction, without the need to remove and lift it. It's very convenient.
Bentley stroller was designed with infant's comfort in mind and the brand added an additional footrest. So if you want to use it with a younger baby who cannot reach trike pedals yet, you don't have to worry that his/her feet would be dangling. There is a footrest for the younger infants which you can use both in parent-facing and front-facing mode.
Once the child gets taller, you can start using the basic footrest that is mounted lower – this one works only when the kid is facing out. And once your kiddo gets big enough to reach pedals, he/she can start using them. The seat is pretty up, but you can also recline it a bit in facing-parent mode. It comes with a 5-point harness to keep the child securely in place, and a bumper bar – for added safety. The seat, the backrest, and the headrest are nicely padded so your little one will be comfortable at all times.
Above the seat, there is a canopy. Honestly, this is the most generous canopy I've seen on a toddler tricycle stroller combo. It provides lots of shade, and thanks to 50 UPF waterproof fabric your child is well protected from harmful sun rays and rain too. It is mounted pretty high which makes this tricycle stroller comfortable for taller toddlers too.
The canopy has a peek-a-boo window so you can check on your little one whenever you want. For parents' convenience, there is a storage basket right between the rear wheels. It's not huge but your necessities should fit in there. There is additional storage for keeping your valuables and cell phone within reach.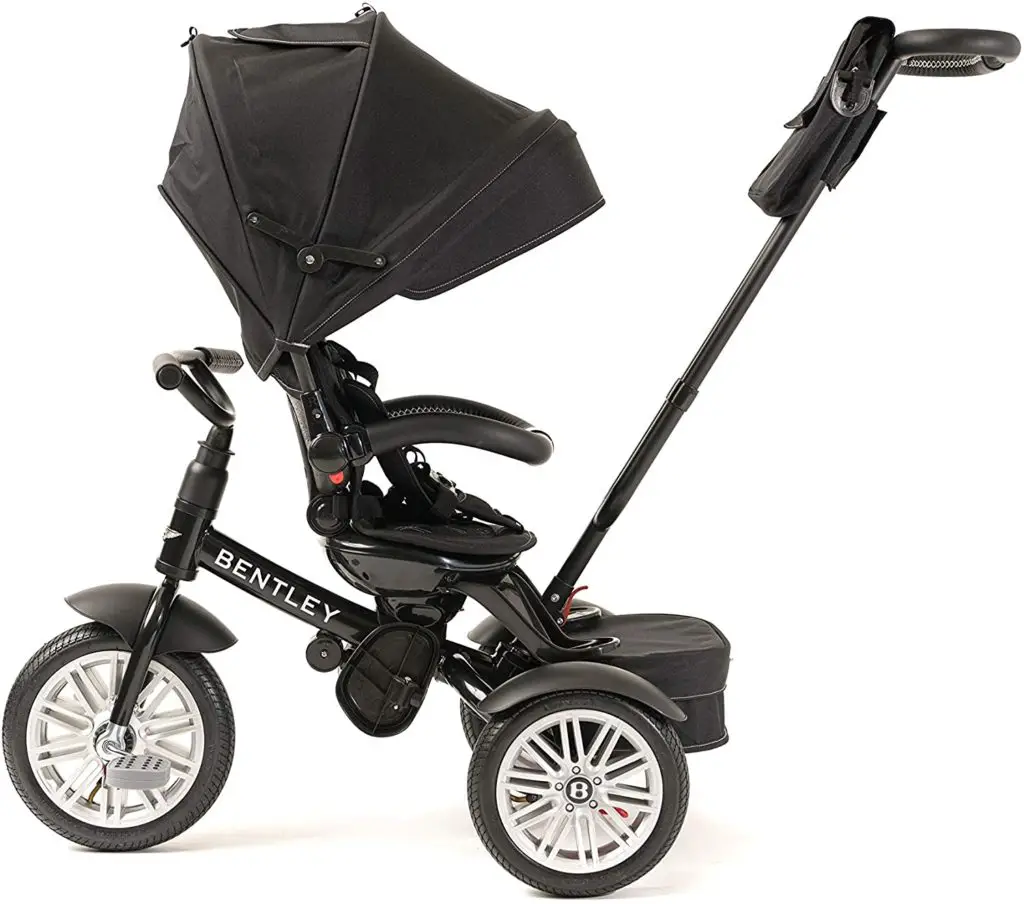 #6 – BABY JOY Toddler Tricycle
The BABY JOY Toddler Tricycle is an 8-in-1 tricycle stroller since it has eight modes that can transport kids from 6 months old to the 3-year-old mark. An ergonomic rotating and reclining seat means your baby can ride backward in the beginning and then transition to push mode for toddlers who'll eventually ride all on their own. The front tire has an extra-wide design that makes it easy for little ones to roll along. This model is equipped with a removable and adjustable-height handle, 50+ SPF sun canopy, storage basket, and detachable safety bar. This tricycle stroller doesn't fold down for air travel and is better suited for close-to-home adventuring.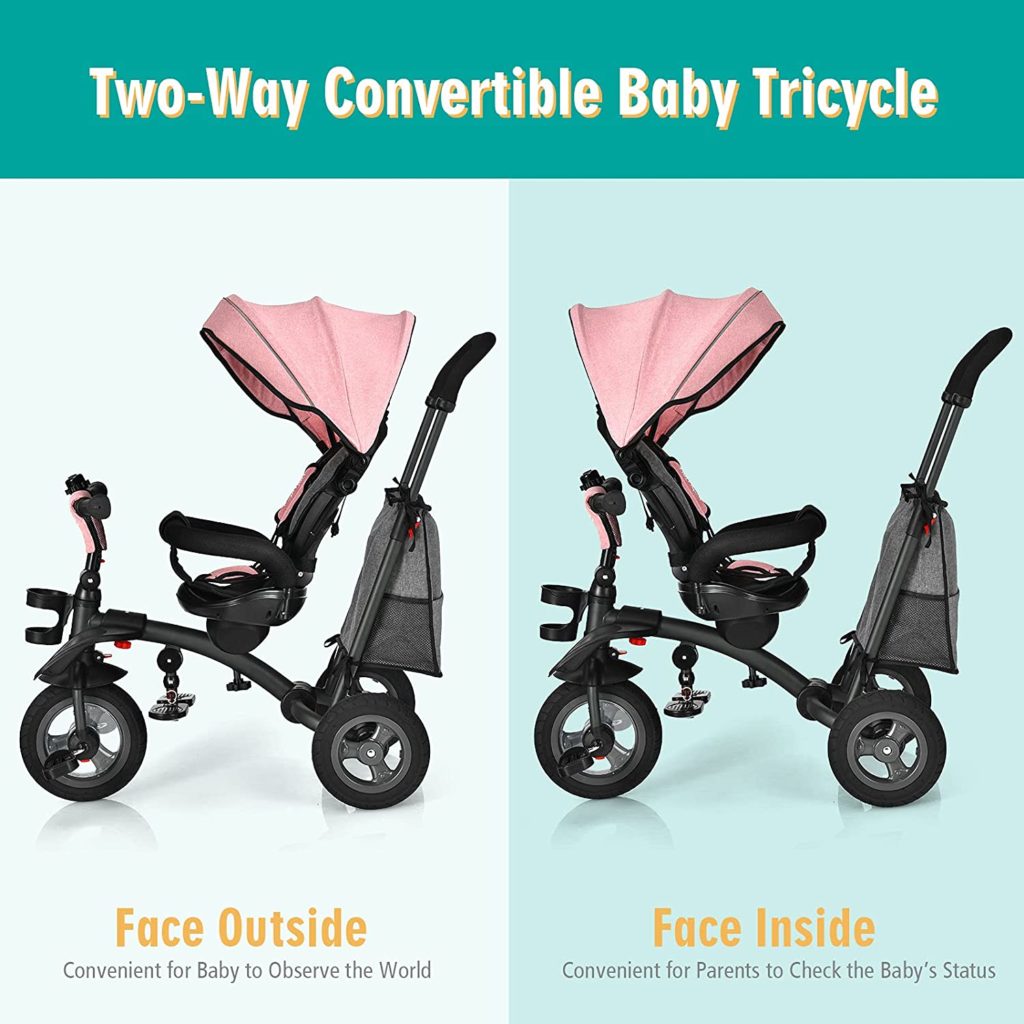 #7 – 700KIDS Baby Tricycle Stroller
The combo of sturdy and affordability is out rightly unbeatable. The lightweight iron frame on the 700KIDS Baby Tricycle Stroller looks like an adult trike but still sits low enough to the ground that you don't have to worry about tipping. And you'll be able to get several years of use out of it: Toddlers as young as 2 can climb into the seat and pedal, but the adjustable seat and handlebars mean the trike can fit kids up to age 5. It's also a blast for your toddler to ride.
They'll love the basket and streamers, and the no-slip handlebars and foot pedals mean less chance for frustration while she gets the hang of steering and pushing.
With multiple removable and foldable components, such as a canopy, a footrest, and a parental steering rod, the 700KIDS Baby Tricycle Stroller transforms as your child grows. And, when they are ready for a nap, simply turn down the handlebars and recline the backrest.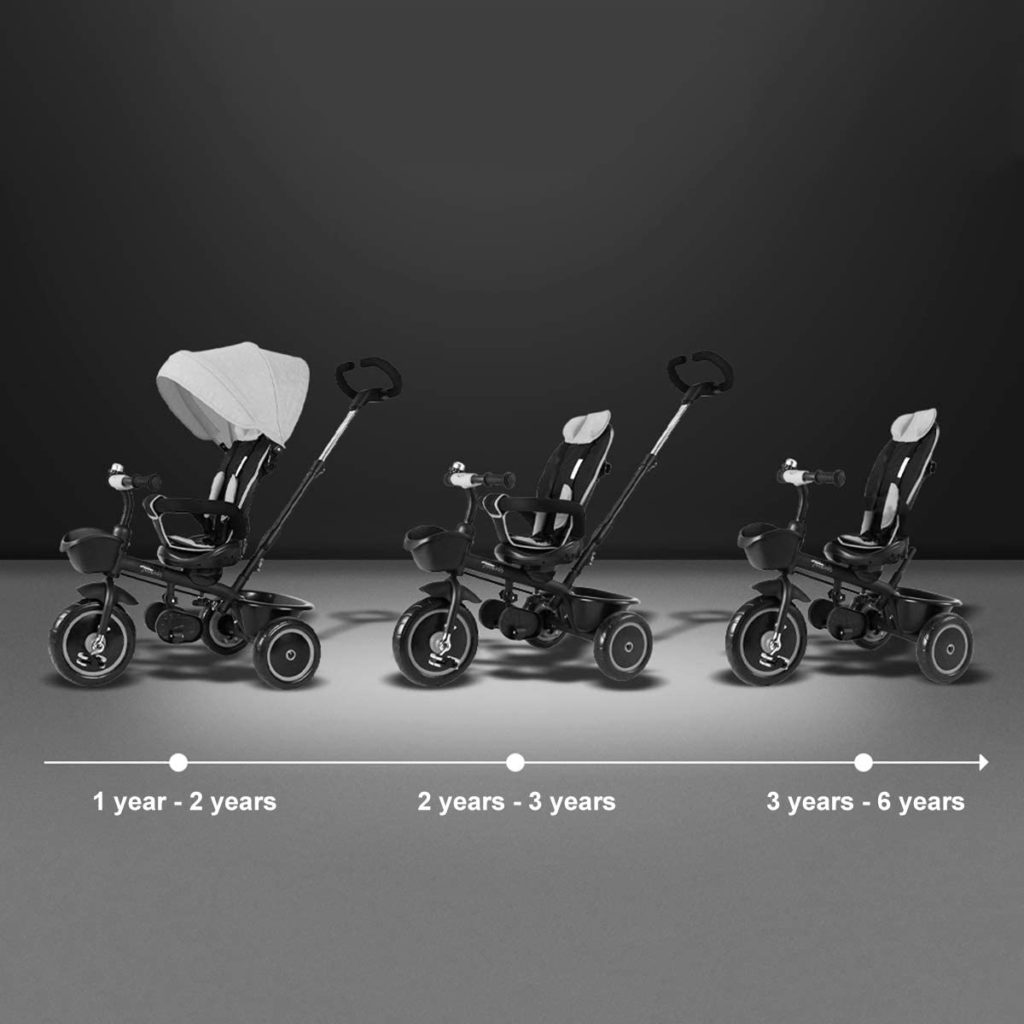 #8 – besrey Baby Tricycle Stroller
Yup, the price tag on the besrey Baby Tricycle Stroller is arguably fair, assuring that you'll get a stroller-trike hybrid that folds down to a size small enough to fit in a plane's overhead bin. You can also add on an optional storage bag for toting around while traveling. You and your mini-you will turn heads when you cruise down the street with the vibrant besrey Baby Tricycle Stroller 8 in 1. It will grow with your child and features reliable brakes, ergonomic handlebars, a tray with a cup holder, and a bell that's fun to ring.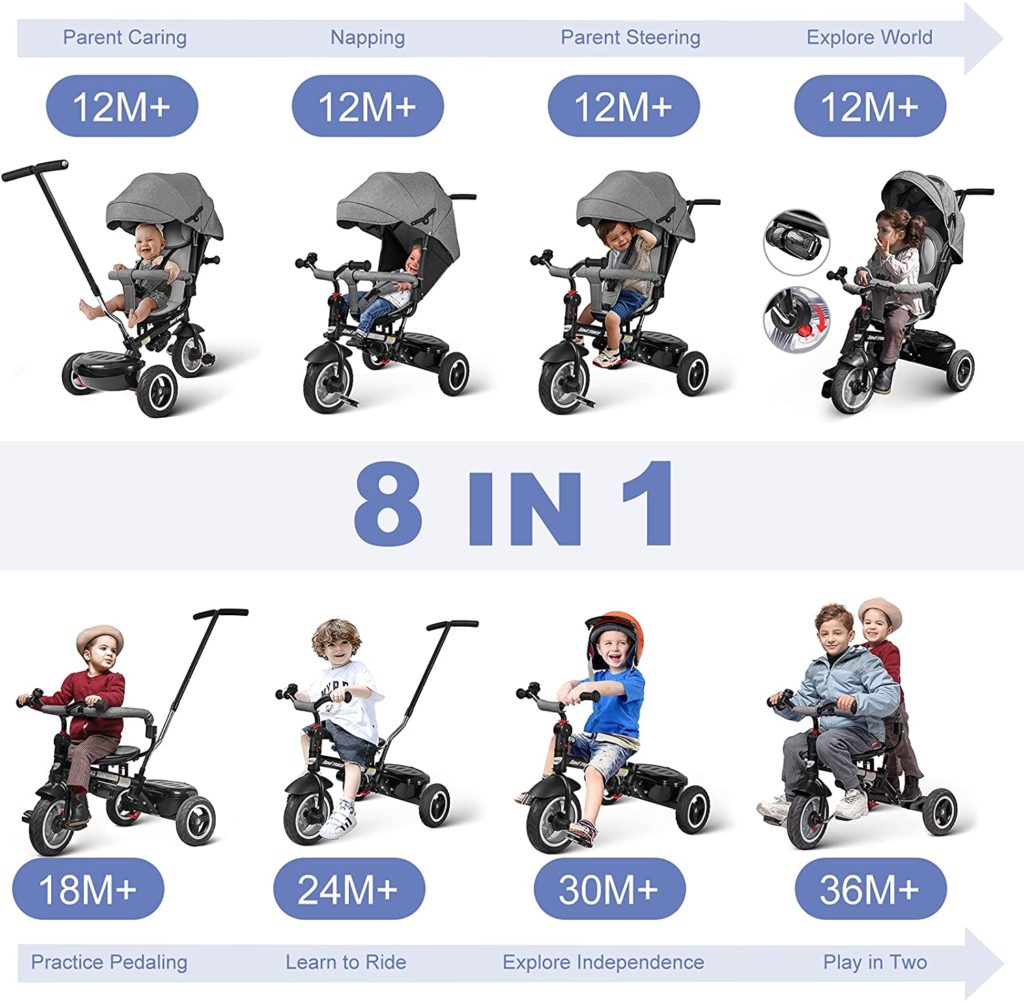 #9 – smarTrike Toddler Tricycle Stroller
The smarTrike Toddler Tricycle Stroller is an award-winning and reliable brand that comes with several top-notch tricycle features. It's one of our favorites because it folds down easily for travel to nearly flat, making it as easy to gate-check for air travel. The trike's two-stage pedals grow with your toddler, it can be used in six different modes and has a sun canopy and an adjustable handlebar. Shock absorbers help ensure a bump-free ride for your little one.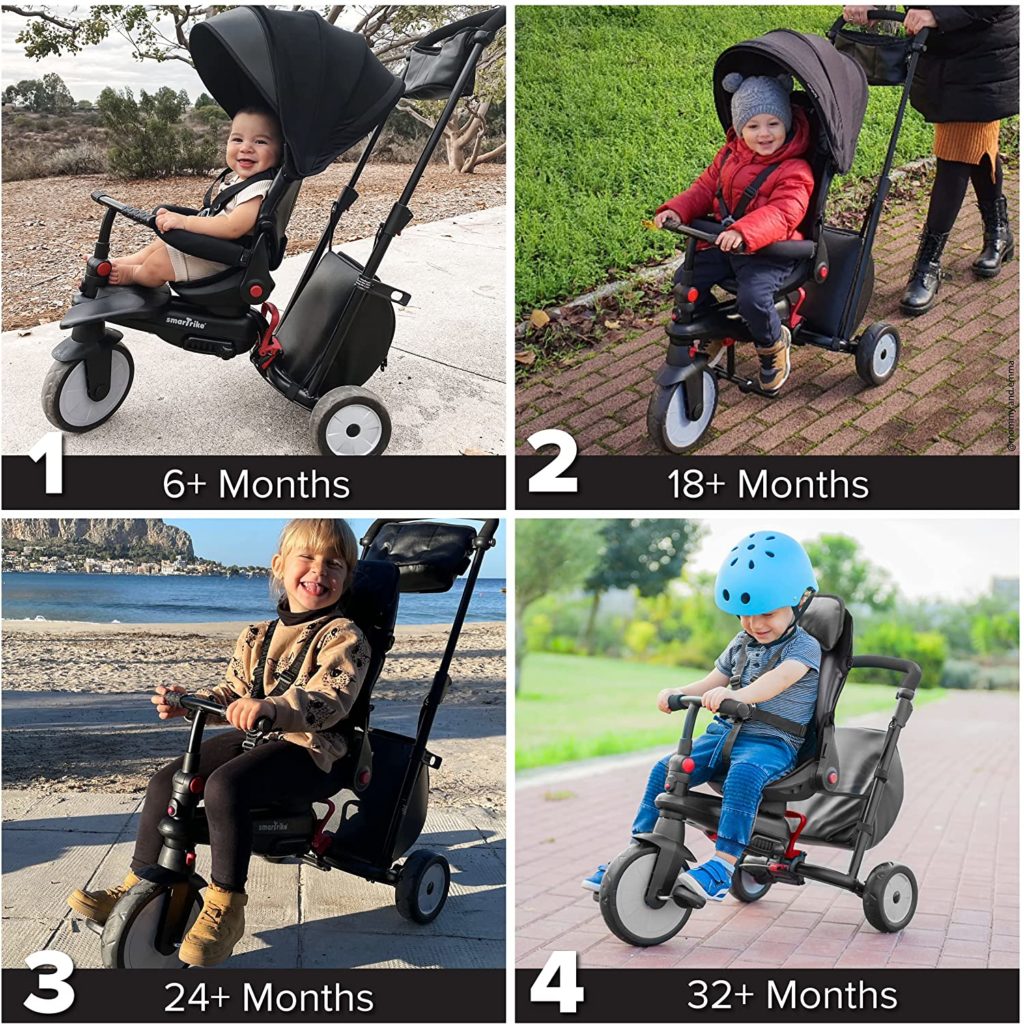 Conclusion
If you're looking for a budget-friendly tricycle stroller, we recommend the Radio Flyer 4-in-1 Stroll 'N Trike. It has some advantages: it's suitable for up to 5-year-old babies, it folds down, and it weighs just under 20 pounds so it's fairly lightweight. But there are some downsides which you should know about: the seat doesn't recline, lots of parts are made of plastic, including the wheels and seat, which lacks any kind of fabric padding.
But for occasional use in the backyard or short rides on smooth pavement, these may be sufficient. The brand is perfect for beginners, 1-2-year-old kids who are just learning to ride a tricycle and it's more like a push tricycle stroller. But if you're looking for a tricycle stroller combo, that will serve you longer and that would be comfier for longer rides, it's better to choose one of the models reviewed above. For bigger kids, one of the best 3600 bike trikes will do wonders.